We've been thinking hard about what it is we actually deliver to our clients. What motivates them to work with us and to keep working with us. We've realised that, even though our core product is learning curation, a key thing we achieve for our clients is advancing their learning culture. To frame it using Simon Sinek's three circles:
What do we do? Like many vendors claim to do, we use Filtered to reduce friction between people and relevant learning. Filtered Smart LXP is a platform that catalyses high impact learning projects and activity.

How do we do it? Uniquely effective curation technology and a fast and consumer-grade user experience, smart use of emails, API integrations and evidence-based insights into your culture

Why do we do it? The important bit. We do it to help you develop a learning culture: a culture where people own their own training and development and where that development drives business goals. And why is this important? Because research from many analysts (such as Bersin and Towards Maturity, or as explained by Kelly Palmer and David Blake in the The Expertise Economy, pp. 22-44) shows that an organisation with a systemic culture of growth and self-development - an advanced learning organisation - is better able to adapt and change, innovate, transform itself and deliver world-leading products and services.
If you want to build or evolve a high impact learning culture you are the right kind of client for us. If you want to achieve the proven benefits of an organisation where people have a growth mindset, where people learn from mistakes and from each other, where people choose what skills to develop and seek out resources and experiences to develop those skills, Filtered will accelerate that process.
We came to this conclusion by mapping our client-base and their outcomes with Filtered against a composite maturity model that combines the Bersin Learning Organization Maturity Model (2012), Will Thalheimer's Learning Transfer Evaluation Model (2018), and others. Here it is, simplified into just two categories. Where do you fit in terms of activity? What are you measuring?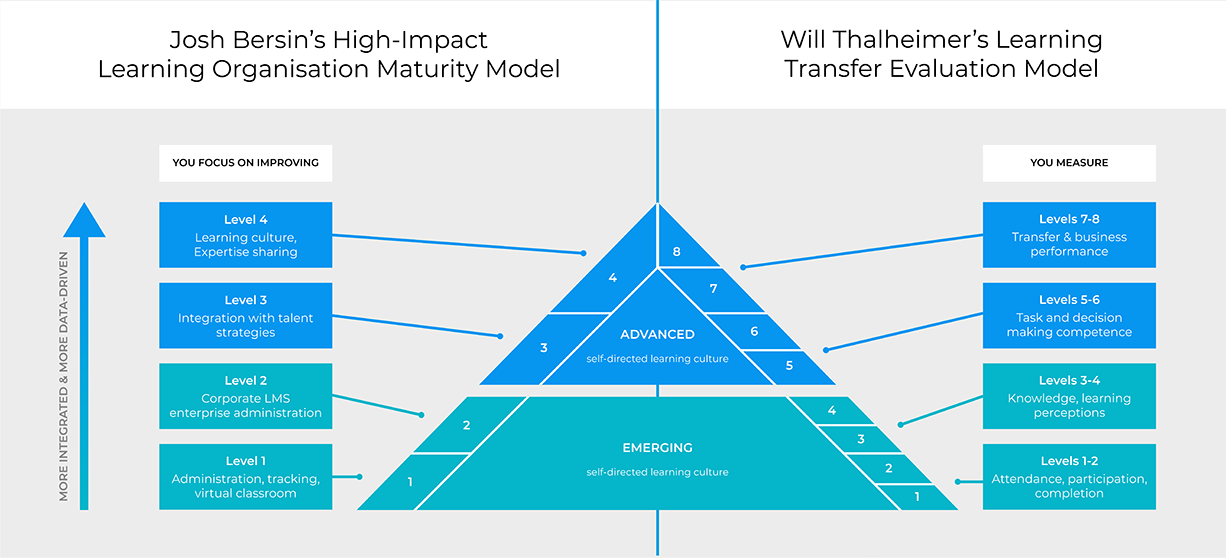 To help you progress up the model, based on where you are with these focus areas and measures, we can tailor Filtered into your organisation in one of two ways. Firstly, we can help you to:
Build a (semi) self-directed learning culture from the ground up
If you're at the emerging level (and that's 80% of organisations) you need help to build a self-directed learning culture. On their own, purely self-directed learning cultures run the risk of becoming aimless. Solving this problem is simple. It requires L&D taking overall control of content direction whilst learners are in charge of their own specifics. However, learners will never engage consistently unless they have a significant amount of autonomy over their learning.
To power this this you need a best-in-class skills framework which is slightly tweaked to your purposes, and a well-curated content library, slightly tweaked with your materials. You need new engagement strategies: reclaiming the inbox and instant message for learning with very effective and very personalized email messaging, supported with digital marketing know-how to do with nailing the messaging and winning the social proof you need.
Messages like this: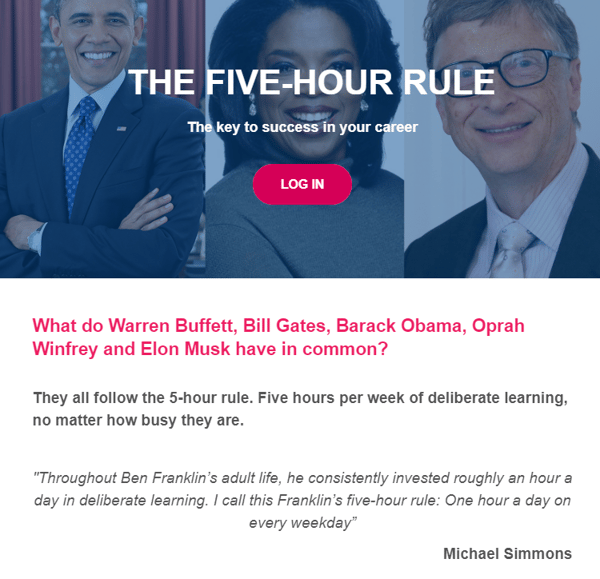 And personalised recommendations.
To progress, you also need measurements that go beyond course completion and capture the reasons that motivate your people to learn so you can build on that momentum where it exists. Below is an example of the research we've produced to characterise learning culture across our 35 clients and 60,000+ users. Benchmarking your culture against this data-set is a powerful tool.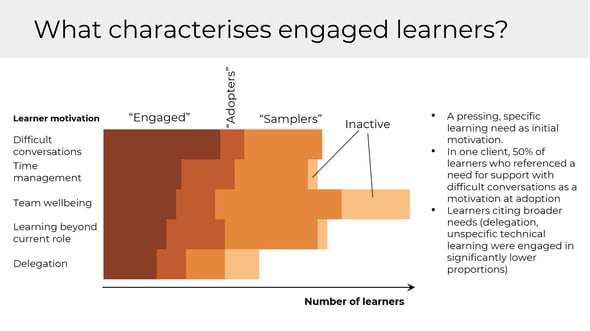 We support 80% of our clients in this way. However, some are higher in terms of what they measure and what they do. For the advanced learning culture, where L&D Is integrated with talent and you are able to measure the impact of learning on competence rather than just compliance, then the task is to:
Evolve or align an advanced learning culture with business goals
If you already have an advanced learning culture above, you're in a strong and rare position. But to prove the value of your established learning culture you now need to align it with medium-term goals and strategic workforce planning. So, on top of the solution above, you will also need a customized skills framework and a more flexible curation approach to create recommendations that put your existing content to work on supporting the capabilities you need. You need data science and customised reports to test hypotheses and demonstrate ROI. And to help bring all this together you will need considerate, imaginative, objective experts to advise and challenge along the way. That's a big part of my job.
To break down what we do in another way, our most successful clients, whether emerging or advanced, are able and willing to take advantage of all three aspects of the Filtered offering:
CURATION: In Filtered, provably good learning curation and a great user experience create the digital offering at the centre of your learning culture. It can be customised not at all (for emerging cultures) or lots (for more advanced cultures). Good recommendations themselves are a subtle art, calling on human curation, algorithmic content prioritisation, sensible feedback mechanisms, content tagging, good UX and (often missed) a reason to learn.
ENGAGEMENT: Outside of the Filtered platform, personalized emails and best practice digital marketing strategy (focus groups, webinars, surveys and social proof) kindle your self-directed learning culture and track the impact on performance beyond what we can track on the LXP itself. For more mature clients, our API puts recommendations in existing platforms (like MS Teams) to help to build seamless learning ecosystems and reduce platform fatigue.
INSIGHT: The data that recommendations and engagement generate, benchmarked against all of our users, allows our data scientists to tell you about your learning culture and how to work with it (not against it) to build the skills you want and measure progress against them. Digital technology is only a small part of a culture - the insights we offer help you understand and improve the whole picture.
Do you want to build or evolve your learning culture? Let's talk. We can help, even if Filtered is not right for you in the end.