While I am an experienced marketer, I'm still new to the field of L&D.
Learning content strategy often comes up since we help customers make better data-led decisions to tackle Content Chaos.
I've written my findings to break down learning content strategy, why it matters and how you can supercharge your learning efforts.
First off, let's start with its definition. This article in Training Magazine summarises learning content strategy as:
"...getting the right content to the right user at the right time through strategic planning of content creation, delivery, and governance."
There is a similar field within marketing called content strategy, and there are a lot of natural overlaps. A textbook definition of marketing is to deliver 'the right content to the right person at the right time."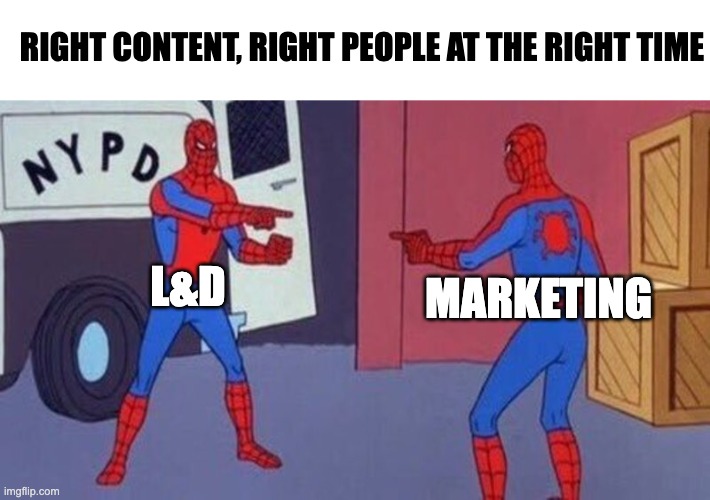 Is learning content strategy similar to learning strategy?
Think of it as a subset of an overarching learning strategy - the same way content marketing is a subset of marketing.
There are specific concerns within learning content strategy like buying content, skills tagging and delivery, but they're all in service of achieving overall business goals.
How important is learning content strategy?
We recently found that the fully-loaded cost of content, which includes the salaries of people managing it, amounts to 41.8% of L&D spending.
Without a solid strategy in place, there can be significant repercussions that get in the way of effective workplace learning.
What starts as small inconveniences can quickly snowball into content chaos.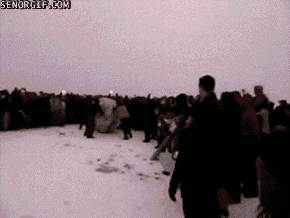 Actual footage of your team fleeing from content chaos
Here are some horror stories taken directly from our customers' experiences:
Being told by a content partner that to provide metadata for the content they've already bought is an additional, paid-for service
No access to full libraries that have been paid for
Content that costs millions of dollars every year but delivers no impact.
And the list goes on...
What does a good learning content strategy look like?
Strategy is key for any facet of your organisation regardless of function.
A good strategy tells you where you're going, and how to get there.
We've developed a Content Strategy Playbook so L&D professionals can deliver their content strategy effectively, based on our experience in helping clients like AstraZeneca, GSK, NatWest, amongst other enterprise-level organisations.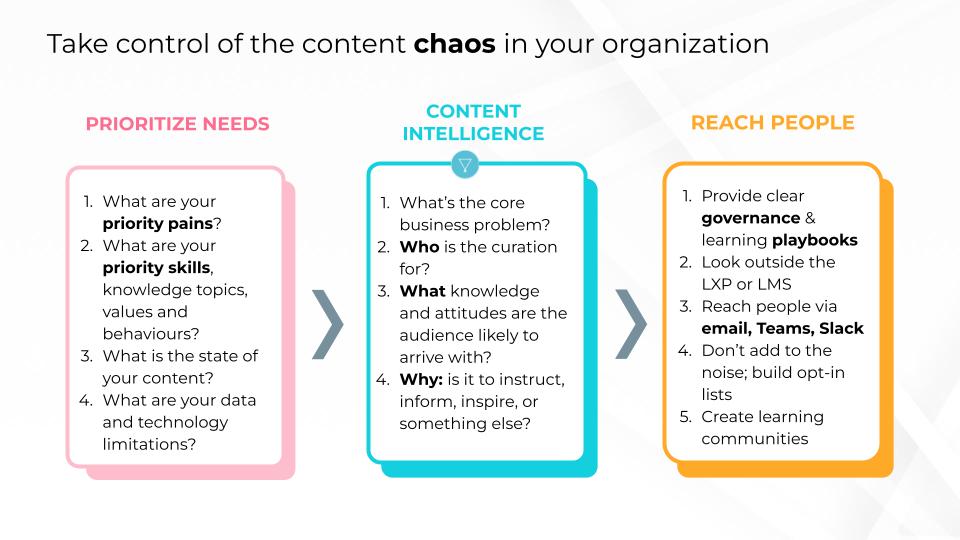 Our playbook has three elements, all with questions and guidance to help define your strategy. Think of these elements as signposts to give your learning content strategy direction.
1. Prioritise needs
A good strategy helps you retain focus - but you can't do this without prioritising some things over others. Without this step, you run the risk of developing a strategy which doesn't match up with your business objectives.
Define your priority pains and skills*, and understand your data and tech limitations so the rest of your learning content strategy can deliver the right results.
🪧 Signposts:
What are your priority pains?
What are your priority skills, knowledge topics, values and behaviours?
What is the state of your content?
What are your data and technology limitations?
*Skills in this context can also mean topics, themes and capabilities that are important to you and your organisation.
2. Content Intelligence
This is an umbrella term for three activities:
Benchmark sources - comparing content libraries of different sizes by how relevant they are to your key skills
Enrich metadata - ensuring your learning assets are tagged with the right data, so they are easily accessible by your people
Curate content - once you have relevant content that is also easily accessible, you can build effective playlists.
You and your team could do these steps manually, or you can use our Content Intelligence platform at a fraction of the cost and time. You and your team can reinvest your resources into strategic and creative tasks, or other resources that have been sitting on your nice-to-have wishlist.
🪧 Signposts:
What's the core business problem?
Who is the curation for?
What knowledge and attitudes are the audience likely to arrive with?
Why: is it to instruct, inform, inspire, or something else?
3. Reach people
Once your learning assets are accessible and playlists are built, this is where they must be distributed to your people.
This is the last mile problem. Like a precious parcel in December, your content must be delivered to the right audience. Your learning strategy must encompass how you do that effectively.
🪧 Signposts:
Provide clear governance & learning playbooks
Look outside the LXP or LMS
Reach people via email, Teams, Slack
Don't add to the noise; build opt-in lists
Create learning communities
How can Filtered's Content Intelligence platform supercharge my strategy?
I'm going to confess - describing what we do is a challenge because Filtered has more than one use case that's hard to summarise in 30 seconds.
But I can tell you how it can help:
Filtered's Content Intelligence platform generates data about learning content so that L&D professionals like you can make better evidence-based decisions and tackle content chaos.
Here are three main ways that we can boost your learning efforts.
Benchmark your content to compare libraries
If you've tried booking a flight, you'll probably use a comparison website like Skyscanner. Search for a destination and dates, and it delivers results across different websites. You can then sort the flights by price and filter by other properties like stops, journey durations and airlines of choice.

Filtered can act as a Skyscanner for content libraries. Type the desired skills group in, and the results deliver data about content libraries in relation to those skills.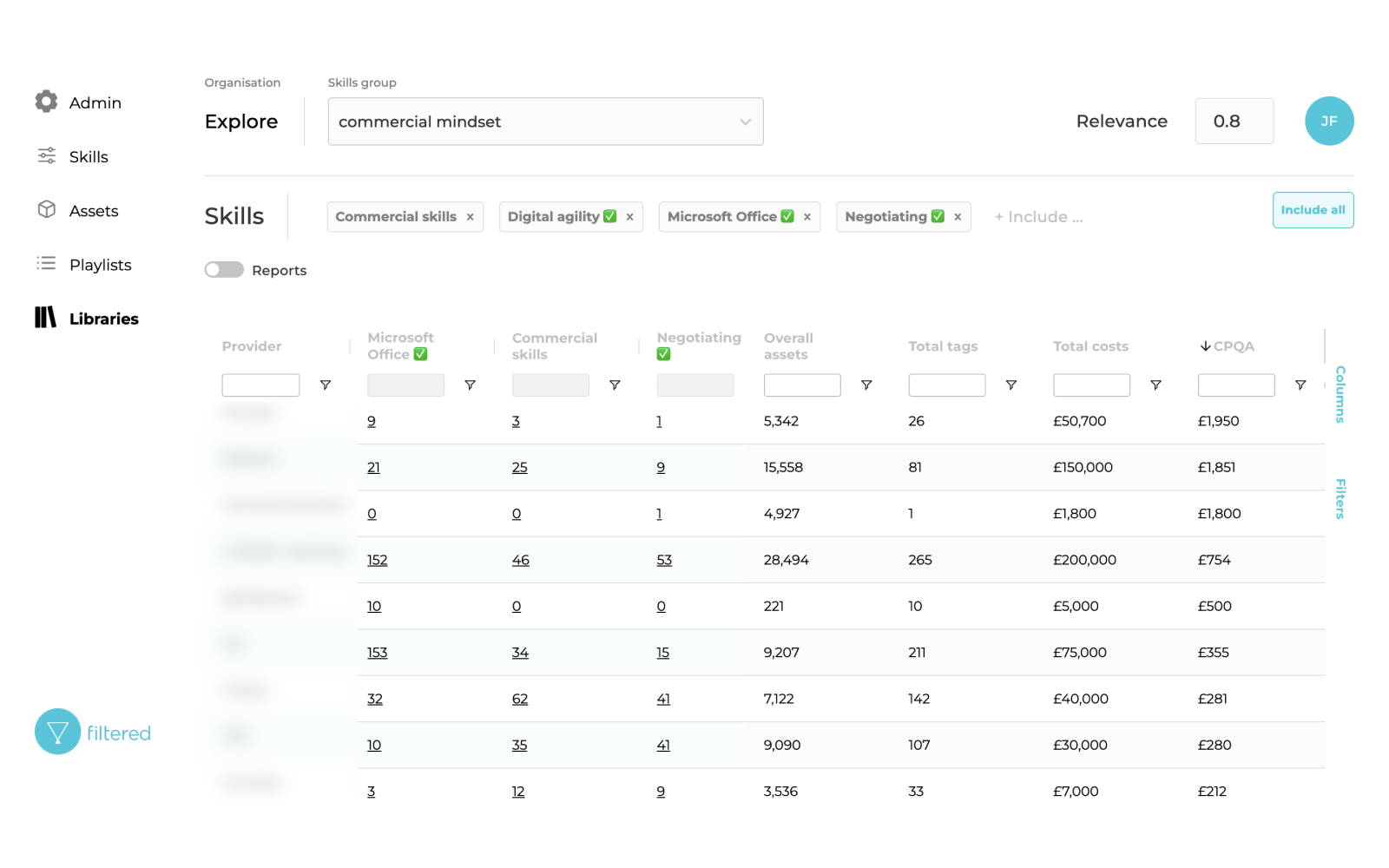 We use a metric called CPQA (Cost Per Qualifying Asset) to help our customers judge which libraries will provide the best value for money.
Enrich content metadata to make content discoverable
We've encountered customers with overloaded learning systems full of what our CEO, Marc Zao-Sanders, calls learning gunk. And gunk is precisely what it sounds like - learning content that clogs up searches, stopping your people from, well, learning.
The prime issue is learning assets with incomplete or incorrect metadata.
By metadata, we mean additional information about the learning assets which makes it discoverable, like skills, title, description, duration, format, and language availability, among others.
The good news is Filtered can serve as a one-stop shop and tag all of your paid, built, and free learning assets with AI-assisted technology. No more flipping back and forth between different tabs and platforms.
Put differently:
Correctly tagged content = Relevant searches = Excellent learner experience
Here's how Ericsson made sense of over 140,000 titles to achieve accurate skills tagging at scale.
Scaled content curation to deliver learning efficiently
Once your content is updated and discoverable, you and your team can curate swiftly and at scale. What does this mean?
Here's a helpful way to think about how differently curation works in Filtered.
Before streaming services like Apple Music and Spotify, if you wanted a playlist of only the songs you wanted from different artists, you'd have to burn it yourself onto a CD.
Now, you can search for the songs you want and drag and drop them into a playlist in a matter of minutes.
Curating learning content manually follows a very similar process. You can go through various systems or even rely on Google. You'd then have to rigorously ensure that each asset's quality meets your standards and provides what you're looking for.
In Filtered, the searching is automated. You can type in a playlist name, along with a description.
In just a few seconds, results appear from across all your learning assets by relevancy, along with columns showing each title's properties like provider, format, and length.
You can spend more time assessing playlist quality instead of hunting for the resources.
Plus, our one-click copy to clipboard button means you can paste the entire playlist anywhere your learners are.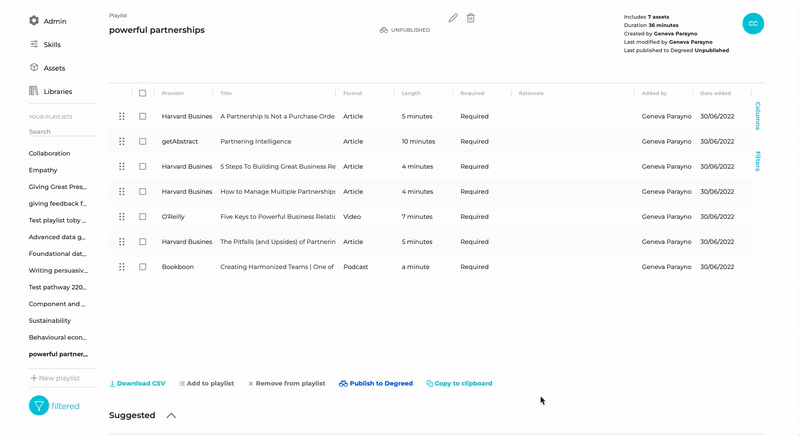 Build learning playlist > Copy to clipboard > Happy learning!
NatWest estimated that they could reduce curation time by 20%, and ECITB expect to make a £1 million cost savings over the next four years.
(To see speedy curation in Filtered and pick up a few tips and tricks, you can watch a masterclass in curation here.)
TL;DR - Why you need a learning content strategy
A learning content strategy is an essential component of a comprehensive learning and development plan. It involves using strategic planning to create, deliver, and govern content to reach the right people at the right time.
A great learning content strategy ensures that L&D spending is effective and aligns with business objectives. With a clear strategy, organisations can avoid ending up with content chaos, leading to inaccessibility, duplication, and a lack of impact.
Our Content Intelligence platform will help you execute your learning content strategy with fewer obstacles and enable you to think strategically instead of drowning in manual work. You'll also be able to prove how hard your content libraries are working for you.
If your learning content strategy needs a boost, book a 30-minute Content Clinic with our experts.