Talking with senior people in learning, we repeatedly hear that "content is unmanageable," "We're drowning in content," or "We have plenty of learning resources, but nobody can find anything."
In February, Nehal Nangia, senior analyst for the Josh Bersin Company, put it this way:
Amid the chaos caused by the proliferation of digital learning content, there is a growing need to move from more to less, from quantity to quality and relevance.
In this article, Nehal not only described this familiar problem, she also named its solution, calling for the emergence of Content Intelligence.
At Filtered, Content Intelligence is all we do: assessing the relevance of any piece of content, making it possible and easy to find the right content at the right moment.
It works. Early adopters include the biggest pharmaceutical companies (GSK, Novartis, Novo Nordisk), major telecom brands (Ericsson, Swisscom and Vodafone), the two leading British banking groups and global category leaders: Boston Consulting Group, Capgemini, DLA Piper, Salesforce and P&G.
Confounded by Content Chaos
Every corporate L&D team in the world is battling the confusion caused by too much learning content. In many learning systems there are 4,000+ unranked results for a common search term like "leadership".
Content has morphed from a solution into a problem: it is confounding the learning system instead of enabling it to function.
Where has all this learning content come from? There are three main sources:
Paid: Companies buy big catalogues that quickly add up to over 100,000 articles, videos, courses. Every month, more new titles are added than people can possibly process. Fed by insatiable demand, the paid market keeps getting bigger.* But the demand is led by the mistaken idea that more content is better. It isn't, not if you can't find what you want when you need it.


Built: Organisations are also building learning content relentlessly. As

Articulate rightly claims of their product

: "More than 118,000 organizations, including all 100 of the Fortune 100, have created millions of courses using our creator tools." That's a lot of learning content! But few L&D teams are empowered to update or retire content they didn't build. As a result, much of this content is already partially obsolescent.


Free: the best and worst content on any topic exists somewhere out on the web, where new content is added every day. As

David Taylor examined in our last CLO Coffee Club

, it is easier than ever to create content on any topic. The result: organisations try to curate the best of the web into their platforms, adding further to the pile. Again, more content, meaning one thing: less discoverability.
What happens to this growing pile of content? It sits there, unsorted, growing bigger and becoming more complex by the day… And it has become a problem.
---
*Just how big is the content marketplace? In 2000 Skillsoft's IPO document estimated the market size for digital learning at $64bn. In 2021 Udemy's IPO estimated the same market at $200bn (Training Mag tracks US training spend each year). This expansion is fuelled by whole new categories of digital learning: MOOCs like EdX, Udacity, Coursera; consumer-first publishers like Udemy and TED; or book summary services like Blinkist.
---
Content Horror Stories
Let me share some horror stories from the frontline of Content Chaos:
One client discovered that an entire library of content that they had paid for was in fact not properly integrated into the LXP and therefore wasn't available to users. They simply had so much content that it was difficult to notice an entire catalogue was missing. In other words: this client has so much content that they cannot reliably track what they have.
Another client discovered that they have no access to the full libraries for the content that they have paid for. There is no route through internal systems for end users to get into certain libraries without being individually granted a license. And their content vendors are simply refusing to share their content metadata – and this metadata is for content which the client has licensed or has received access to as part of major contracts.
For more than one client, forced purchases of content absorb an eye-watering budget but deliver no impact. One customer told us they spend $50 per person, per year on learning content licenses: that's millions of dollars. Another customer was able to save 40% of its total budget on content without making any difference to the quality of the learning experience. Or as one L&D director told us: '"My bosses keep buying the same old learning libraries year after year. Yet NO ONE uses them. What should I do?!"
These are the forehead-slapping horror stories. But they aren't even the biggest impact of Content Chaos that we've seen.
The working reality of Content Chaos
What does Content Chaos look like day-to-day? To illustrate, I added together content from two major e-book libraries, a course aggregator and a leading course library and ran a few simulated basic keyword searches (the kind most common in an LMS or LXP). This is what I found:
Content paralyses curation efforts. There are so many results for most search terms that it is impossible to choose. If I plug in the term 'leadership' (one of the most popular search terms in all LXPs and LMSs) as a keyword search into my four libraries I get 857 results.

There is no way a human being can choose between 857 results. The best pathway or playlist about leadership for your organisation just will not happen.
Inadequate content metadata disengages end users. Because many, many important topics are completely unsearchable using keywords. I did a basic search of these eminent libraries for the topic 'hybrid working' and got zero results. There is no way that none of my chosen libraries have nothing addressing this massive topic. The inadequacy is not in the library nor the content, but the search and the content metadata. And that's enough to confuse and confound – it's another side of Content Chaos.



There is no way to link the tags coming out of my new talent marketplace with the tags in my learning libraries or LXPs. Let's say I've implemented a new talent marketplace. Wouldn't it be good to recommend resources to people who were interested in a role, but didn't yet have the requisite skills? The talent marketplace is doing a great job at inferring skill matches from job descriptions and CVs. But the tags do not match my LXP - in fact, my only option is to manually map skills and content against thousands of constantly changing roles. This time-absorbing, never-ending task is just another result of poorly organised content that keeps L&D bound to administration, when it should be acting strategically.
Look familiar? It will to more than 90% of those working in L&D for medium and large organisations.
Overcoming Content Chaos with strategy
But we don't need to live with this any longer.
In fact, there's never been a better time to act.
The economic downturn has created an appetite for decisions that simplify and reduce costs. Cutting on content could save jobs
Data-driven decision making is now an expectation of L&D, not a nice-to-have
Exhaustion and fatigue with irrelevant content is widespread. Our end users are behind us
Content Chaos is no longer the fate of hapless L&D departments. It's a dragon ready to be slain. In tough times, Content Chaos is the biggest opportunity for L&D to demonstrate its value in hard, unanswerable terms.
One solution is to simply say 'NO!' and refuse to implement massive content libraries, refuse to build new content unless it's absolutely necessary, and then apply careful governance to curation processes. If you feel this radical approach is possible, we can introduce you to people who have done it before.
But in large organisations it's too late. Content Chaos is already there. Good money has been spent on buying or building the content and the internet won't stop creating new content.
The way out requires a different approach.
You will never solve Content Chaos through content management alone. No amount of governance and process will allow you to deal with all this content manually.
When you're wrestling with hundreds of thousands of items, far more than you can imagine or visualise, you need instead to identify and focus on what's important. You need a data-informed strategy.
L&D is waking up to this truth. That is why we have seen the emergence of the job title 'Learning Content Strategy Manager' - now the job description of 234 people on LinkedIn.
Learning Content Strategists exist to make smart decisions about what content to invest in, what to update and what content to remove based on the relevance of that content to the organisation's goals. As a strategist, you will always have valuable hunches. But you won't rely on them exclusively. You need something else to really come up with a good strategy (for anything!).
You need intelligence. By intelligence, here, we mean consistent data about the problem, an expert team who can think about it and algorithms to help you model and solve it.
To make a comparison with an adjacent discipline, unmanageability is exactly why we have seen 'talent management' evolve into 'talent intelligence'. There are now too many jobs and too many applicants to manage talent by manually mapping skills to roles and roles to applications. Content proliferation has blocked up this system too. The answer has been to provide intelligence to help recruiters and candidates make better decisions.
This is what an intelligence-informed strategy to overcome Content Chaos looks like: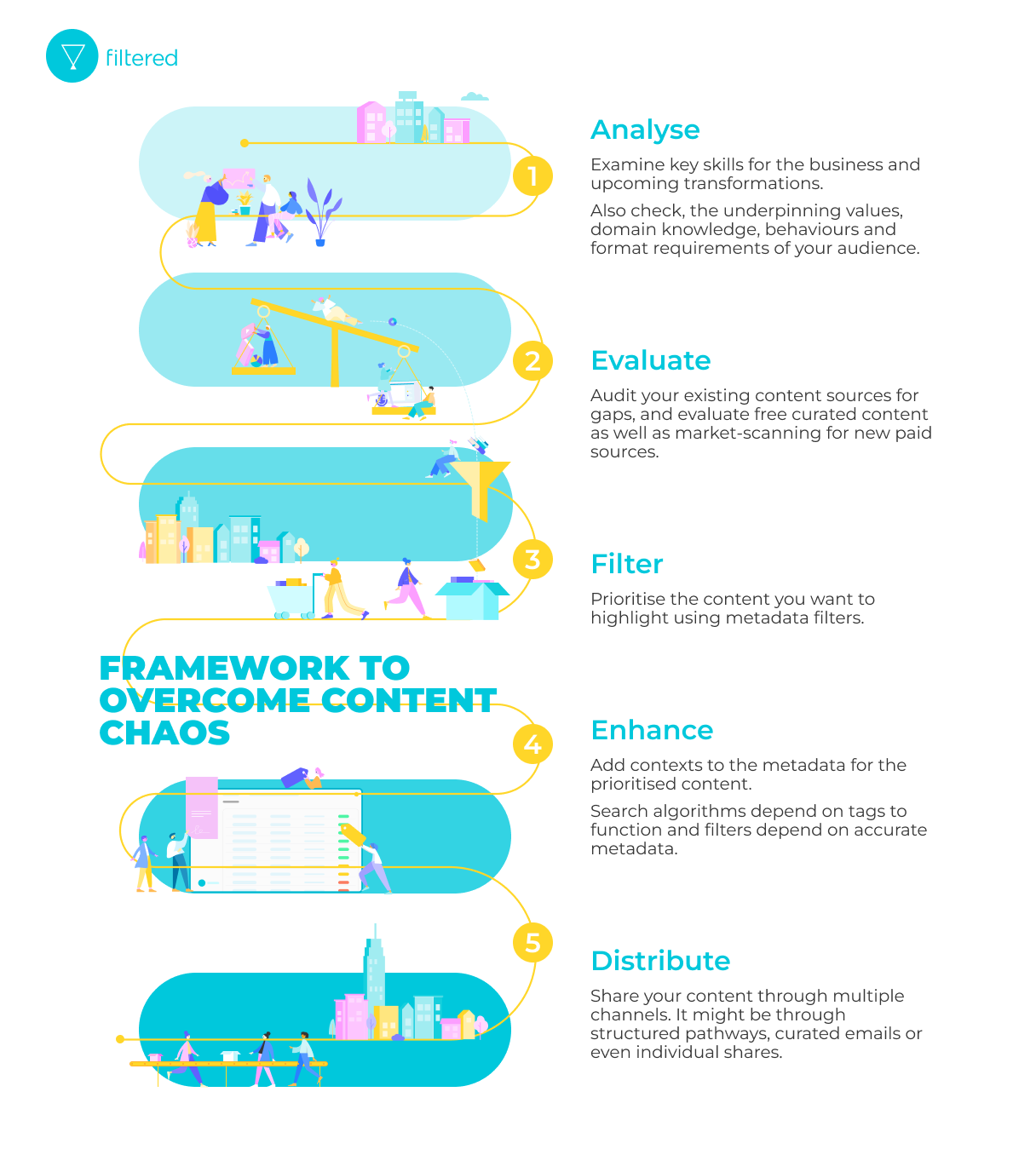 1. Analyse
What are the key skills that are important both to business-as-usual and upcoming transformations?** And beyond skills, what are your underpinning values, what domain knowledge is needed, what behaviours do you want to see and what are the format requirements of your audience?***
Validate your hypotheses with selective and succinct surveys, interviews and usage data analysis.
---
** Combine multiple data sources - bottom up LMS/LXP usage data and role distributions (the now) vs top-down corporate strategy and sector horizon reports (the future).
***Format requirements shouldn't be treated as absolute, but segmented and weighted by audience size (for example: a lot of your sales people might have a reason to prefer podcasts, and seasoned employees might prefer short-form content over courses, but that doesn't mean everyone does).
---
2. Evaluate
Audit your existing content sources for relevance. For gaps, evaluate free curated content as well as market-scanning for new paid sources. Filtered's technology algorithmically processes content metadata and assigns it relevance scores according to your unique definitions of skills, knowledge areas, value statements and behaviours. Evaluate is also where you should apply quality-control criteria: Does the content have sufficient metadata? Is it accessible? Is metadata editable? Is there a good mix of formats?
At this stage you can usually identify significant overlap between libraries (often amounting to 30-40% of overall content spend). Crucially, this is where L&D can finally prove a hard ROI by cutting or renegotiating contracts.
3. Filter
Prioritise which content you want to highlight in your platforms using metadata filters. Filtered's Content Intelligence technology offers more than 15. Year of publication, for example, makes a big difference to knowledge-based content (no one wants an article on crypto published in 2020!). Duration can be critical for judging the applicability of content to your definition of a skill (a seasoned audience in a given area is likely to prefer short videos and articles over courses).
For example, here are the filters in Content Intelligence that took me from over 100,000 potential assets…
... to just three: relevance > 0.85; duration < 30 minutes; format = no courses; publication year = post 2020.
4. Enhance
Search algorithms depend on tags to function and filters depend on accurate metadata. For your work to bear fruit in terms of content discoverability and curation, these contexts must be added to metadata for the prioritised content.
Content Intelligence has built-in integrations to apply tags directly to content in learning systems, but often a simple CSV upload is enough. Metadata enhancement will lift learning system performance immediately.
5. Distribute
There are no limits to where learning happens and that means there should be no shibboleths when it comes to how you package and promote your content. It might be through structured pathways in an LXP (more appropriate to skills). It might be through curated email newsletters (more appropriate to knowledge). It might be through individual shares (more appropriate to values and behaviours).
Unlike enhancement, distribution requires you to tailor the context for each resource (practically: write new titles, descriptions, source images and create new media content).
Did your content strategy save money, improve the employee experience and boost business performance? The loop is closed by a return to the Analysis phase.
Case study




The global learning content team ata leading biopharmaceutical company partnered with multiple internal business stakeholders, Filtered and 12 content providers to bring data to content strategy and decisions, make substantial cost savings for reinvestment - and change how the industry views content.





First, the client project team worked alongside Filtered and multiple internal business units to establish a skill framework of circa 70 business-critical areas. We configured Filtered's Content Intelligence technology with these skills and ran the algorithms through all the content of 12 content vendor libraries to generate the data required to make strategic content decisions, a new data-focused approach to content RFPs celebrated in this write-up by the Josh Bersin Company. The result was a saving amounting to 41% of the content budget.
Content proliferation has grown to the point that you can no longer manage it. The resulting Content Chaos is clogging our systems, confusing our curators and confounding our decision-makers. Content Intelligence generates the data you need to understand all your content in the terms that are important to your organisation, be they skills, values, knowledge and behaviours. So you can really see what you have. And you can decide what you really need.