Managing your learning content without a strategy is like navigating a ship without a destination.
Left directionless long term, a vicious cycle ensues.
L&D practitioners procure content to meet the organisation's needs, only for irrelevant content to clog up learning systems, leading to more procurement of content that may exist but can't be found.
Unfortunately, this is a common and recurring theme in organisations with large content libraries - we call this content chaos. And it's a problem that's now costing an estimated £9.1bn.
The Filtered Content Strategy Playbook combats the chaos by introducing a series of steps which will become a virtuous cycle.


Why use our approach?
We've helped customers by applying this playbook with the following results.
Library evaluation

- AstraZeneca were able to realise a 41% reduction in content spend & procurement by identifying which of their learning assets were overlapping content.

Enhanced discovery

- We've helped customers like Ericsson boost the relevance of their LXP search results

Assisted curation

- Learning is curated 10x faster since playlists can be created within minutes, not hours, across a team of hundreds of SMEs, saving thousands of people hours. ECITB estimate that they will create savings of £1m over 4 years in curation costs, and NatWest will be able to save curation time by 20%.
How do you take control of content chaos?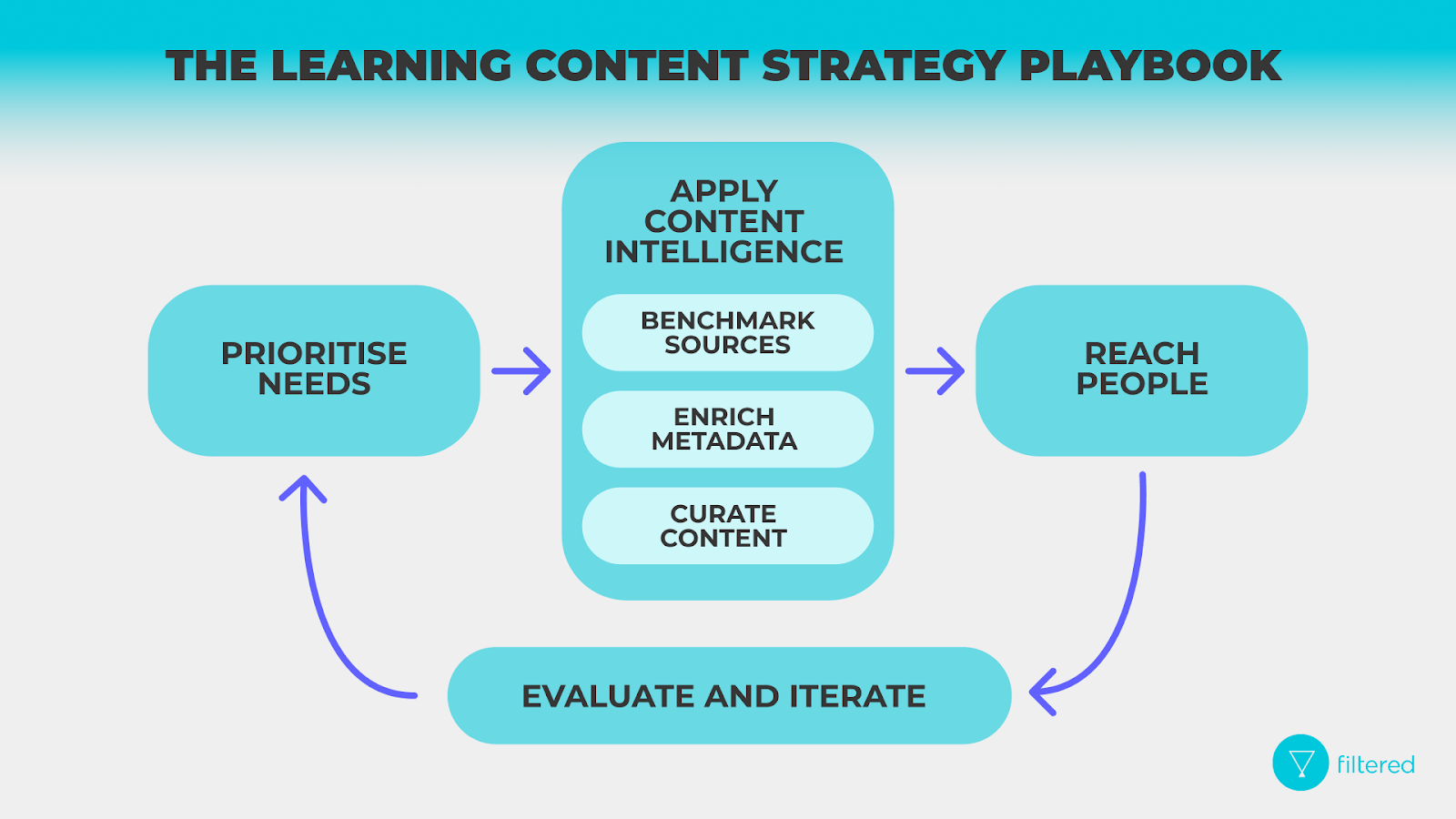 We've broken down the playbook into four main components, or to keep it simple, P-A-R-E:
Prioritise needs
Apply Content Intelligence
Reach people
Evaluate and iterate
This shouldn't be a one-off, linear process but a cycle to repeat at a consistent cadence that makes sense for your organisation.
1. Prioritise needs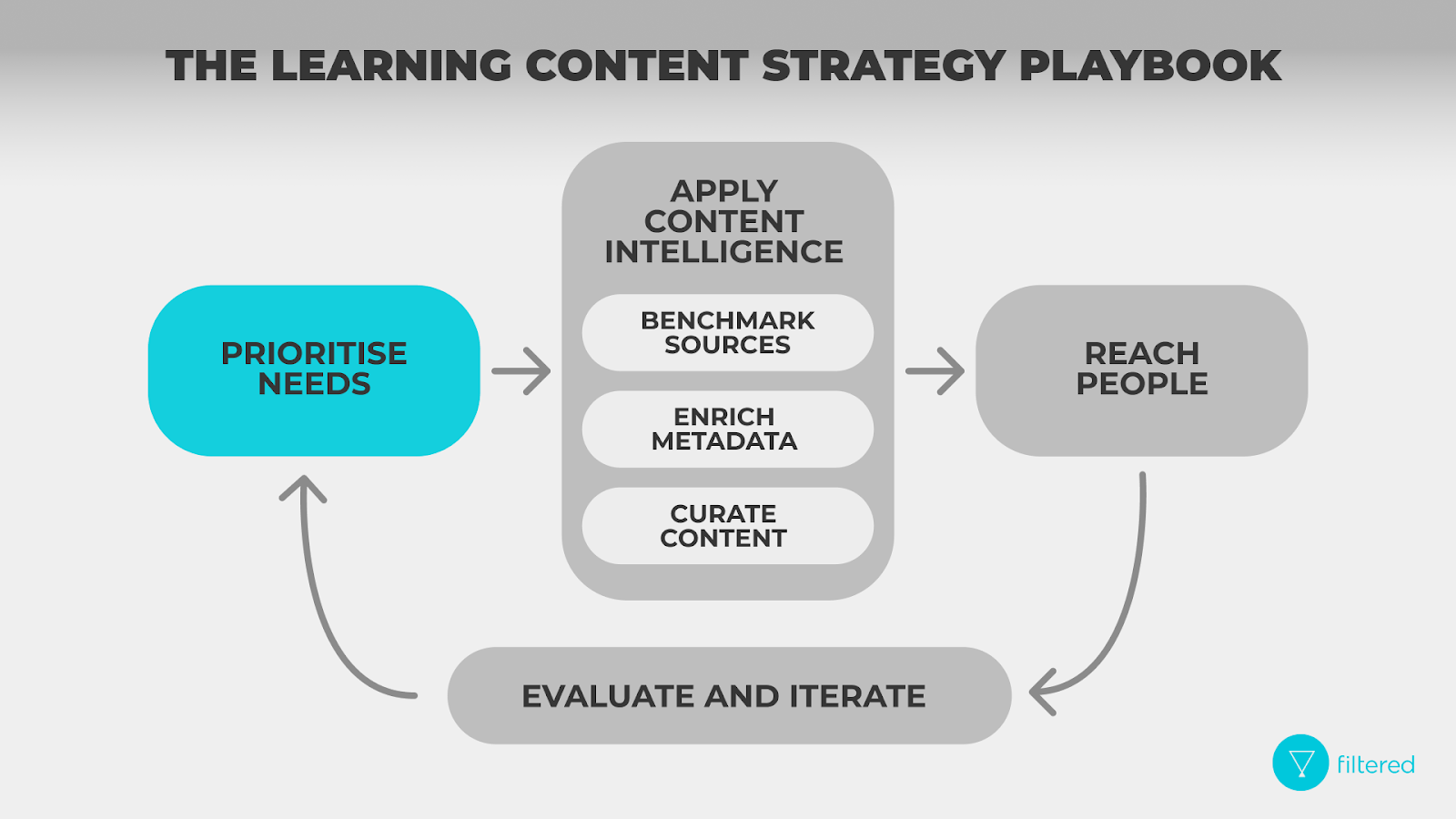 Your learning content strategy requires a solid understanding of four elements:
Pains
Skills
Content
Data and tech
We recommend bringing together the right voices into the room to answer a series of questions designed to gather a complete picture of the state of your learning content, its gaps, and the most important actions. Read the step-by-step guide on how to conduct a 90-minute Prioritise Needs meeting with your team.
If you'd like expert help to extract even more valuable insights about your content libraries, get in touch with our team for a Content Clinic.
2. Apply Content Intelligence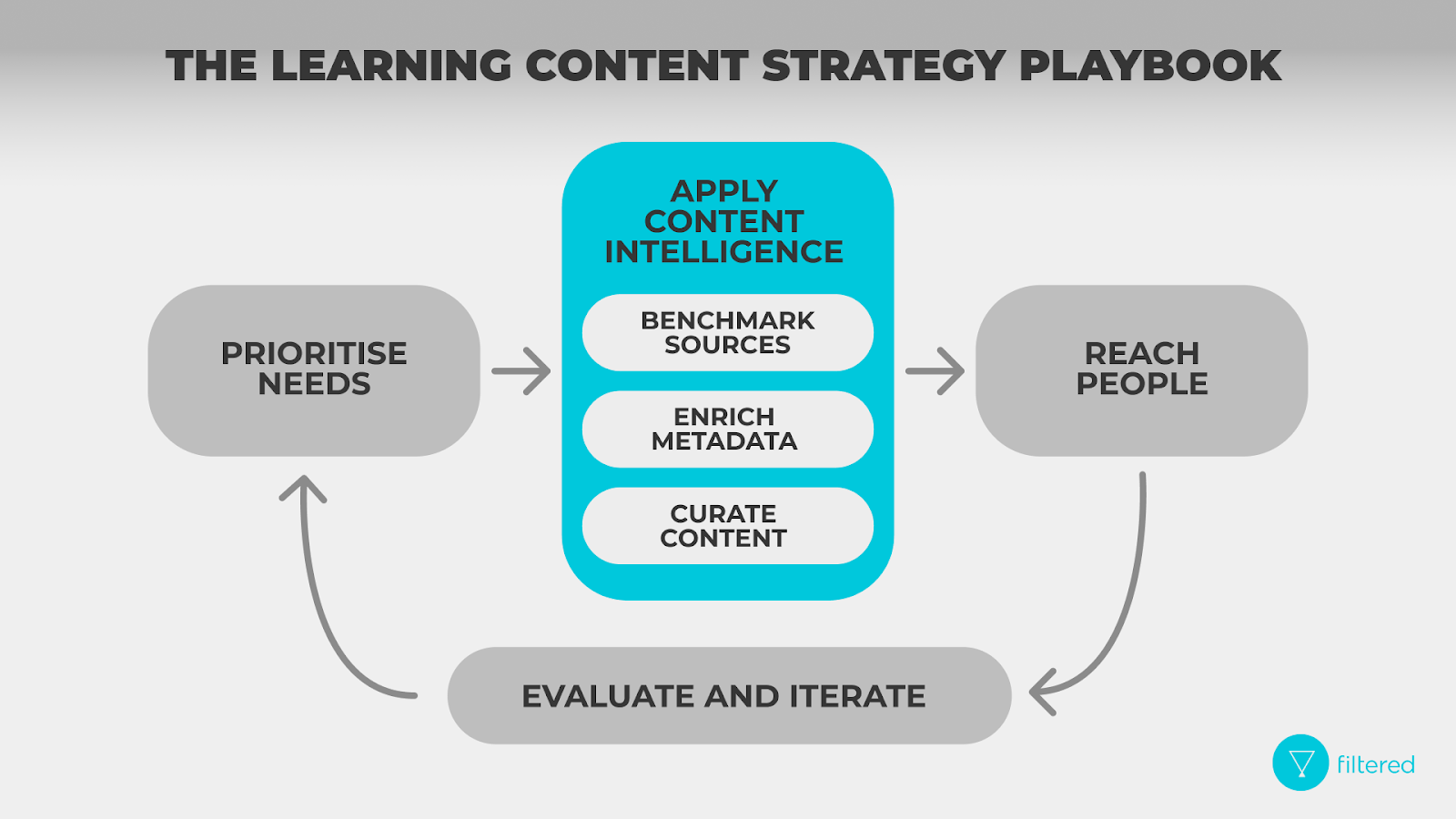 Let's start with a definition of Content Intelligence.
Category of product that filters through all your content and identifies the materials that are most relevant and valuable.
The practice of data-led management of learning content by benchmarking sources, enriching metadata and curating content

.
You may already be practising elements of applying Content Intelligence, but by using the framework below, you'll be able to identify gaps in your current strategy.
Metadata is data that describes other data. In the context of learning content, it's additional information about your learning content like title, description, keywords, length, publication date, etc.
2a. Benchmark sources
Using the principles of this part of the playbook will play a big part in getting the most value out of your content, but also in negotiating from a position of strength with content vendors.
To get the most value out of your L&D budget, Reg Agyeman writes:
"L&D must act as a translator, taking the organisation's requirements and the skills its people need to develop and applying them to different content libraries that do not use the same language. And L&D can only deliver value by ensuring upfront that the content is in line with the business's developmental objectives over at least a 1-3 year period."
In our experience, it's best to agree upon a skills taxonomy & content metadata early, as these elements can bottleneck the process.
Additional considerations out when starting to benchmark:
Is your purpose to reduce spend, reduce duplication, spot gaps or choose libraries?
Which content is in focus: free, built, paid or market scan?
Is your internal content in a good enough state (title & descs)?
Is free web content relevant?
What are your preferences for format, duration, language? Why?
You can also use Cost Per Qualifying Asset (CPQA) to compare your current assets accurately and make better-informed choices on content libraries you would like to procure.
2b. Enrich metadata with skill tags
The most common-sense place to start is by asking how well your learning content is tagged. How are you measuring search success and tagging quality?
You may ask, "why bother tagging again if libraries come with pre-tagged content?" Much of the metadata can be partial and inconsistent - but most vitally, not aligned with your organisation's key skills.
Read our ultimate guide to tagging and validating your learning content.

More considerations for enriching metadata
To improve search, prioritise popular search queries as tags eg Excel, Agile
Bad metadata (missing descriptions, bad titles) = a candidate for archiving
Good metadata benefits anyone (L&D, SMEs, full- or part-time curators), creating pathways in the LXP
Correcting language tags makes a big difference in global organisations
If this element of the playbook sounds manual and cumbersome, it can be without a Content Intelligence platform. Filtered uses AI assistance to tag learning assets with your organisation's skills.
Watch how Ericsson achieved 79% skills tagging accuracy with Filtered.
2c. Curate content
You can only do this step to the best of your ability once you've completed benchmarking sources, and enriching metadata with skill tags.

It's best to approach this part of applying Content Intelligence in 2 stages - pre-curation and executing the curation itself.

Pre-curation considerations
Who is the pathway for? What knowledge and attitudes is this audience likely to arrive with?
Is the purpose of the pathway to instruct, inform, inspire, or something else?
How are you currently curating, and who is doing it? What's going wrong? How long does it take?
Is there the right mix of enticing content to reel the learner in at the start + more advanced material to deepen their flourishing understanding? How long a pathway?
Are languages (or some other characteristic) important?
Once you've established your curation objectives, use a content curation brief that will help you communicate your curation needs clearly.
Executing curation considerations
Is there an ordering that is logical and tells a story that the learner can follow? (We found that 92% of reviewers preferred structured pathways over a collection of relevant content)
Which mix of modalities is right for your audience?
Does the playlist theme require you to prioritise your organisation's internal content?
How will you add value to the curated assets with organisation-specific context?
Read the complete guide on everything you need to know about curation.
---
💌
Get actionable insights like this straight to your inbox
---
3. Reach people

This part of the process requires some fudging of the normal L&D bounds and ventures into the realm of marketing.
Ashley Sinclair, managing director of MAAS Marketing says:
"...there's actually a lot that L&D can learn from marketing: an industry that is at the cutting edge of digital technology and is constantly pushing the envelope to evolve. They've done the leg work, so why not learn from their mistakes and adopt some of their most impactful approaches."
We couldn't agree more. We've also spoken before about how you can use nudge theory to inspire the kind of learning that takes full advantage of the tools available in the modern workplace.
Keep the following considerations in mind to distribute learning effectively.
Provide clear governance
Have total clarity on who should reach people, how and when. Consistency is key in your learning distribution system and creates opportunities to drive and reinforce behaviour change.
Look outside of the LXP or LMS
Deliver learning content to where people already are. If your learners are already using email, or internal communication chats and forums, it makes sense for learning pathways to be distributed on the same platforms.

This can be a time-consuming exercise. Whatever channel you may choose, you'll have to consider the best way to format the learning. For example, email newsletters have their own set of best practices versus sending messages via Microsoft Teams.

Smart use of tech and automation can be the answer for organisations with hundreds, if not thousands, of learners to distribute to. Zapier saved 1,000 hours in L&D time by automating several of their admin tasks, including communicating with workshop facilitators and the team through Slack.
Don't add to the noise
Optional sign-ups are much better than unwanted broadcasts. We often feel a twinge of annoyance when we receive newsletters we don't recall signing up for. This sentiment will be shared by users who never opted in to receive learning, no matter how helpful.
4. Evaluate and Iterate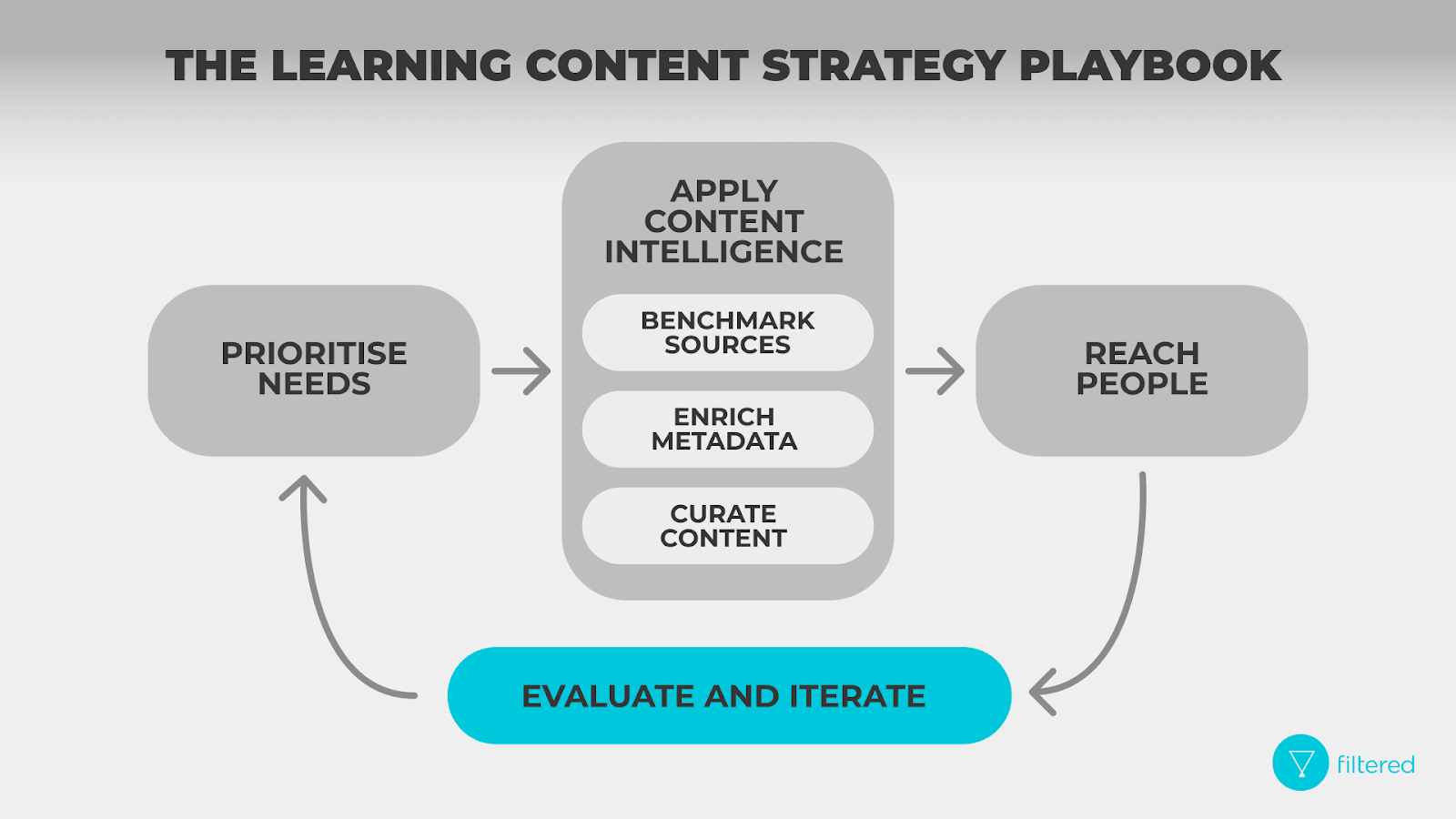 To ensure that your learning content strategy is a flywheel instead of a one-off, linear process, evaluating and iterating must be scheduled at regular intervals.
At a minimum, the data to gather should include:
LXP starts and completes
Email opens and clicks
Social shares and comments
Business performance data for the audience you reached
Ideally, this data should exist ahead of implementing the learning content strategy. If it doesn't, there should be an agreed-upon process to gather the data before and after in the same way to be able to measure the change.
Questions to ask
Which skills resonated with users and which didn't?
Which formats?
What departments engaged the most over a period?
How did performance differ between departments in that time?
Can you isolate the impact of content on individuals and teams?
What does success look like?
Success looks different for every level, from individual to organisational - the important thing is to agree with stakeholders on what it looks like from the outset:
Individual outcomes: skill certifications, career growth
Business level metrics: retention, performance, growth
If things didn't work out as planned
Best intentions don't always equate to success. Greg Detre argues that a keystone habit for any team is the postmortem to reflect honestly as a team. Having a structured and blameless process will empower you to take the best action, resiliently.
And repeat
Schedule the next time you'll be iterating upon your learning content strategy, and scroll back up to the beginning of this playbook whenever you need to.
TL;DR
When building your learning content strategy, just think P-A-R-E or Prioritise needs, Apply Content Intelligence, Reach people and Evaluate & iterate.
By using this playbook, your learning content strategy will enter a virtuous cycle that ensures your content libraries are bringing you the most value. In turn, by saving valuable time and resources, you'll be able to reinvest in other L&D initiatives.
If you'd like expert help to lay down solid foundations for your learning content strategy, book a 30-minute Content Clinic with our team.