Learning partner meaning
The vendor/vendee relationship is often cold and robot-like — online forms, no human-to-human interaction, one and done. Very transactional.
A true learning partnership is quite the opposite — helpful and providing value from day one, always there to inspire and motivate, truly understands your business. A learning partner feels like an extension of your team.
When it comes to choosing a learning platform, a partnership is critical.
As you begin — or continue — your learning vendor partner search, be sure to factor in the following 5 traits of a top-notch learning partner, in no particular order.

#1: Intelligent Curation — a partner that will help you take control of your learning catalogue
We have a box for you. It's a big one. After all, you have a lot of ... stuff. But, this is not just any box. It's a branded, personalised box — one that can fit your entire learning library.
It's yours. All yours. You are welcome.
If the Learning Experience Platform (LXP) solution you are considering offers you a "big box to stuff all your learning content into," walk away. Maybe run. Fast.
No matter how fancy the box, jamming your learning catalogue into it will not solve your issues. Boxes are the work of LXP providers who are vendors.
An LXP partner, on the other hand, helps your team analyse your existing content learning library, intelligently curate/categorise it, and ultimately craft genuine learning experiences.
To take the box analogy just a bit further, partnering with an LXP is like moving houses or apartments.
It's your chance to cleanse, to (re) organise. To only take what is needed. To see where you have duplicates (or triplets — do we really need 3 juicers?).
Packing up everything from your old house without taking the time to consider what you need (and don't need) is a futile exercise.
The same goes with partnering with a new LXP.
Intelligent curation is the backbone of any solid LXP.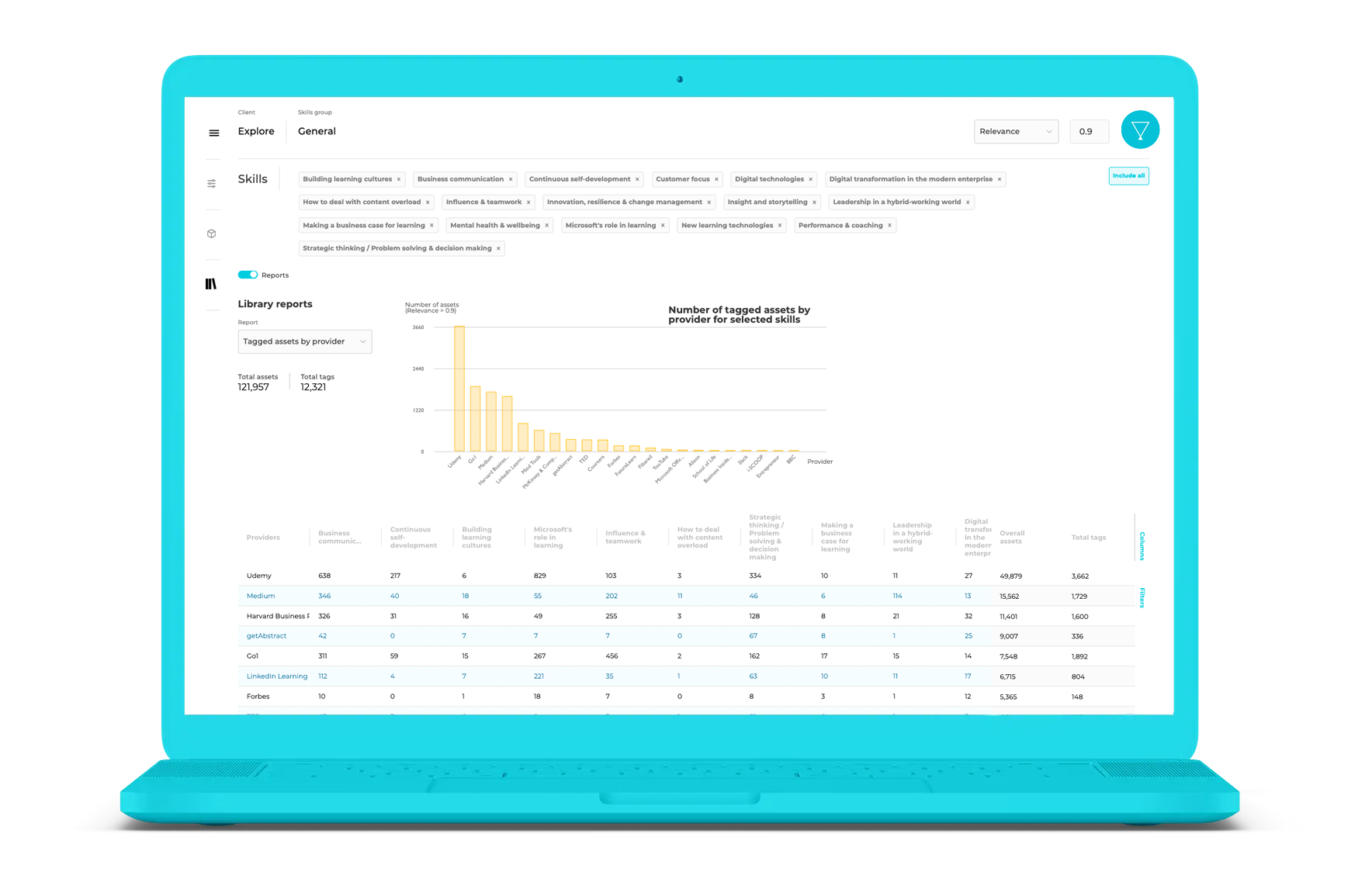 It's the one feature so intrinsic to the true power of an LXP; if it's not something your LXP can provide, look elsewhere.
Without adequate, skills-centred* curation, learning is not practical nor useful. And learning that is not practical or useful means learners will not come back, no matter how engaging the social feature/rewards and email nudges are.
*more detail on the need for specific skills later on
How Filtered addresses intelligent curation: Data insight. Our platform uses the text of learning content as data. Our Content Intelligence algorithms curate the best of the best content from massive learning libraries (both internal and external). We ensure learning is "sticking" based on usage data. Data steer the learning ship.
Don't let your learning platform become a dumping ground for irrelevant content.
#2: Learning Engagement — a partner that truly understands how to motivate and captivate learners
There is a famous Seinfeld episode from the 90s where Jerry is annoyed his rental car is not available — "See, you know how to take the reservation. You just don't know how to hold the reservation. And that's really the most important part of the reservation. The holding. Anybody can just take 'em."
The same holds (no pun intended) true for successful learning initiatives — it's relatively easy to acquire users (excitement around a new programme, mandated learning per team, etc.), but maintaining active users can be another story.
If you are struggling with this, too, you are not alone. Engagement is one of learning's biggest challenges.
Many organisations do not prioritise learning, which may be tied to these two interrelated stats: The average employee dedicates only 24 minutes per week on "formal learning" even though 94% say an investment in career development would equate to longer tenure.
And, not surprisingly, traditional methods of engagement no longer work. One of the most common mistakes learning platforms make is banking on the intrinsic value of a platform to engage users.
You need a partner with Customer Success and Learning Engagement specialists – individuals and teams who truly understand digital marketing methods. You need people who can help implement nudge theory campaigns to drive engagement and make your initiative/implementation a success.
Oh, and a big budget.
Having a big budget certainly makes things easier for learning departments — more influence and the ability to launch bigger/bolder initiatives.
But a focus on sound communication is critical and can even mitigate a limited budget.
The right connections and the ability to communicate quickly and efficiently to large groups — without having to get the green light from the marketing/comms team — means organic influence without a considerable cost.
How Filtered addresses learning engagement: We stress engagement on every platform. Email and instant communication are the backbones of modern work communication. The Filtered LXP uses and constantly iterates hand-crafted, intelligently automated campaigns that put learning in the flow of work:
Activation and reactivation messaging with inspiring content
Onboarding messaging to explain how to use Filtered
Push messaging with proactive recommendations
Insight messaging to track impact and measure progress
We also believe in the minor, subtle engagement tweaks, including regular, personalised, individualised emails sent from your own domain, communication ​​written in the organisation's language, putting in the extra effort to be authentic (and authentically funny), and of course, a multi-channel approach — Email + MS Teams + Slack + SMS, and so on.
We incorporate "off-platform" inbox and social platform integrations to keep learners dialled in. We also dedicate a significant amount of time to onboarding, hoping to "catch" those employees who are not keeping up and re-engage them.
We are proud to say our learning engagement rates are 3x the industry average.
For more details, check out 10 ways to amplify your learner engagement campaigns.
#3: Key Performance Indicators (KPIs) — a partner that takes your goals and KPIs as seriously as you do
Obsessions are often unhealthy.
Unless ...
...that obsession is your learning partner who is curious (obsessed) about understanding and addressing your organisation's business challenges. A true partner wants to support your goals and is often laser-focused on proving value using data insight.
When it comes to Learning & Development (L&D) leaders, proving value can be challenging.
Thanks to ever-evolving technology, everything is now measurable. As a result, L&D teams have more metrics available today than they ever have before: Assets opens, platform usage, course completes, and so on are now table stakes.
But metrics without the "so what" answered are just ... well ... metrics.
The C-suite cares about KPIs and ROI. How has our learning investment improved our teams' ability to be at the top of their game? How has learning impacted sales and customer success and retention (both employee and customer)? How has wisdom saved the company money?
And — buzzkill — even if learning is valuable, it is often tricky to prove causation instead of just correlation.
That is all changing. With skills now driving learning, organisations are more focused on learning to build skills. More systems (and metrics) are available to help L&D teams to prove ROI and tie learning to KPIs.
Learning must also be tied to the overall strategy. Learning just to tick a box will not suffice.
Bonus: If learning goals are tethered to business strategy, you are more likely to align with effective skills frameworks — which means much more targeted, deliberate, intentional learning.
Finally, learning must be measurable. Think: accountable success metrics.
At Filtered, we recommend benchmarking a set of skills and having a process in place (i.e., weekly check-ins) to create a system — and culture — of accountability around agreed-upon goals.
This is where not just having the data but actually analysing it matters. The more data you measure from a learning platform, the more likely you are to guarantee success.
#4 Skills — a partner that genuinely understands skills
We've dipped our toes into the importance of skills earlier in this article, but skills are so necessary they deserve their own section.
And then there is reskilling and upskilling.
Reskilling: giving people new skills to succeed at a new job
Upskilling: giving people new skills to improve at their existing job
Skills can be complicated (and misunderstood and trivialised). Yet not surprisingly, skills are a priority for businesses. A recent survey found that 93% of companies view reskilling and upskilling as the number #1 priority this year.


---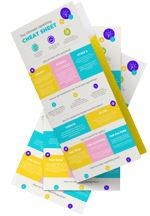 A huge number of businesses are stuck on the upskilling journey. Get The Ultimate Upskilling Cheat Sheet for 2021 now to make upskilling happen for your business.
---

Employees are feeling the pinch of, and the need for, (often misaligned) skills. According to Gartner, "70% of employees report that they do not have mastery of the skills they need for their jobs."
70%. That's nearly 3 out of every 4!
To have a tangible impact on your organisation, a learning partner must understand — and be able to shape — your skills strategy with genuine expertise and insight.
Aspirational messaging won't get the job done. It takes work — hard work — and time and effort to build an authentic, self-directed learning culture.
The good news: There is no need to go at this alone. A learning partner that understands and is up for the challenge is your best friend.
As a first step, you should determine the skills and capabilities relevant to your workforce today and over the next few years.

This requires a robust yet adaptable skills framework. And this skills framework is essential as it becomes how content (and content effectiveness) is used and measure.
At Filtered, we leverage the power of our algorithms to cull through content — determining how well it aligns to any skill in a skills framework.
Within hours, we generate a learning asset report ranked with relevance scores relative to your high-value skills. This empowers your L&D team to properly evaluate an entire library of content against your skills framework.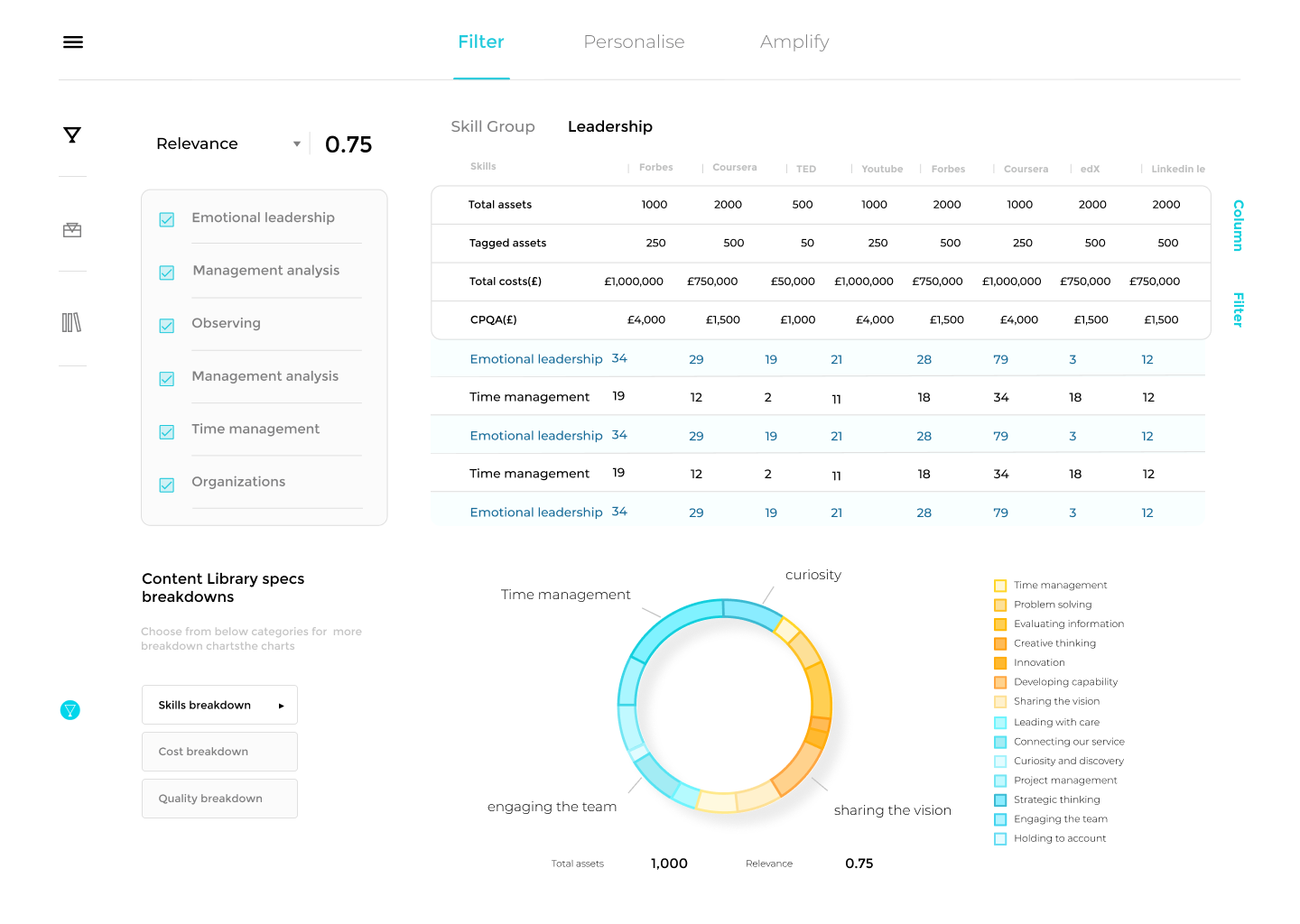 This content intelligence serves as the groundwork to power the (Filtered) LXP.
#5 Part of the Team — a partner that acts as a natural extension of your team from Day 1.
Many vendor-vendee relationships are not relationships. Instead, they are pure "business" ... very one-off, transactional. Robot-like.
And for those that start off feeling more like a partnership, the warm fuzzies disappear — fizzling out once the agreement is signed.
Your learning partner needs to be with you from the very start, Day 1.
For example, if they are unwilling to pilot or prove value as part of the sales process, this can be a bad sign. You need a partner that's invested in your aims and one who will work tirelessly with you and your stakeholders to ensure an initiative will be a success before you've signed a contract.
When considering working with a learning partner, look for companies with a proven track record of post-sale engagement. A good sign of a great partner includes robust SLAs, a dedicated customer success and support person (or team), and a team of experts in data science, engagement, and learning consultancy.
An ideal learning partner will feel like a genuine extension of your team.
Most L&D departments are viewed as a cost centre. Consequently, when times are tight, budgets get squeezed, and resources shrink. However, leadership expects (demands!) similar results.
When expectations are not met, teams become disinterested in learning, and top management devalues the learning platform investment as ROI slides. This vicious cycle turns into a downward spiral — businesses begin to bounce from "one shiny platform" to "the next best thing" ... without truly solving the underlying issues with content and skills.
This is where your LXP partner comes in.
Your learning partner has your best interests in mind. They are there to continue to not only support your content learning programmes but also to constantly find new ways to prove ROI.
Case in point: Filtered's work with our customer (and partner), Heineken.
In 2020, Heineken launched a digital upskilling programme for its 85,000+ employees. As Nicole Stead, the Global Digital Learning Lead at Heineken, commented, "... what's important to highlight is the human work that was done ... [Filtered's] platform is about ensuring that the right content gets to the right people and the human assistance is really a quality assurance. The process isn't just taking content you see on the internet concerning specific technologies and plugging it into a platform. There's really a lot of work that goes into curating it and ensuring that what people see is high quality, engaging and impactful."
The "human assistance" is where the extension of the team really shines through.
The choice is yours.
The TL;DR to this entire article can be summed up in one word: Partner.
Not vendor. Not seller. Partner.
You have the tools you need to choose the ideal learning partner. Start asking questions, getting references, and determining which LXP partner is the best fit for your team.
It's time to make learning smart.
Filter out the noise of content overload. Get the right learning to the person at the right time. Book your smart LXP demo today.