For most of us, the digital transformation journey is a long way from its beginning. The issue is, there are still no trodden paths to follow: what's most important and what can be left behind? How does learning optimise the dwindling slice of employee time it commands? With budgets under threat, answering questions like this is the only way that learning is going to be able to make an impact.
Whatever answers there are need to come from practice, not just theory.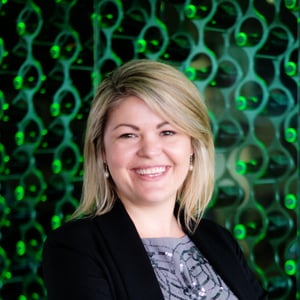 Nicole Stead is the Global Digital Learning Lead at Heineken; she spoke about the steps she's taking towards digital transformation, the difficulties on the horizon, and how she's planning to handle them through influencing company culture, utilising internal data, and mixing the tech with the human.
Can you give us an idea of what learning looks like at Heineken?
Heineken is about 150 years old and prides itself in being the World's most international brewer. We operate in around 190 markets and have over 300 different brands in our portfolio.
Whilst we have been on a digital transformation journey for some time, last year it was really accelerated by the addition of a 5th pillar to our strategic ambition: to connect across a digital world. What this means is that we are endeavouring to win and connect our consumers, retailers, and fragmented trade across all of our 190 markets.
Of course, we can put in place state-of-the-art digital technologies to achieve this, but unless we have the right skills, mind-sets, and capabilities to deliver and execute on that strategy to connect we're not going to succeed. So, a big challenge for us has been upskilling the organisation to a depth at which we can succeed, and actually beat the competition in a tough digital consumer market.
What were some of the stumbling blocks you had to overcome coming up with digital solutions at Heineken?
Face-to-face training has been the norm at Heineken for many years. This is part of the bigger question about how people traditionally see learning in the organisation. One of our biggest obstacles is in changing the learning culture; changing perceptions about where, how, and when people should be learning.
With this in mind, the key thing we need to think about from a user-centric point of view is: how do people consume content or experiences in the digital world today and how can we match that from a learning experience design point of view? If you look at platforms like Spotify, Netflix, Amazon, and how digital consumer behaviour happens in those spaces, we aim to replicate that in the world of learning, to make the experience as intuitive as possible.
There are many things to consider when working out how to create an intuitive, personalised learning experience for an 80 000+ strong organisation. Of course, localisation was something we could not overlook. Every one of our markets, in terms of their digital journey, is at a different level of maturity and even employees within those markets have differing levels of knowledge when it comes to digital literacy. So, we needed to make sure we had a digital solution that could adapt and flex to those differences, not just in terms of learning needs, but also demographic or organisational differences such as language and role / Function.
How important is building learning communities in the Heineken world?
I think now, more than ever, it's become a priority. The success of the upskilling program we recently launched across the whole company to our 85,000 employees, the success of our skills acquisition and our efforts to support each area in its digital transformation depends on the champions within those areas. From this baseline, we started to build and nurture a community using digital platforms; similar to the platforms that we're using with Filtered, but also other digital formats like Teams, Workplace (by Facebook) and even good old fashioned email, it still works like a charm for targeted marketing!


---
5 Ways to improve your Food & Beverage learning strategy: Build new technical and commercial capabilities fast.
---

Can you give an idea of how Heineken is using the Filtered platform?
As I mentioned earlier, we recently launched a digital upskilling program to our 85,000+ employees across Heineken, which we named Digifit. Within Digifit, we have what we call our "in-house digibot"; this is powered by the Filtered DXP (Digital Experience Platform). Within the chat bot, we've configured a number of questions for the learner which are used to deliver content recommendations to their personalised dashboard.
The machine behind digibot works really well for recommending content, but what's important to highlight is the human work that was done; and this is an area in which Filtered really came in to support. The platform's about ensuring that the right content gets to the right people and the human assistance is really a quality assurance. The process isn't just taking content you see on the internet concerning specific technologies and plugging it into a platform. There's really a lot of work that goes into curating it and ensuring that what people see is high quality, engaging and impactful.
What I thought would take a long time - actually getting things together - took a very short period. And this is mainly because of the experience of the team: over time, Filtered have curated thousands and thousands of content assets for organizations who are going through a similar transformation journey to us. However, one of the most important things they helped us with is curating content from within our organisation. So, what the learner sees is actually a combination of external sources, some content from premium providers like LinkedIn Learning, but also some of our own internal content.
We've then been looking forward to using the data that we see from the platform. If we can measure user behaviour, we can continue enhancing the offer and consistently provide the highest quality content possible.
Have you already started capturing some data from the platform? And how is it helping you in terms of shaping your strategy/decision making?
Yes, absolutely. It's still early, but the future focus is mainly about using data to ensure that we successfully sift our content and get rid of activities that don't seem to be bringing value to our learners. What we really appreciate is that Filtered gives us a really easy way to achieve that. In its system, Filtered has what it calls a "relevance score". And when a learner completes a specific piece of content - reads an article or watches a video - they are then able to rate its relevance. Every bit of this information feeds the machine and goes to ensure that whatever content is continuously churned and re-served is highly relevant to each learner. These tools and tactics built into the platform really help us to improve the overall learning experience in a way that, in Heineken, we have never been able to do before.
Where do you see things moving forward when it comes to digital transformation?
I'm passionate about technology, particularly applied to the world of learning. So, for me, this is a wonderful future to look forward to. I think that Heineken and many organisations are now about to scale up on learning initiatives like they've never been able to before. And that is a huge, huge, advantage to any organisation wanting to accelerate their digital transformation journey. From a learning perspective, I think a future focus will be looking at the trends emerging from digital transformation and working out how they can bring value to organisations. For example, we have started to look into AR and VR and evaluating which learning problems these technologies (such as LXP) can help us to solve in HEINEKEN. I think data is going to be fundamental for us. We have never really taken advantage of data to improve learning, particularly corporate learning. And, as a result of all of these digital solutions and platforms, we're now becoming able to truly embed learning in the flow of work.