Filter and curate
You can now use those carefully-selected, high-value skills to determine both the learning content for reskilling that you buy for your company and the specific learning assets that you put in front of individuals. In this section, I'm going to show some of the outputs and UI of our product to illustrate the approach and the art of the possible.
There are algorithms now which can take a nuanced understanding of your skills framework, including all of its levels and taxonomies, and apply that to thousands or millions of pieces of content and decide - as well as a human can - how relevant each is to building that skill. We call this Content Intelligence and one of the outputs looks like this: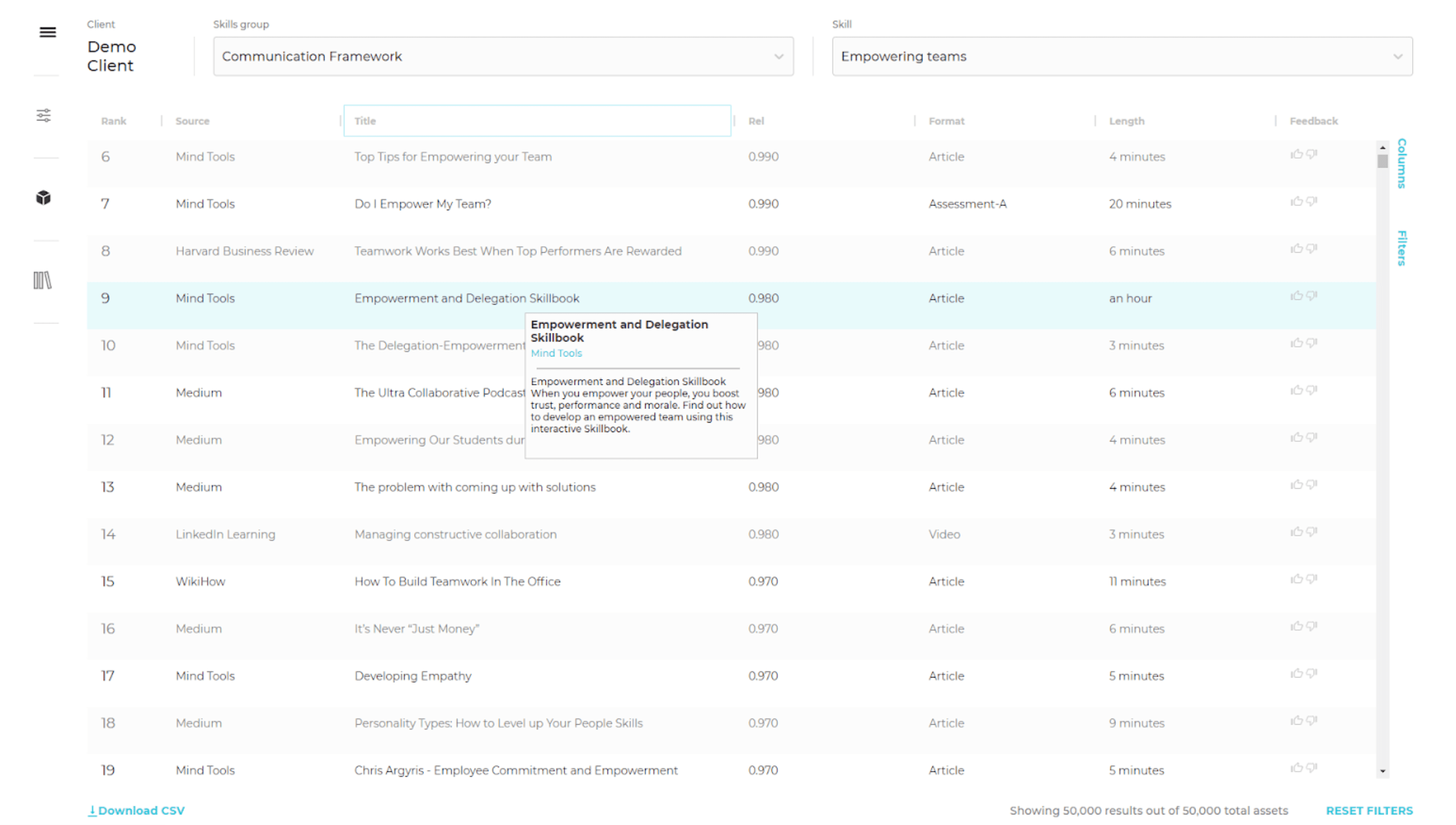 Viewing this asset by asset gives you a curation accelerant and informs how your platform recommends content to develop skills your organisation cares about. We can use this data to inform the personalised recommendations in our smart LXP, for example. But the value of solving skills in this way doesn't stop there.
Assimilating this data at a content library level allows you to see exactly how well each of your library providers caters to the specific skills you outlined in the skills framework process. It's clear how valuable that can be as part of content procurement to inform content buying decisions and negotiations. Indeed, we've saved two different 100k- employee- plus organisations 30% on their content provider spend already. The potential is huge.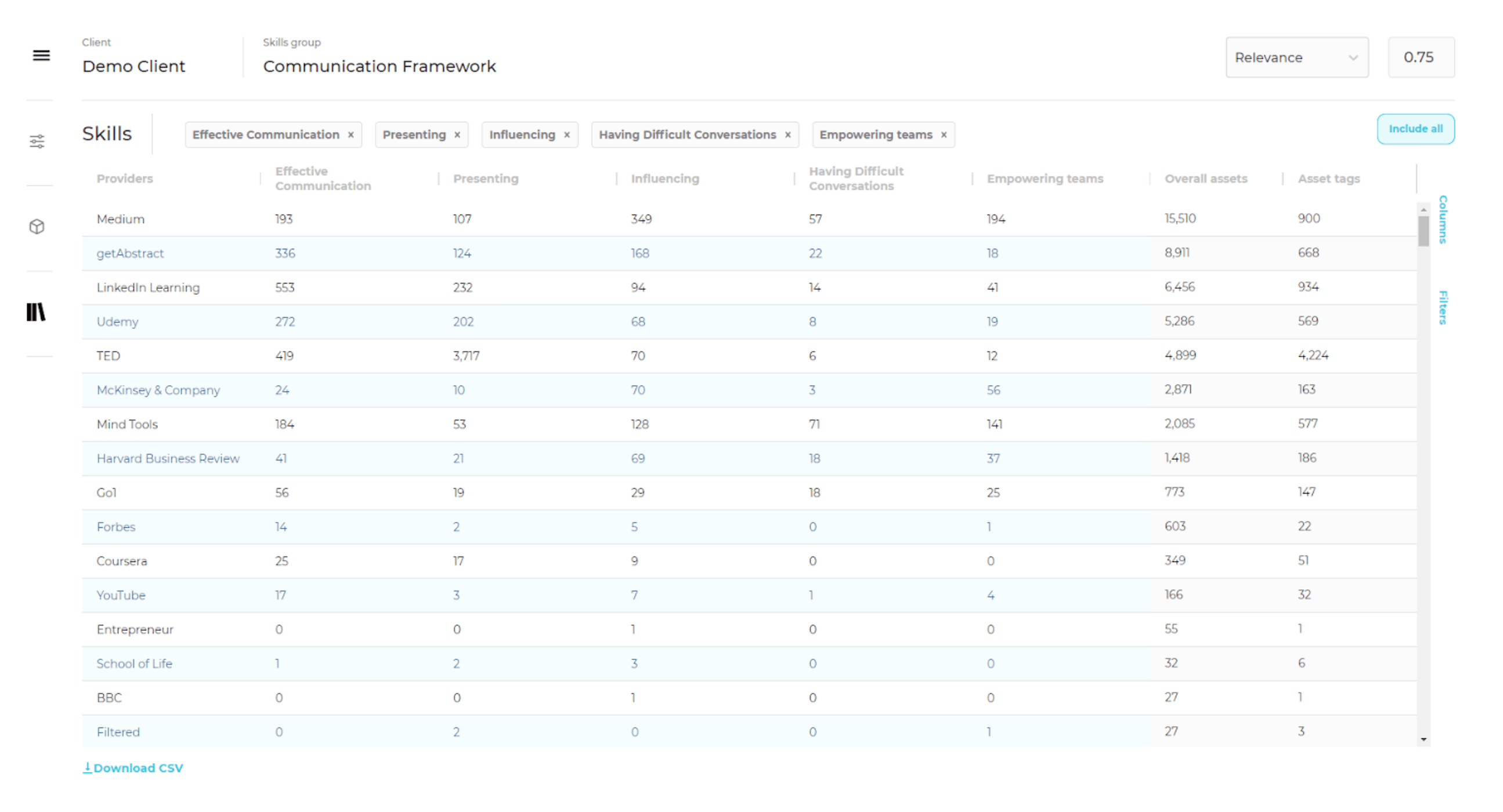 Learning content providers
To give a specific example of our Content Intelligence in action - we ran our analysis on 6 of the major content libraries' learning assets to assess relevance to certain nuanced skills as well as overall quality. In this case, we looked at the power skill 'leveraging data' and assessed its relevance across the learning content that HBR, LinkedIn Learning, Coursera, getAbstract, Mind Tools and FutureLearn provide.
After we ran the analysis, we discovered that getAbstract, LinkedIn Learning and HBR are the most relevant libraries for businesses that are looking to develop or improve their employees' skill to leverage data. While not all 6 major content libraries have an equal number of assets in total, if you're using or considering Coursera, Mind Tools or FutureLearn, you may be missing out on assets that rank more relevant for your nuanced skill requirement.
So, if your business is looking to focus on leveraging data as one of the top priority skills in your skills matrix, then investing in getAbstract followed by LinkedIn Learning and HBR which have the most relevant content coverage would provide the best ROI.

You can read the output of this whole analysis here:


Of course, leveraging data is only one skill, and you wouldn't make purchasing decisions based on one skill alone. The real power comes from the scalability of the approach. When you have the data on the 30-100 we mentioned before, you can make truly informed decisions on what content is working to build the skills and capabilities your team needs.
Beyond learning
The skills you've put together are useful elsewhere too. The right (data-backed, and carefully synthesised), high-definition picture of skills does of course help with learning and development decisions and activities. It's also interesting to those working in Talent, the C-Suite, PR - and really any hiring manager in the entire business. Because there's at least a popular and growing opinion that skills is the best lens through which to think about workplace productivity and the full employee lifecycle.
---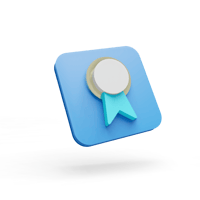 Solving skills isn't easy, but as I've outlined above, it is important. It's something that myself and the talented Filtered team spend our days delivering for our wonderful, progressive clients. There are so many benefits to uncovering data, building a coherent skills framework and delivering content that builds those skills to your people. If you want help unlocking those upskilling benefits, we can help with any stage of the process, please just be in touch.