It began as an $8 billion buy out. Only a last minute turnaround from Bill Gates prevented Microsoft from owning Slack and, from this chaos, Microsoft Teams was born. Since then, both products have steamed towards a head-on-head conflict; now that Teams has outstripped Slack in terms of users, it is looking to directly poach from the communications veteran. Since head-on-head conflict is here, direct comparison is unavoidable.
So how do they compare? Truthfully, the devil is in the details and it ultimately depends on what you're planning to get out of your communication/collaboration software. Below is all you need to know about the differences that will make a difference - where you can find out whether to tag out of Teams or cut the Slack.
Layout
Microsoft clearly decided, in terms of layout, that the only way to beat them was to join them. The result is that both applications look very similar, as you can see below (Slack above, Teams below). Teams' extra layers are the only real difference. Everything is a little more filed and categorised in Teams whereas all of Slack is immediately present - never more than a couple of clicks away (however, an upcoming update plans to make the sidebar more collapsible).
The most significant of Teams' extras are the "tabs". We'll talk a little more about what they can do in the 'Integrations' section but, in terms of layout, all you need to know is that they are like browser tabs within a channel or chat that you use to flick to different integrations.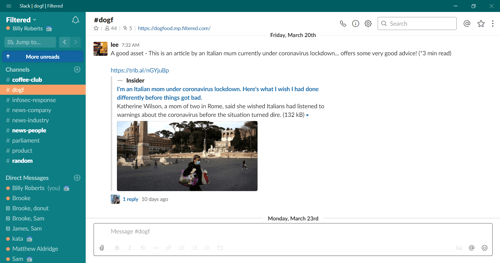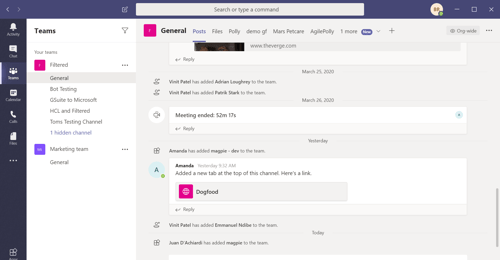 Chat and Channels
The heart of both (though maybe more exclusively so for Slack) is communication. It is fitting, then, that Slack takes the lead, especially in terms of notifications. In Teams, you can switch notifications on and off for each channel, but only by going into each channel. Slack has a whole host of notifications options. You can pick what relevance of message sparks a notification, as well as choosing a particular sound for each one. Alongside scheduling a 'Do-Not-Disturb' window, you can decide which platform, and even device, displays your notifications.
Threads, also, work better on Slack. They are available on channels, like Teams, but also on chats; they also are given their own window so that the overall conversation can continue. Slack's new update also gives threads and mentions their own drop down section in the sidebar.
Beyond this, minor features and quirks are the only real differentiators. On Slack, you can schedule yourself reminders to reply to a message which is a useful touch. In Teams, on the other hand, you can choose, on adding a member to a channel, how much of the past conversation they can see.
Further, Teams allows for a more versatile way of formatting messages: the simple text box can be expanded into something like a stripped down word document which gives you a host of options if you want to send over something more complicated.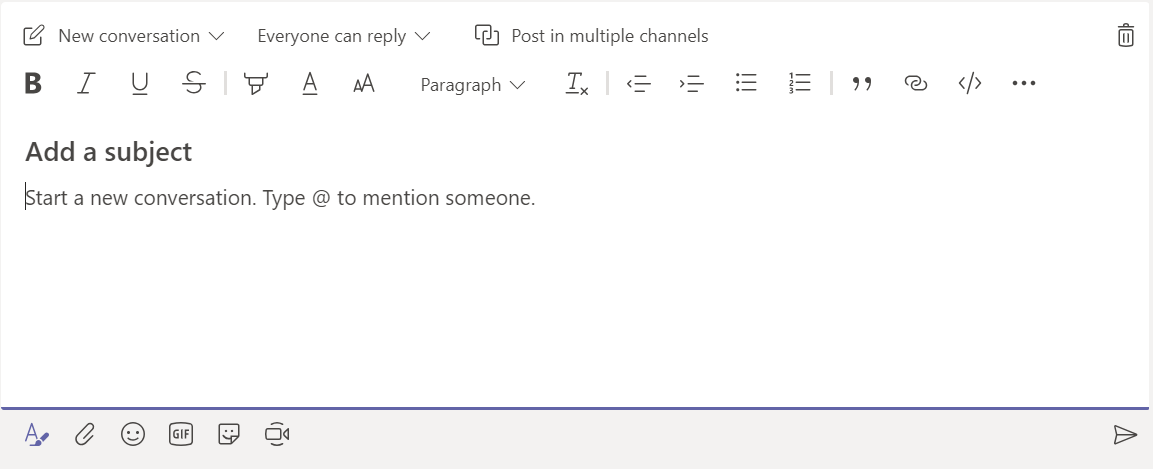 Both applications have also tweaked their lighter sides. While Slack has retained the "I'm feeling lucky" gif format, you now have the option in both programmes to choose the perfect gif to send over. Teams has added an extra feature by integrating its own sticker sets as well as the, frankly dangerous, option of creating memes without even leaving the app.
Video Chat
Where Teams strides ahead is on video. Slack is useful: you can call individuals or multiple people with or without video (although only one-to-one calling works for mobile). A lot of the time, that might be all you need. Teams just offers a lot more - with the help of all Microsoft has learned from Skype.
Meetings can be scheduled in advance, within channels, for whichever members of those channels you choose. If someone is late, they can click on the video icon in the channel and they've immediately joined the ongoing meeting. If their background is distracting - blurred it is.
Meetings can be recorded and transcripts written by MS Stream. These transcripts are automatically placed into whichever channels the AI deems to be relevant. Live events, for multiple, sequential, scattered presenters can be created complete with integrated Q&As. I would like to remind my reader at this point that I am not being paid by Microsoft to say this. In terms of video communication, they don't need it.
Bots
SlackBot and T-Bot are essentially the same. They are both conversational UIs which help to answer questions and act as walls to bounce drafts/gifs/ideas off. Teams ups the game, however, with WhoBot. You ask it questions about the people in your organisation ("who does x report to? Who was in the meeting about x? Who did I message about x?") and it uses a mix of your history and your company's AD (Active Directory) to give you answers. The one problem (which I expand on later) is that, like a lot of features in Teams, it requires enough set-up to put off a lot of busy admins.
Integration
Integration is a more balanced story. In terms of numbers, Teams can't compete - yet. Slack is currently set to integrate with 800+ apps and services whereas Teams has 270+ integrations (as of early 2020). The flipside is the depth of the integration. While Slack works well with external applications, Teams has Office 365 woven into its fabric. It's this that allows you to open and edit a Word or Excel document (just for example) in a tab within a channel which you can collaboratively edit in real time while simultaneously discussing it within a tab specific chat.
And nothing in Slack can compare to Power BI in terms of visualising and editing data in real-time. There is a lot to be said for Slack's powerful search capability (you can search, not just for a file but for a phrase within a file and easily find it.) But the same can also be said for Teams' search function.
Beyond this, the seamlessness of Office 365 wins out. The moment a team is created, a SharePoint directory is automatically made up behind the scenes with a folder for every channel. This means that your content is far more coherently documented. Adding to this is the fact that all of your documents can then be accessed and edited both inside and outside of Teams.
It all sounds fantastic but, like some of Teams' other exciting features, in practice it is not yet quite as smooth as the concept suggests. There have been admin complaints that, because the SharePoint directory is provisioned automatically, it is less a cause of relief, more of headaches.
Mobile Features
Let's start with what they both offer. Teams and Slack have their own mobile apps, both of which allow for individual messaging, team chats, and one-on-one voice calling. At this point, Slack rests and Teams keeps running.
Firstly, Teams offers mobile video calls (although only one-on-one). But the real difference comes through Microsoft's "Firstline Workers" provisions, an area in which Slack's not really invested. Microsoft's explanatory video doesn't do a great job explaining who they are so examples will work best. "Firstline workers" work in the factories, on the phones, and on shop floors. Generally it refers to computerless workers (hence the mobile angle).
There is no wooliness in what Teams offers, however. The Teams mobile app includes location sharing, a smart camera, and audio/video message recording and sharing. Phone Line workers can queue callers and use the Teams Auto-attendant, which acts as a virtual receptionist. Managers and employees can set, edit, and swap shift schedules within Teams.
There's even a specific "Praise" function which can be used to publicly celebrate somebody's work. While some of the features might seem like overkill (smart camera) there can be no doubt that this has the potential to cut out a hefty chunk of inefficiency in an under-digitised sector. And Slack doesn't have anything that can compare.
IT Controls
Teams allows admins far, far more control than Slack (when paired with Office 365 Admin Centre). You can control: how user's profiles are configured, whether screen sharing is allowed in calls, what content individuals can see/share, which tabs are supported, which bots are allowed, how notifications work, and even what data storage policies are implemented.
It's easy to see how a lot of these admin controls will end up proving helpful - especially for a large business. If your company has two subsidiary branches you want to keep separate (or, more usefully, semi-separate) you can manage how they interact with filigree precision. If there are certain platforms or external contributors you want to allow or block from a certain team there are provisions to do so.
A feature which will certainly have use is the ability to segment subsections of Teams into specific "Tags" which will allow messages or notifications to be sent out to only, say, the small group working on a specific project. Like much of Teams, it seems to be aimed at big companies which need to spend time on working out their internal processes.
Security and Compliance
In what is clearly a trend, both applications provide a base level of security - Teams just provides more. Slack and Teams require two factor authentication to sign in and both are ISO 27001 compliant. However, Teams also boasts ISO 27018, SSAE16 SOC 1 and SOC 2, HIPAA, and EU Model Clauses (EUMC) compliance certifications.
In terms of security, Teams files are stored on SharePoint and OneNote and, accordingly, are afforded BitLocker disk level encryption and further per-file encryption which is Federal Information Processing Standard (FIPS) 140-2 compliant. Teams also provides Cloud Security Alliance (CSA) compliance.
Price
We also need to talk about the bread and butter - that which is often missed out by techy articles but is just as important: pricing. While both offer freemium packages, MS Teams is more competitively priced, going from £3.80-£9.40 a month per user in a package which includes Office 365. Slack ranges from £5.25-£9.75 a month per user. What this gets you, however, is not the same for both. The below graph is the best way to directly compare the kind of bang you're going to get for both with your company buck:
[Before reading, however, there is an important caveat to consider: although MS Teams offers a free version, a lot of the extra features aren't supported in it. This includes: custom emails for each team; everything from Office 365; scheduled/recorded meetings; video conferences; most admin management controls. This means that the gulf between the free and paid versions of Teams is larger than the graph suggests]
Slack

MS Teams

Freemium

Price: Free
Name: Slack Freemium

Max users: 8,500

Message history limit: 10,000

File storage: 5GB/team
Video Conference: None
Integrations: 10 max

Price: Free
Name: Microsoft Teams (Free)
Max users: 300

Message history limit: Unlimited

File Storage: 2GB/user, 10GB shared

Video Conference: None
Integrations: 270+

Office 365 Apps and Services: Teams only

Standard

Price: £5.25/Month per user
Name: Slack Standard

Max users: Unlimited
Message history limit: Unlimited

File Storage: 10GB/user


Video Conference: 15 person limit
Integrations: 800+

Price: £3.80/Month per user
Name: Office 365 Business Essentials

Max users: 300

Message history limit: Unlimited

File Storage: 1TB/organisation (1TB/user cloud storage)
Video Conference: 250 person limit

Integrations: 270+

Office 365 Services: Exchange, ShareDrive, Onepoint; Teams

Office 365 Apps: (web and mobile only) Outlook, Word, Excel, PowerPoint

Premium

Price: £9.75/Month per user
Name: Slack Plus

Max users: Unlimited
Message history limit: Unlimited

File Storage: 20GB/user


Video Conference: 15 person limit
Integrations: 800+

Price: £9.40/Month per user
Name: Office 365 Business Premium
Max users: Unlimited

Message history limit: Unlimited

File Storage: 1TB/organisation (Unlimited user cloud storage)

Video Conference: 250 person limit

Integrations: 270+

Office 365 Services: Exchange, ShareDrive, Onepoint; Teams

Office 365 Apps: Outlook, Word, Excel, PowerPoint, Publisher, Access
User Experience
The other essential is user experience. And it's here that Slack really holds the edge. Teams is the slow roast to Slack's flash fried steak. Yes, you might end up getting more depth from the roast with time and effort, but why not just slap the steak on a skillet and let it sizzle. Teams takes a long time to implement, and far longer for you (and everyone you're working with) to get competent enough to reach anywhere near its full potential.
Unless every admin has done their job well and your whole team is on board, most of Teams' potential will remain untapped and you'll just be using Slack without the charm; there is something to be said for the fact that Slack's colour schemes include "Aubergine" and "Aubergine Classic" compared to Teams' "Light" and "Dark". And I changed my Slack colour scheme in 3 clicks whereas finding it on Teams seems to require some sort of handbook and/or truffle pig.
Email set-up should favour the Teams users given that an email address is set up automatically on the generation of each team; on Slack, email integration still has to be manually enabled. The issue is that, if a team is not named strategically, the address through which to find or contact said team becomes ridiculously long and confusing.
Enterprise vs Small Businesses
This is why Teams is better suited for bigger businesses. While it takes some time to set-up, the hyper-compartmentalisation of Teams is very effective in reducing the clutter inherent in enterprise size companies. One of the biggest drains on productivity is multitasking (something almost all of us are guilty of) and the over-inclusive, ad-hoc style of Slack's channels is fertile ground for "ooh, let's just have a quick look".
The other side of the coin is that Teams can prove too compartmentalised for small companies. There is such a thing as too many groups. Important information can easily get spread too thin across countless almost-identical channels and chats.
Slack's target audience is also less suited to big businesses. Really, Slack is for knowledge workers and, in a small tech startup that makes sense, but a big business with a full range of employees can get so much more out of Teams, especially with it's "firstline workers" features.
Beyond this, Teams digitally recreates something that big businesses desperately need but can never get: people in the same room as each other. What Teams is really for is bringing everything you get from physical proximity in the workplace, online. The instantaneousness of shouting across a room and getting a quick hand editing this document or joining this brainstorming session is taken for granted in your tech startup and dearly missed in your business behemoth.
Learning and Development
In its slightly lumbersome way, Learning and Development is moving away from remote and opaque LMSs and towards enabling the individual learners. The way we learn is accelerating to draw parallel with the "speed of work" and communications programmes like Slack or Teams are the best vehicles to use. In some respects, the two are comparable. With the right integrations, both platforms can be set up to let you learn where you work and as you work - with personalised learning recommendations sent directly to you, only one click away.
Teams, however, just has much greater scope for bringing learning into the flow of work. Whereas learning systems can integrate into Slack as a chatbot, able to make smart and personalised recommendations, integration in Teams can go much deeper.
By integrating into Teams as a supported app in a tab, relevant, useful content can be accessed without even leaving the Microsoft platform - where your team are already working. The app could also reside within specific teams and channels, as opposed to just in its own chat. This would mean that recommendations could be tailored to the nature of the team or channel and, in the future, to the context of the conversations happening within that channel.
Imagine, in the management channel in Teams, you complain that you are finding motivating your employees difficult with them working from home. You then receive a notification in that channel giving you the option to read an article on how best to manage remote employees - an article you can read, share, and leave notes on without even leaving Teams. This is a whole different kind of learning, one that is becoming possible through Microsoft Teams.
Conclusion
Whether you choose Microsoft Teams or Slack really does depend on what your business plans to get out of its communications software. This being said, there are some conclusions that we can draw.
Firstly, aesthetic differences aside, for larger companies, Teams is the better option. Slack helps you communicate but, ironically, Microsoft's offering is the realisation of Slack's tagline: Teams can really be "where work happens" for companies too big to fit everyone in the same room all the time.
The second consideration concerns the future. The way we work is changing, in fact quicker than anyone expected (although the extent to which current crises will affect the way we work in the medium term is disputed). Consequently, the communications software you use will affect your business for years to come.
Slack and Teams are also changing. In their competition, they're updating at the kind of rate that frustrates blog writers - and that's something to consider: you're not just buying Slack or Teams, you're also buying whatever they will be in 5 years. While Microsoft has more money to re-invest than Slack, it also has to spread it more thinly over its variety of offerings. This being said, the gaze of the giant seems to be fixing ever more steadily on Teams which, in the long run, is bad news for Slack.
However, the biggest indicator of Teams' future is the actions of its competitors: they're all integrating. Cisco with Webex, Zoom, and almost every meeting room hardware vendor is jumping aboard the not-so-sinking ship. The smoothness of the migration of Skype for Business users to Teams tells a similar story: people have faith in the future of Teams.
Thirdly, the opportunities Teams can provide are nowhere more exciting than in learning. Teams provides L&D with the route to the front table by making it integral, not supplementary, to work (a necessity anyway given the speed at which the business world is changing). If your business has - or is planning to purchase - MS Teams you should consider taking a look at Filtered's new Teams integration for Filtered. Filtered uses machine learning to make intelligent, personalised learning recommendations and can now do this in the flow of work within Microsoft Teams.
Want to become the Teams expert in your organisation? Read our Complete Guide to Microsoft Teams.