Finding and accessing Microsoft Teams
Microsoft Teams is part of an Office 365 business or enterprise account. That means that your organisation must have an Office 365 Business Premium, Business Essentials, or one of the Office 365 Enterprise deployments. You can download the free version of Microsoft Teams on its own but it is a stripped down version, with no access to the rest of Office365.
Once you are logged into Office 365, you can access Teams through the application launcher, the same as any other application. Alternatively, you could choose to skip the Office 365 website altogether by visiting Teams directly. However, these are not the only places where you can access Teams.
When you log into Teams through Office 365, you will see a link to download the desktop version of Teams. It's perfectly reasonable to use the web version and the desktop version interchangeably and it's entirely up to you which one you prefer.
Teams also has excellent mobile apps in the Android and Apple App Stores. Just search for Teams in the store, download the app and login with your Office 365 login to get started.
Does Microsoft Teams work in the Safari browser?
Teams is not yet fully supported by Safari but you can use it if you disable a security setting. Safari thinks of login.microsoftonline.com as a third party tracking cookie and stops it opening. To get past this, in Safari, go to "preferences" then "privacy" and untick the "prevent cross-site tracking" setting. Then close your browser and go back to the login page.
When you're done using Teams, go back into "preferences" and re-tick the box. You should note that this will no longer be necessary once Safari is fully supported for Teams.
Building your Team
Create Teams and Add Members
A good place to start is by building out individual teams, which are the groups of people that you will be communicating with. The first time you sign into Teams, you might be prompted to create a new team, but teams can also be created at a later time from the main interface. Any user can create a new team, you do not need to have administrator rights to do so. A team should have a logical grouping to it. This might be determined by your organisation's departmental structure.
All teams must be given a name and it is recommended that a description is added, although this is optional. You can also set a privacy option. If you create a private team, the other members of your organization will not see it unless you invite them to join. Once a team has been created you will be prompted to add people to the team. You can add anybody from within your organisation that has an Office365 account. The person who creates the team, by default, is the owner. As the owner, you have the ability to change that and can give someone else owner permissions.
Every person you add to the team will automatically become a member. They don't have to accept an invitation or do anything to confirm membership. When they sign into Teams, they will see this team in the list of their teams and they will be able to see all the channels, messages and everything else related to this team.
Teams integrates seamlessly with other Office 365 apps like Mail and People. If you jump across to your Outlook Online address book, you will see that any teams you create will be listed under Groups. This does not work in the other direction, so if you create a group in your address book, this will not create a new team.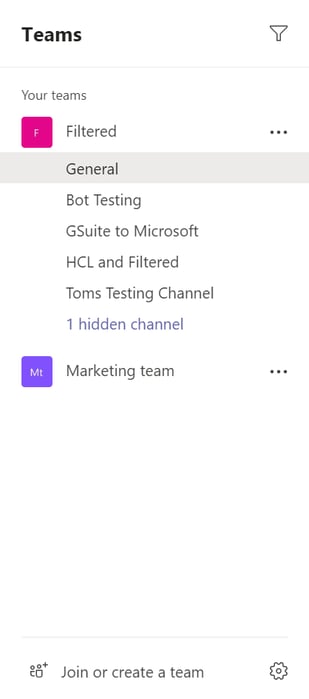 Join an Existing Team
First, go into the "teams" section in the left hand sidebar and click on the "join or create a team" button in the bottom left. You will then be taken to a page where you have the option of creating a team or joining a team with a code. If the owner of a specific team has given you a code and you want to join that team, type it in and you'll become a member.
If you want to look for a specific team, search for it in the top right corner search bar and look for it in the results. Public teams can be joined immediately by simply selecting "join team". If the team you want to join is private, you will have to request to be added and wait for the owner's approval. You should note that private teams can only be found via search if the owner has enabled "discoverability".
You can also request a member be added to a team of which you're already a member. To do this, go into the chosen team, click on the three dots in the top right corner and then, in the drop down list, select "add members". Type the name of the person[s] you want to add and a request will be sent to the team's owner.
Create and Manage Channels
Once you have created a team, you still need one more level of organisation before you can start a conversation. Conversations are organised in something called a channel. Channels help you separate out conversations so that only the relevant people are part of each one. By default, you will see a channel called "general" under your team. If you don't want to set up multiple channels, then you can use this one to start a conversation.
You can create many channels to house different conversations. Any new channels must be given a name and a description. Any member of a team can create a new channel. Within those channels any active team member can participate in conversations.
To create a new channel within a team, first click on the three dots on the side of your selected team. You will then see the option to "add channel". Once you click this, you will be able to name your channel and add an (optional) description. Select the "add" button and your team is made.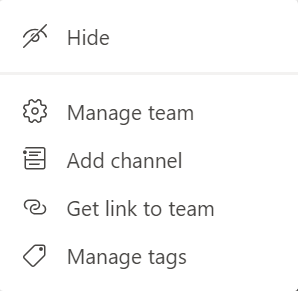 Communicating in Microsoft Teams
Send, Receive, Edit, and Delete Messages
Conversations can be started within the relevant chat or channel by typing a message in the conversation field at the bottom of the screen. Once you have posted a message in a channel, it will be visible to all team members. Any members of the channel can type and post messages. You can have multiple conversations taking place in different channels at the same time. Replying to messages couldn't be simpler and as more replies happen we start to build a conversation thread. All replies are linked together so that we know they are related to the same topic.
Conversations can also be directed at specific team members. Much like Twitter, using the @ symbol and then typing a team members name will ensure the message goes directly to that person and sends them an alert. It's a good way of making sure somebody sees a message that's important to them. If someone sends an @reply to you and you are typing in a different channel, an indicator will be displayed letting you know you have a new message. Messages that you have posted can be edited if you need to make a change. You cannot edit messages posted by someone else.
Messages can be formatted using the row of buttons underneath the text field. The button with the letter A will expand the text box allowing you more space to see what you are typing. You can also type in a message subject from here. You can use the formatting options to make text bold, italic, add an underline or highlight. You can change the size of the font and there are also some options for bulleted and numbered lists.
If you decide you no longer wish to keep the message it can easily be discarded using the trash can button.

An added extra feature in chat is the pop out window option. If you click the "pop out chat" icon at the top right corner of a chat, the conversation will open in a different window.
Bookmark Messages
You can highlight a message in Teams in two ways: by simply liking it, or by bookmarking it for later review. The like button works the same way as liking a post on Facebook. Clicking the thumbs up button will register that you like this post and an indicator will show underneath. Any number of people can like the same message and you will see the like indicator increase by one as more people identify the post as useful and hit the like button.
Bookmarks have a little more functionality. If there's a message that you think is important to you specifically that you don't have time to address right now, you can bookmark it for review later. When you bookmark a message it will flag as saved and the message will be highlighted in your conversation. This makes it easy to scroll through the conversation and immediately see which messages you have saved. However, if the conversation is very long, scrolling might not be feasible so you can also view all bookmarked messages through your account.
Emojis and Stickers
You can add both emojis and stickers to your messages from within the message box in a channel or chat. Adding an emoji can help communicate context, feeling and emotion where the tone of voice is absent. Plus, it's also fun 😃! Find an emoji that clarifies your intent and add it to your message by clicking the smiley face in the messaging box.
Stickers are a good way of adding jokes into the conversation and clarifying the emotional context. It really depends on your organisation, but it's a great way to add humour and digital personality into your messages. You can search for stickers by clicking on the stickers icon in the toolbar below the conversation field. Teams has a number of stickers to choose from divided by category. There is a search field at the top to search for specific stickers to add to your message.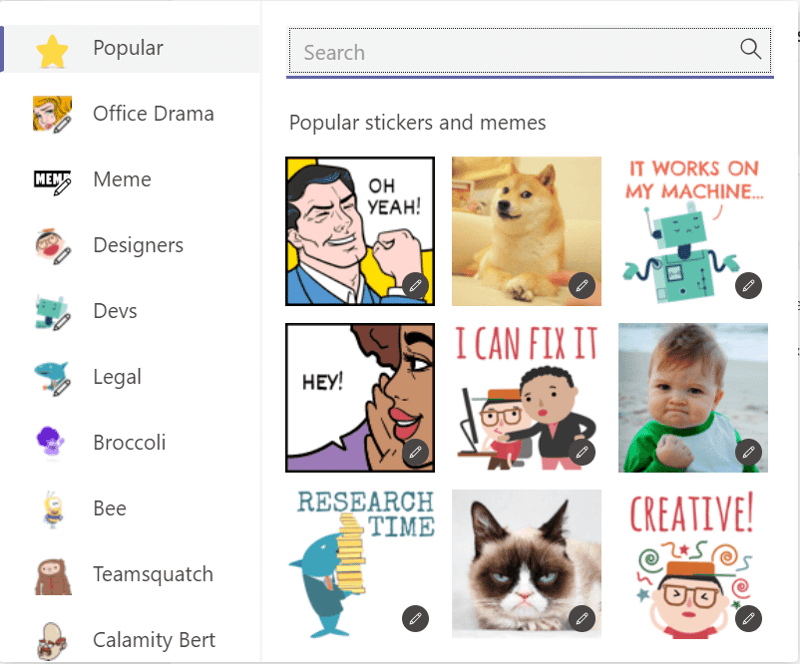 Meeting in Microsoft Teams
Initiate a Video or Audio Meeting On-Demand
Video and audio calls are built into Microsoft Teams, but they are referred to as meetings. Much like Skype for Business, meetings can be started on demand or can be scheduled for the future. To start a meeting, go into a channel and click the camera icon at the bottom. You can then add a meeting subject and choose if your camera is on or off. When you're ready, click "meet now".
When you start a meeting, you will see the other members of the team in the sidebar. Other team members will be able to see there is a meeting in progress by looking in the conversation thread for the team and they can select to join the meeting. The profile pictures of the people currently in the meeting will be displayed. You can invite other people to a meeting that is currently in progress and they will receive a pop-up notification. If you hover your mouse over the middle of the screen, you will see some additional icons. These allow you to enable your camera (if it's not already enabled), mute your microphone, record the meeting, share your desktop, generate live meeting subtitles, or hang up on the call.
When a meeting is finished, it will be added to the conversation thread so that everyone knows that a meeting took place. You also have the opportunity to give feedback on the sound quality.
On-demand meetings can also be started through the chat interface if you don't want the meeting to be public. Other participants can be added but there will be no log that the meeting has occurred in the public conversation thread.
Schedule a Meeting and Invite Attendees
Meetings can be started on-demand or scheduled. Scheduled meetings can be created in two ways. First, in a normal conversation channel, you can start an on-demand button and you will see a "schedule meeting" link. The second way is to click on the Meetings button in the left-hand main menu and schedule the meeting from there. Either method will take you to the new meeting dialogue box. This is where you can add the meeting details such as a title, description, date and time and location. You need to specify a channel where the meeting will take place and you can then add the participants you would like to invite.
Once the meeting is scheduled, it will show in the channel it was created in and also under the Meetings area. The meeting will also be added into all participants' Outlook calendar automatically. If you created the meeting you are essentially the owner and will be able to see an edit button if you need to make any change to the meeting details. Scheduled meetings can be started at any time, not necessarily at the scheduled time.
When the meeting is over, it will be logged in the channel conversation thread and you have the opportunity to rate the quality of the audio.

Record a Video Meeting or Call
While in a video meeting or call, to record, select "more options" (three dots) and then "start recording". The members of the meeting will be notified and the notification will remain in the chat or channel history.
To stop a recording, select "more options" and then "stop recording". When the recording is ready to view, the person who started the recording is notified via email from Microsoft Stream (where it is stored) and the recording shows up in the relevant chat or channel. Microsoft Stream will also generate a transcript of the recording. To be able to record a meeting, you must be granted a recording license from the IT admin. Guests from external organisations are not allowed to record meetings.
You are currently only able to record meetings or group calls, recording one-on-one calls is not yet available.
Screen Sharing
To share your screen during a meeting, select the share button . You will then have the option of sharing your desktop (which shows everything on your screen), window (which shows a specific app), PowerPoint (which shows a specific presentation), or browse (which lets you find the file you want to show). After you select one, a red border will appear to show you're sharing your screen. Once you are finished, select "stop sharing."

Editing a Document in a Meeting
You can attach a document to a meeting in two ways. Firstly, you can attach whichever file you want to edit when you create or schedule the meeting. Alternatively, you can attach a file after you have joined a meeting by clicking the paperclip icon at the bottom of the right side of the screen, picking a file from Teams, OneDrive, or your own computer, and clicking "share link".
With either method, the file is now in the meeting's chat and can be clicked on to open. You can then edit the file by clicking on the "edit" icon at the top (you can select whether to edit it in Teams or Microsoft Office 365 Online by selecting the drop box at the right of the "edit" icon.)
After that, you can edit the file while continuing to talk to your colleagues in real time. It should be noted that choosing to edit the file only opens it on your screen and that the other attendees need to click on the file and select the edit function to edit it as well. To go back to the meeting window, click "close" on the upper right of the edited page.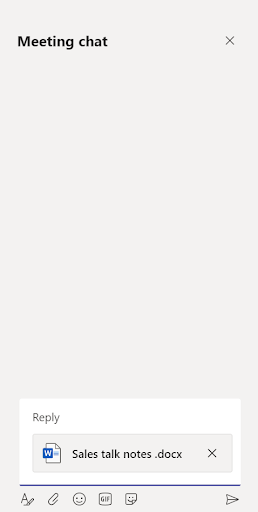 Collaborating in Microsoft Teams
Files uploaded to Teams can be edited and even co-authored from within the Teams interface. Changes are updated in real-time making collaboration effective and quick. You can access files from within a specific team or channel either from within the files tab, or, if a file has its own tab, by clicking on that. Alternatively, all files can be accessed by clicking the "files" icon on the left hand rail.
When you select a file in Teams, for example a Word document, it will open and you will be able to edit it. You have multiple options of where to open a file, within Teams, online, or offline. This option will only be there for Microsoft Office files, Word files, Excel files, Powerpoint files. Visio files are also available to edit but you must have a license.
Word Online is a web-based version of Word that's available through Office 365. If you choose to edit and you are not signed into Office 365 (maybe you are using the desktop version of Teams), you will be required to sign in to Office 365 before you can continue.
Once the document is open, you can make changes to it. In Teams or Word Online, multiple people can also access this document and make changes at the same time. If another team member does access the document, you will see their photo appear in the top corner. You can also see where they are clicked in the document and the specific piece of text they are currently editing. Editing in Teams has the added benefit of allowing a chat directly and permanently connected to the document. The chat opens next to the open document, so you can discuss the document while simultaneously editing.
Sharing Files
If you share a file on teams, your team can collaborate and edit that file together. Sharing a file couldn't be simpler using the paper clip icon underneath the conversation field. This will open the upload interface and you have a few options at this stage. The "recent" category shows you a list of recent files that you've uploaded to Teams. If you use OneDrive, you can navigate to the files and folders on your OneDrive from here. Then, there is an option to select a file that has already been uploaded to teams. Finally, you can choose to browse your local drives.
Once the file has been uploaded, you can hit enter to send and the document will be posted to the channel along with whatever message you have typed. Files that have been uploaded are easily accessible from the Files tab at the top of the screen. You can also add a file into a channel as a tab of its own. It is worth noting that uploaded files are channel specific so, if you upload a file to the Marketing channel, you will not be able to view it in the Sales channel.
Uploaded files can be opened, deleted, downloaded, moved, copied and edited directly from within Teams. Much like OneDrive, any file you click on will open in the application online. You can also choose where to open the file.
If you want to take a global look at all files uploaded to Teams regardless of which channel they belong to, you can do this to through the Files button in the left-hand menu.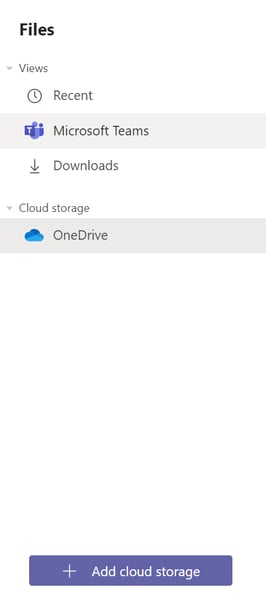 Shortcuts
Microsoft Teams has a large number of keyboard shortcuts that make routine tasks faster. Here's a full list of all of them.