Since publishing the first Teams article, we've discovered that there are lots of organisations that are as excited about putting learning in the flow of work as we are. But a number of our clients have been keen to work out the practicalities of actually doing so now.
MCI Group is a global leader in providing conference, events and association management solutions. Their scope of work encompasses a broad variety of sectors; from Pharma, ICT and Automotive to Luxury and Lifestyle, with client types ranging from profit and nonprofit to NGOs and governments. So for MCI's sales team, pretty much everything is new. This means that constant learning is absolutely necessary for them to maintain a competitive edge.
Together with MCI Institute, MCI Group's Learning and Development Centre of Excellence, we've been developing a use case for integrating Filtered into Teams. Filtered is a recommendations engine that combines human curation and machine learning to match learners' development needs with learning content recommendations that best meet those needs. The aim is to help MCI's team of professionals improve their performance in designing and delivering events. An example would be helping MCI's sales teams to sell event sponsorship. The best way of demonstrating our approach is by telling the story of Juliana, an MCI salesperson, in two very different scenarios.
Scenario A - The distracted salesperson
Juliana is on her way to meet a prospective sponsor to talk about an upcoming blockchain event in Canada that MCI is organising. The prospect has expressed interest in sponsoring, but they haven't explored the market in Canada before. The prospect also isn't entirely convinced that the event is aligned closely enough with their business.
Juliana, having juggled with several project deadlines in the past week, is feeling the pressure. She's had less preparation time than expected and still needs to fine-tune her approach for the upcoming prospect meeting. During the taxi ride she has half an hour to capture some ideas about how to alleviate her prospect's concerns about tackling the Canadian market.
Like many good salespeople, Juliana has an internal locus of control. This means that, generally, she feels that her success is entirely down to her own efforts, rather than external factors. That's why she's always keen to arm herself with any knowledge and insight that could help convert a sale.
As the taxi inches its way through Toronto's rush hour traffic, Juliana remembers that her colleague wrote a post about the rise of Blockchain events in the market, but doesn't know whether it was posted on the company intranet, company blog or the LMS. After five minutes of fruitless searching, she remembers that someone linked to the post in an email. She opens up Outlook, and after searching through her folders, gets distracted and decides to respond to a couple of emails.
Soon enough, she gives up on finding the post, and decides to change tack. She wants to know more about the value of blockchain to business to help her understand how the event might fit well with her prospect's business.
She does a quick Google search, but isn't entirely sure what she's after, so opens up the top six results in separate tabs. She then skims through two articles, but doesn't find anything particularly relevant to her situation. She then clicks on a breaking news article in the sidebar of the site she's on, before closing all her tabs in frustration.
Before giving up entirely, she remembers that she bookmarked an article about framing ideas that her manager recommended after a recent event update meeting. She reads the first paragraph but is so frustrated with her lack of progress so far that she decides to spend the last 10 minutes of her journey decompressing.
Let's rewind the clock and see what Juliana's journey looks like when she has smart recommendations in her workflow…
Scenario B - The augmented salesperson
On her way to the prospect meeting, Juliana opens up Teams and clicks on the Filtered tab in the Blockchain Event channel which is labelled as 'smart suggestions'. Filtered's chat interface asks what she's focussed on today. From a series of options, she selects 'preparing for a prospect meeting to sell sponsorship for the blockchain event'.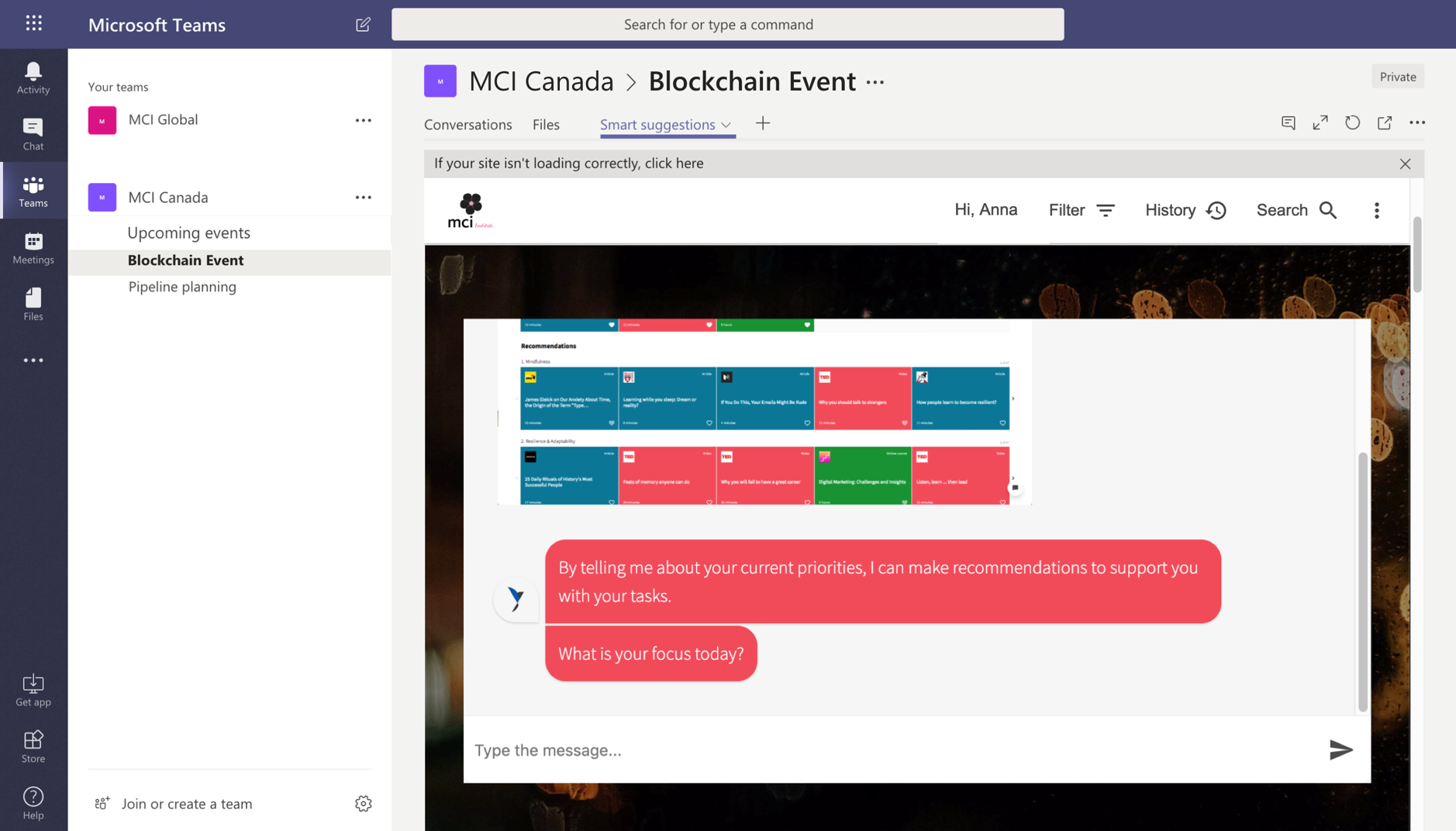 Within seconds, Filtered surfaces three resources: one is a community post about demystifying business opportunities in Canada, the second is a TED talk about blockchain in business, and the third is an article about framing ideas for decision makers. Filtered's algorithm matches learners with learning content, by understanding both. Integration into Teams helps us go a step further by understanding the learner's situation and context. Filtered is able to make these targeted recommendations because the content load matches the team and channel it's in.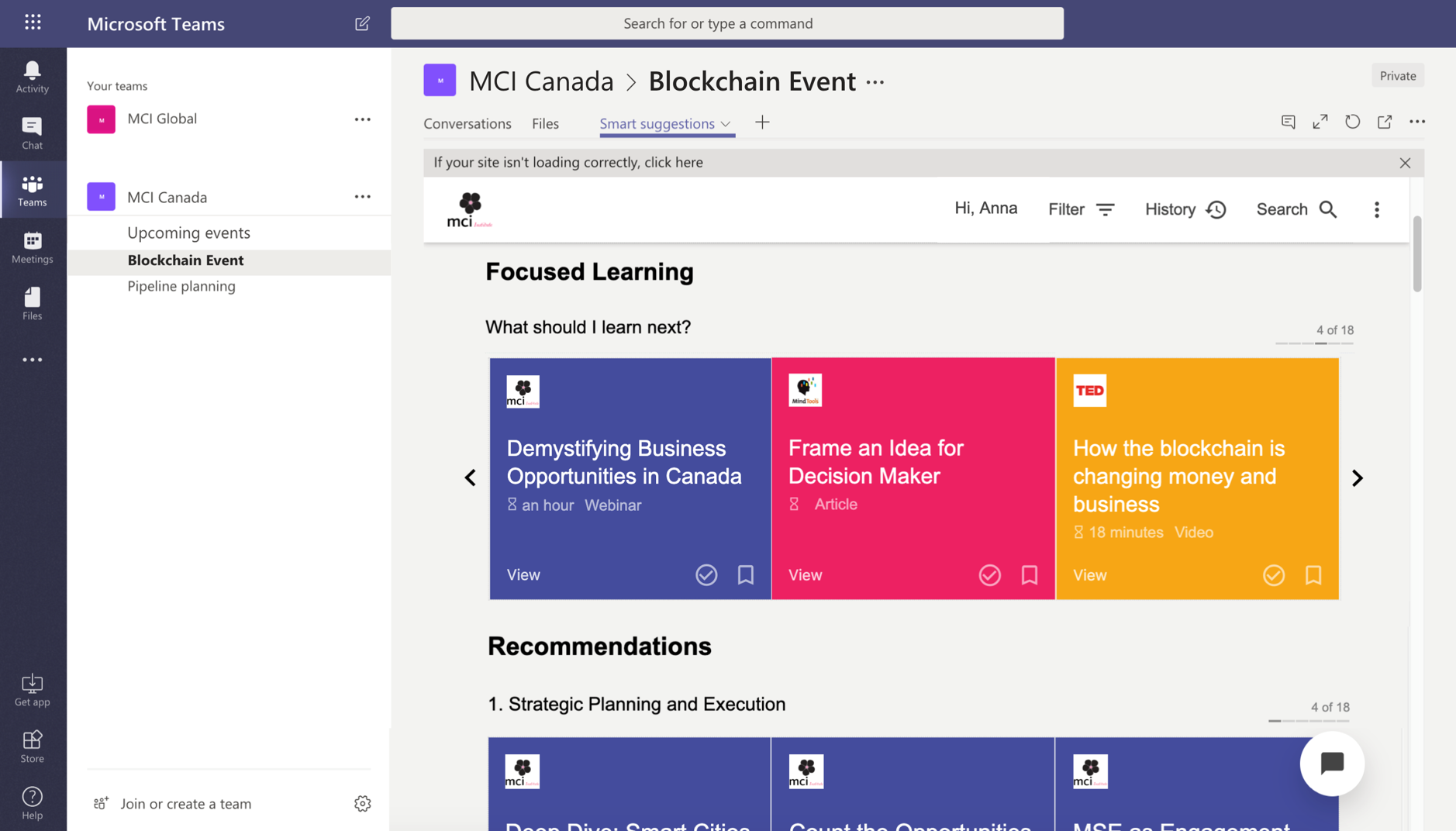 In the same half hour, Juliana has time to not only work through the resources, but also make notes, synthesize the ideas, and spend some time thinking through how they relate to her prospect's situation. By the end of her journey, armed with targeted value-based arguments, she's far more confident about going into her prospect meeting than she was at the start.
Automating discovery
As Peter Drucker said, 'Nothing is less productive than doing what should not be done at all.' In the past, inefficient, ad-hoc approaches to learning discovery were the only option for salespeople. Although they sometimes lead to serendipity, they typically lead to endless rabbit holes.
In both scenarios, Juliana had the same level of self-motivation, skill and experience, but in Scenario B, her capability was augmented by smart learning recommendations. This freed up time for Juliana to focus on the essentially human parts of work that are becoming increasingly important as automation advances.
Avinash Chandarana, MCI's Global Learning and Development Director, echoes the value of such an approach: "We're excited to work with Filtered on this. By placing smart learning recommendations into Teams, we're essentially automating the process of learning discovery." For MCI's staff, the benefits of this approach are that it:
Saves time
Eliminates distractions
Cuts through the 'noise' of information overabundance
Provides the appropriate context for learning
Reduces stress
Boosts productivity
Improves performance
---
In the months since this article was written, we've actually developed a groundbreaking new Filtered Teams integration to take advantage of its potential. To find out everything you need to know about Microsoft Teams, read our Complete Guide.