Content curation is not a new topic, but it's certainly been a hot one for the past decade or so.
Here at Filtered, we've been blogging about it a lot lately. However, if you are new to the topic, we strongly recommend taking a few minutes to read through Content curation 101: Everything you need to know.
Okay, now that you've read that blog post, let's talk about the skills necessary for your team to dominate at content curation.
And yes, you read that right: Skills (another topic we are bullish on) are essential.
We've been asked a lot about what skills people who use our products should have. So we often help with job profiles or advice on how to build L&D teams equipped to work with the latest (and greatest) Content Intelligence and curation technology.
When hiring for someone in this role, it's likely the person you have in mind has…
A learning design and/or L&D background
Above-average writing and summarising chops
An eye for the latest trends (web3, IoT, NFTs, you know, all the buzzworthy acronyms)
A genuine interest in best practices in digital platform technologies
That's a fabulous start. And that will get you where many teams currently are.
But who wants to be middle-of-the-road? Average? Mediocre? Blah.
Especially when content curation in a large organisation comes with extra challenges — different conversations and more complex systems.
With our deep focus on content curation and upskilling, we've also learned there are some rather unexpected skills that will give your curator or team of curators a head start.
In this article, we'll highlight the 4 MUST HAVE content curation skills — skills that curation superstars all have. These skills are important to Filtered's own curation superstars and they make working with client curation teams a breeze.
Let's get into them …
SKILL #1: Master the 5Di Learning Design Process
Move over ADDIE; it's time for 5Di.
ADDIE, as you'll recall, is the acronym for the traditional five-step learning design process: Analysis, Design, Development, Implementation, and Evaluation.
5Di is also a learning design process, but specifically for discovering learning needs for deploying and improving learning:
The 5Di model, developed by Nick Shackleton-Jones and practiced by Charlie Kneen and team over at Solvd Together, is an important foundation for asking the right questions about curation early on.
According to Solvd, "the 5Di model combines IDEO's human-centered design approach, with the 6Ds of learning design. The key difference between 5Di and other more conventional learning models like ADDIE is its focus on the 'end-user.'"
Breaking it down …
Define the desired learning outcomes. Identify the problem being solved and set up metrics to track it.
Discover

and refine the understanding of needs by speaking with your target audience.

Design and draw up a written proposal after working with stakeholders and your target audience
Develop a Minimum Viable Product (MVP) prototype—iterate based on audience feedback.
Deploy (launch!) using a solid, multi-channel marketing and communication plan.
Iterate: Continuously improve based on data.
Want to deep dive into 5Di? Here is your guide.
SKILL #2: Take Search Engine Optimisation (SEO) seriously
A solid SEO game is no longer a "nice-to-have" — it is essential.
A well-executed SEO plan could provide a serious advantage.
It's simple: If no one can (or wants to) find all of your amazingly-curated playlists and pathways, don't even bother.
This is not an "if you build it, they will come" situation.
When it comes to LXPs, most have simple search engines, often based on straightforward keyword matching. Additionally, they usually record the most common search terms.
So … if you want people to discover your learning content (which you do), it's imperative to understand exactly what people are searching for. Then, you can optimise the content you want to be found for those specific terms by mentioning them in content titles and descriptions.
Needless to say, good SEO flows into good content design in general: well-structured articles with nice, appealing titles. That won't necessarily be picked up by your LXP like Google does, but it will be noticed by users.
Finally, the extra (bonus) benefit of having crazy good SEO skills is the ability to not only determine what people are searching for now but to understand the trends of what they will search for within your learning content platform by looking at and segmenting search data from the wider internet.
SEO is the secret skill necessary to analyse bottom-up skills data in the modern age!
SKILL #3: Get to know Advanced Google Search
Everyone knows how to search on the Internet. And most who are searching are using Google as they control over 92% of the search engine market share, per Hubspot.
While Google doesn't post exact numbers, here are a few more eye-opening stats, depending on who you ask:
5.6 billion searches per day; 2 trillion global searches per year.
The average person uses Google to search 3-4 times per day. Side note: My number is closer to about 42 per day.
But far fewer* take advantage of the Advanced Google Search — and whoa, is it powerful.
*Again, no Google-provided data to support this
Ahrefs has a great article titled Google Search Operators: The Complete List (42 Advanced Operators) that lists all advanced search operators.
One of my personal favourites: To limit search results to those from a specific website (Filtered.com in this example), type site:filtered.com after the keyword(s) in Google Search.
If you don't want to memorize all of the advanced search options, just go to https://www.google.com/advanced_search and fill in the blanks!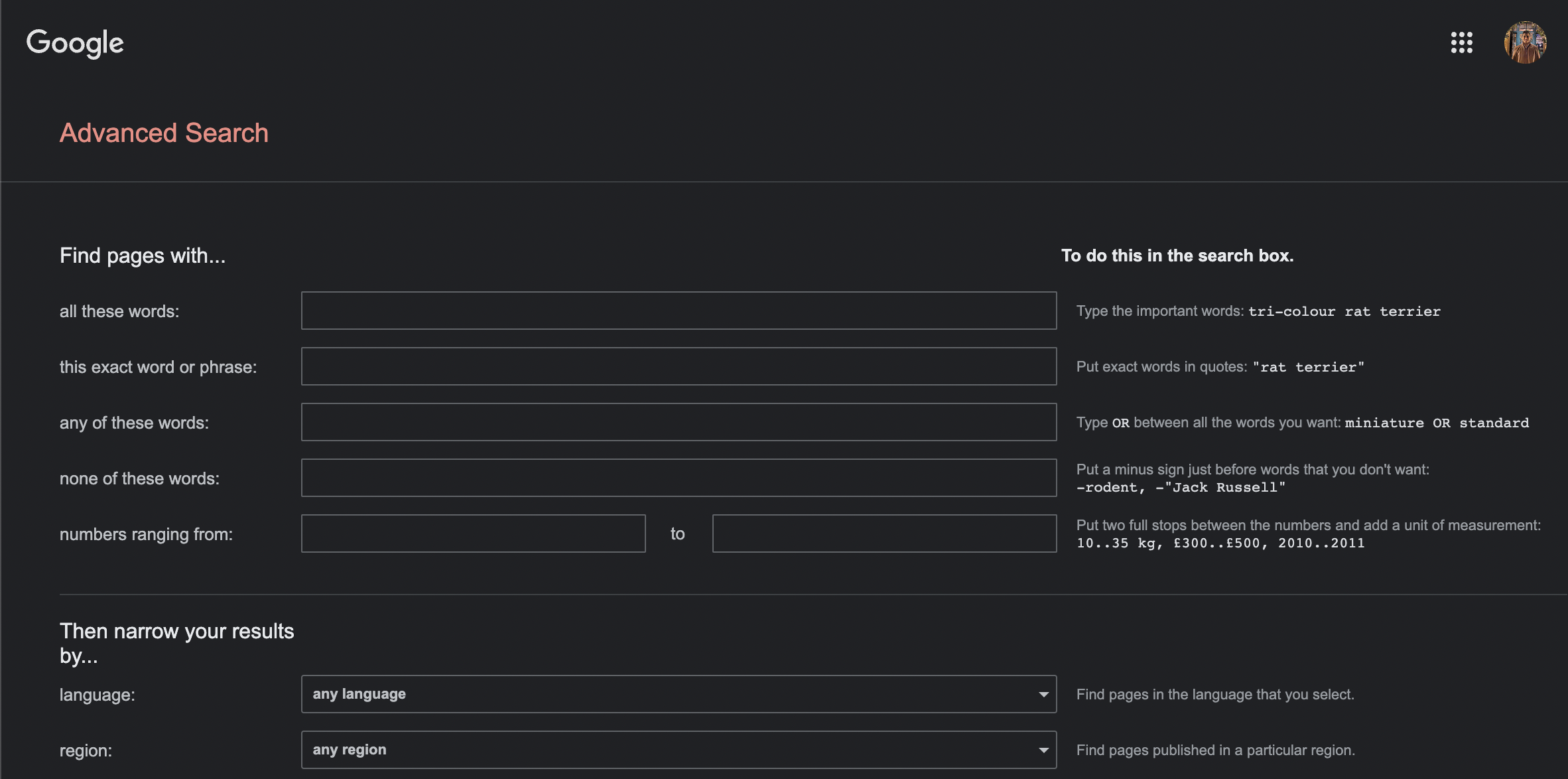 Google is more than just a simple search box. The advanced operators mean a curator who knows how to use them can find almost anything.
Master Advanced Google search, with all its fields and filters, and you'll be a far better curator.
SKILL #4: Don't sleep on good 'ol Microsoft Excel!
Fun fact: the skill Coursera's Global Skills Report (GSI) report sees near the top year after year is … Microsoft Excel.
Yup. You read that correctly. Old reliable Microsoft Excel can be your BFF.
(Did you know … Filtered started out by offering a bunch of Excel courses. Did you also know we still do today? Learn more here.)
Your curator is going to be dealing with exporting data, changing it in bulk operations and reformating it for upload. That means being handy with Excel can be extremely useful.
Need help upping your Excel game? You may want to check out Miss. Excel aka Chief Excel Officer aka Kat aka Kat Norton. With nearly 1 million followers, miss.excel is kinda a big deal on TikTok. Also, don't forget our course offerings for teams and companies.
How Filtered helps with content curation
With the reams and reams of content being created by the second, the ability to curate that content is essential.
And, in case you missed it, content curation is a topic near and dear to our hearts here at Filtered.
Content curation requires a specific set of skills, as outlined above.
Once you've learned (or hired for) those skills, you'll need a technology partner to take you across the finish line.
Filtered's Content Intelligence is your answer.
With Filtered, teams can curate relevant content 10x faster and get the best of it to the right people to build the skills they need.
Bonus: You can also save time on curation like Novartis did (5,000 hours annually!).
Learn more by checking out Filtered today.