£200,000 per year: The average cost of content libraries for large organisations.
£1m+ per year: The average cost of content libraries for global enterprises.
That's no small chunk of change, especially when you consider that much of the content in these learning libraries is old, outdated, and not all that relevant to the skills your people need to grow and excel.
Also, there tends to be too much content. This creates a challenge for learning teams to properly identify (tag) which content actually builds the necessary, required skills.
Finally, the decision-making process that goes into buying and/or renewing learning libraries is often biased and leans on inertia and a sense of "well, this is what we've always done."
At Filtered, we offer a solution that greatly reduces all of the above.
Content Intelligence harmonises your skills framework and optimises your content libraries automatically. And it pays for itself through (1) reducing your content spend, (2) reducing wasted time, and (3) enabling more relevant search results.
Before we detail those 3 points, let's go a bit deeper on what we mean by Content Intelligence.
Content Intelligence: the basics
Content Intelligence is Filtered's content analysis and curation technology. Generally speaking, we believe less is more.
Our Content Intelligence technology culls through your learning content library and "filters" out the junk, resulting in clean, properly tagged content libraries — identifying the content and libraries relevant to your business goals and helpful to your organisation and various teams.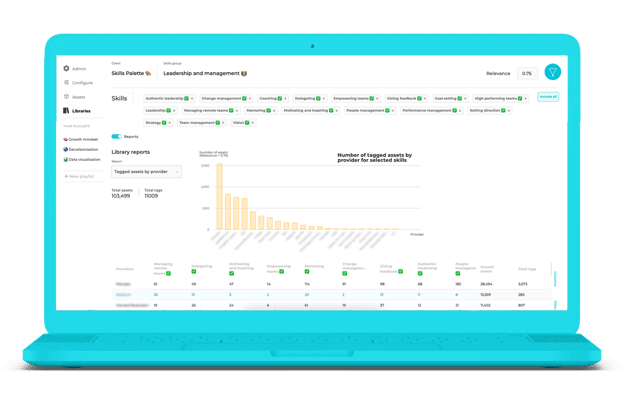 In short, Content Intelligence enables a three-step process:
Review and evaluate your existing skills framework to ensure it's truly relevant to your organisational goals
Objectively evaluate all your content against those skills: your libraries, the web, your proprietary materials and content you're considering buying or creating to see where you have under or over-provision
Accelerate curation with bias-free, scalable data-backed curation results for any skill or topic
The magic, of course, is in the algorithms — the technology behind the above 3 steps.
The net result speaks for itself: On average, Filtered customers reduce their content spend by 30% and produce a library of impeccably tagged content at 10x the speed of human curators.
More about that 30% reduction in content spend ...
Content Intelligence benefit #1: Cost savings
Getting approval to add tools to your already-overstretched budget for technology can be a challenge. Asking your boss (or boss's boss) to invest in something NEW is often a losing effort.
However, when you can prove that technology will actually save you money — and pay for itself — well, that's another conversation... one anyone would look forward to having.
We have data to prove savings from Content Intelligence will cover your investment.
Filtered client, GSK, led by Onboarding & Training Director, Martin Peart, worked with our team to generate a £300k per year cost savings. GSK accomplished this through a data-led re-alignment of GSK's leadership and business skills strategy, framework and rationalisation of the vendor pool including an increased focus on future and priority skills.
We also recently worked with AstraZeneca to identify 31% savings by detecting overlapping learning content – a seven-figure saving.
Both client stories share one similarity: overspending on learning content. That's a common theme we see with organisations we work with. Either spending too much on paid content (when it's available for free) or paying for content that does not align well with the skills you are building.
But spend consolidation is just the tip of the iceberg.
Content Intelligence benefit #2: Reducing wasted time
In the mid-18th century, in the essay Advice to a Young Tradesman, Benjamin Franklin gave some timeless advice.
Remember that time is money.
In the always-on, lightning-fast pace of today's business world, those words ring truer than ever.
Even though work and personal time seem to be morphing into one, we all have a finite amount of time in our day. If you are spending that time on unproductive and/or unnecessary tasks, well ... you are wasting time (and money).
By leveraging the results from our Content Intelligence solution, we can reduce wasted time significantly.
In fact, for another recent client, we saved 5,000 hours of manual curation time spent on learning content tagging and curation. We did this by using Content Intelligence to turn 100,000+ learning assets into a well-tagged, structured learning library aligned with organisational and individual goals and discoverable through search, recommendations and curated campaigns.
Content Intelligence benefit #3: Ensuring more relevant search results
Searching for content and seeing poor results – nothing at all, far too much or just irrelevant material - is demoralising and off-putting for any employee. Yet because most LXPs are overflowing with unorganised, unordered content, this is the experience of most people. All this content overload can be costly ($1 trillion a year is lost to it in the US alone).
Besides the unnecessary cost of too much content, much of today's learning content is irrelevant and outdated. Some of it is obsolete. In fact, many Filtered clients have more than half of their content provision deemed unnecessary due to this overlap, irrelevance, and redundancy.
All of this results in poor search results. Frustrating. Annoying. And, ultimately, preventing your team from offering true, self-directed learning within your current infrastructure.
No good.
Bonus: More relevant search results often mean cost savings by removing unnecessary, paid. content.
FACT: LXP discoverability is enabled by accurate, consistent skills tagging.
The Filtered Skills Palette is a nuanced, out-of-the-box skills framework that automatically applies to any source of content we choose to include in our database — 150,000 items and growing every second. And it can be applied to yours too. The Skills Palette can be used to power a tagging system that can deal with any natural language content and is content library and product agnostic. Which means that even if your skills framework isn't up to scratch (or you don't have one at all!) we can very quickly bring together one that reflects your organisational priorities and start the tagging process.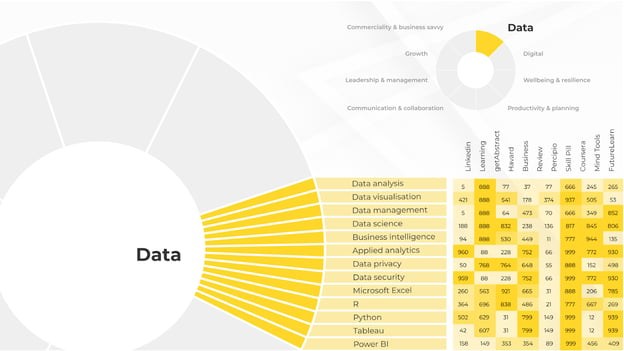 We've seen this play out positively for our clients as well.
One such client saw an 80+% increase in LXP search discoverability. Our team was able to extract this organisation's LXP content, tag it against an overhauled skill framework, and then apply those tags.
The net result: drastically improve search results.
Content Intelligence: A winning solution.
Save money. Reduce wasted time. Improve discoverability.
If you can accomplish 2 or 3? Well, you are not only knocking it out of the park, you are likely also paying for that new tool altogether.
And that's exactly what we see with Filtered's Content Intelligence. Our clients save money AND reduce wasted time + dramatically improve their learning content discoverability.
Literally, a WIN-WIN-WIN.
Learn how you can be on the winning side as well...