There's been lots to learn since joining Filtered and the L&D sector. You guys use a lot of acronyms! Seriously, there are so many platforms in the L&D ecosystem with different jobs. In my role – speaking to L&D professionals about content strategy and the role of Content Intelligence – I've had to try and understand these different systems and where our product fits in.
I wanted to share my learnings with you. I'm drawing heavily on a previous conference session and a follow-up post written by my colleague Toby and Isael Paz at Degreed.
Note that Toby's post is about putting Content Intelligence into Degreed where Filtered has built a direct integration. This isn't the case for other systems. But we are working with loads more of the major learning platforms or content libraries. Here, instead of using APIs to connect the systems we currently use a CSV file transfer.
The L&D ecosystem has grown to include lots of different providers, tools and platforms: inside and outside the organisation. You could map (some) of them like this: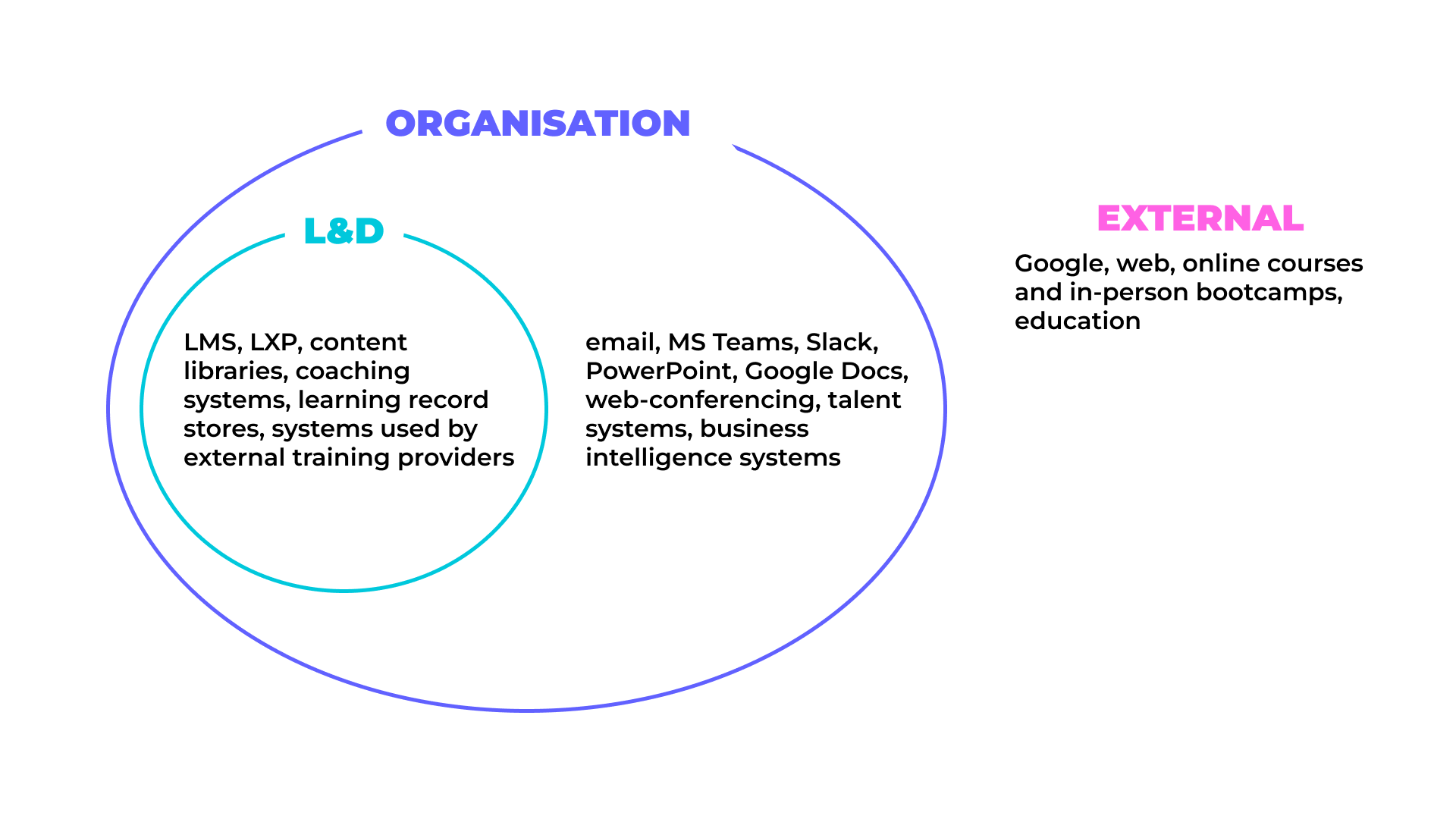 The big wide world: Google, web, online courses and in-person boot camps, education

Inside org, outside L&D: email, MS Teams, Slack, PowerPoint, Google Docs, web-conferencing, talent systems, business intelligence systems

Tools owned by L&D: LMS, LXP, content libraries, coaching systems, learning record stores, systems used by external training providers
All of these tools and systems generate a lot of learning content. Our clients tend to have an average of 80,000 learning titles to manage, with many, many thousands more outside L&D.
Like sales data, marketing data and HR data, with so many sources for it, learning content has become unmanageable with spreadsheets. We lose track of what we have and end up with:
Multiple resources with the same topic and title, but all teaching different approaches

Lots of great (and sometimes expensive) content sitting there buried and unused

Low engagement with learning systems because 'I can't find anything'
In simple terms, Content Intelligence is a tool to get a handle on all the content in your L&D ecosystem, wherever it is, and make it valuable for your people again. It does three things that are possible using a combination of spreadsheets and manual tagging or automated scripts, but generally not done due to the time and fiddliness. These three functions in the ecosystem are:
Benchmarking sources
Enriching metadata
Curating content
Content Intelligence requires the same input for each process: definitions of your priority skills and an export of your LMS or LXP content metadata and/or your content library metadata. Once you have that, it's easy to do the following:
Benchmark sources - view all your learning content (and any content you're considering buying) under the same lens, so you can see if there's any overlap or missed opportunities
The output here is decisions: choosing which learning content to keep, and which to cut out.
Enrich metadata - make sure learning doesn't get lost because it isn't tagged with popular search terms, or tags don't reflect the skill frameworks used in other systems
The output: tagged content injected back into your learning systems, usually via CSV.
Curating content - add structure to your platforms and highlight the best content for certain skills, roles or knowledge areas by organising content into playlists using our algorithmic suggestions
The output: playlists you can upload into your LMS or LXP as pathways, courses, channels or whatever way content is grouped and structured.
One thing I've realised is that Content Intelligence isn't like adding a completely new layer to the stack that affects your end users and which has to be tightly integrated with everything else. It's a specialist product you turn on to do specific jobs that are slow and hard to do with spreadsheets.
Only L&D and SMEs or curators actually use Content Intelligence. The end user experience stays in your LMS / LXP, or in the comms channels outside of L&D: email, MS Teams, Slack.
Finally, in my search I came across an excellent article by Nehal Nangia, Research Director at the Josh Bersin Company, who describes why Content Intelligence has become necessary to 'calm the chaos' in L&D ecosystems. Go there next!
Amid the chaos caused by the proliferation of digital learning content, there is a growing need to move from more to less, from quantity to quality and relevance, and from catalog provision to delightful discovery. Organizations can optimize their learning content strategy by investing in more relevant and higher-quality content, as well as trimming back on the rest. However, truly assessing content relevance is a tough nut to crack.

Most organizations speculate on content relevance and quality by the title of a course—judging the book by its cover so to speak—or by course consumption metrics. However, assessing alignment of content with the company's skills and capabilities as well as vision and philosophy in each topical area can be an impossible feat. Doing this manually would require an army of people and thousands of hours of effort to comb through the content and categorize. That's where AI and technology come in, and where "content intelligence" solutions like Filtered can help.