CLO Coffee V: delivering nuanced skills by innovating your content strategy was an engaging conversation. Jono Endean and Dr Markus Bernhardt joined us to enlighten us with their take on the topic. We were joined by learning leaders from GSK, Amazon, PwC, Novartis to name a few.
Suffering from FOMO? You can catch the recording of the keynotes and panel here.
Here are a couple of espresso shots to give you a flavour of what was discussed at our fifth instalment of the CLO Coffee Club.
Delivering nuanced skills by innovating your content strategy
Jono Endean, Director of Digital at Capita Learning, kicked off the session by sharing his formula for skills strategy. His keynote acted as a primer for organisational skills strategy, tackling how you need to approach skills, content and experience in order. For skills, these principles were:
Define the 'what' and make it specific to your organisation
Focus on key skills, don't overcook it
Connect the dots between skills and career development
And when it comes to content, Jono had a three fresh and important approaches:
Source good knowledge and diverse opinions as the basis for skills development
Flip curation on its head and make it central to the learning design process
Leverage internal SMEs to validate and contextualise
Throughout his talk, Jono focused on achieving the right interplay between technology and humans, as well as hitting the sweet spot between what the organisation wants you to learn and what you want to learn: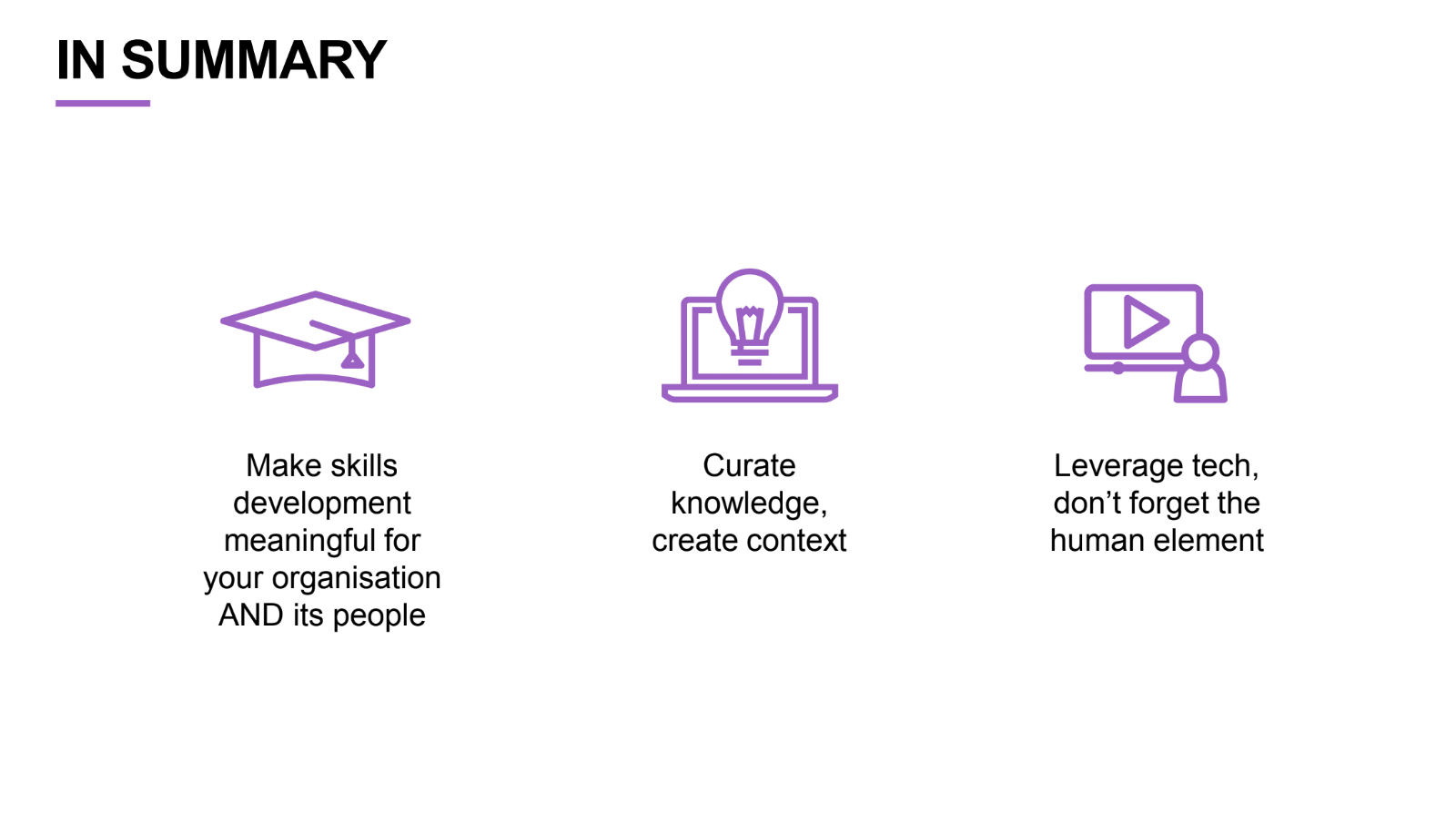 It was pointed out in the discussion that few organisations have a content problem. Rather, they have a relevancy problem. And the real friction point is when content is deemed
semi­
-relevant to the skill: looks like a duck but doesn't quack like one. This creates serious challenges for curation and engagement.
Content curation has often been seen as an after-thought in the design process. Jono suggests making it central to the process by using tools such as Filtered's Content Intelligence. By freeing up your subject matter experts to source and curate content will allow them to validate and contextualize content, helping mitigate the relevancy friction point for learners. Curate knowledge. Create context. A win-win in our book!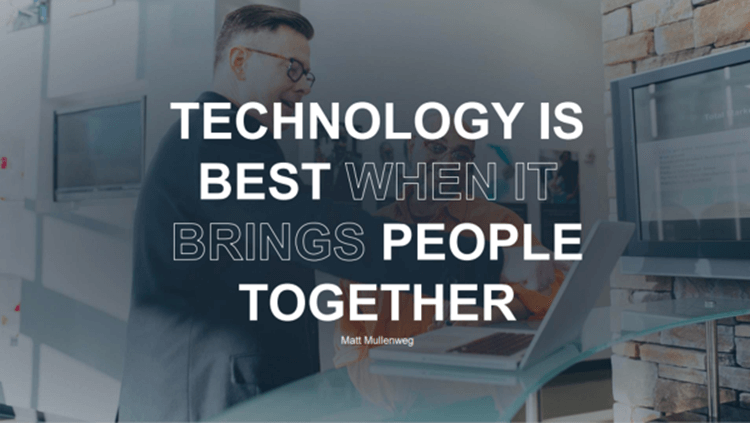 We couldn't agree more with this quote. Humans are what bring the learning experience to life. We also discussed the importance organisational culture has in supporting learning. Do learners feel they can openly watch a TED talk or read an HBR article, or do they feel this needs to happen in secret or outside the "working" hours? We talked about the importance of blending digital with the human elements of skills development: teaching, mentoring, social, and feedback being the most underutilized tools in learning, yet the most effective.
Critical & creative thinking skills
Dr Markus Bernhardt, Chief Evangelist at OBRIZUM, got us going with a pop quiz on critical and creative thinking strategies and how you teach them to others.
Spoiler alert: cognitive critical and creative thinking skills cannot be taught as stand-alone skills. It is about building on the network of your experiences, knowledge, and long-term memory.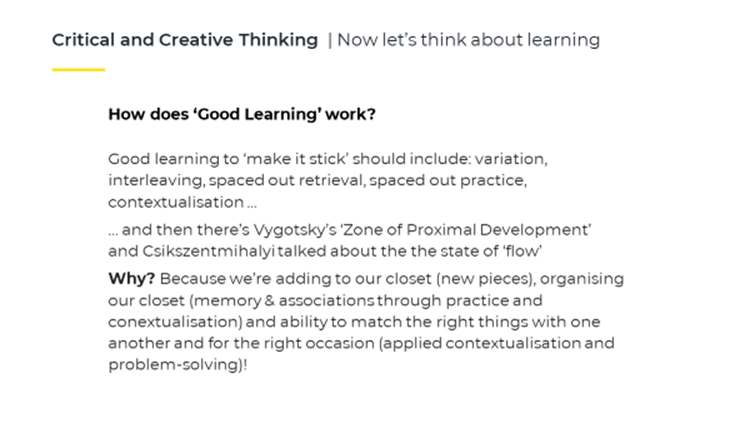 Markus built on Julie Dirksen's Blue Sock example from her book Design for How People Learn to explain how successful learning involves encoding and retrieval. Remembering is a necessary first step, you also need to be able to retrieve, manipulate, combine and innovate the information you remember.
Research shows that brain apps fell short because users only remember what the app taught them. To make learning stick, you need to create connective tissue between existing skills and knowledge to what is new. And something that we sometimes forget as L&D practitioners…learning should be FUN! Emotion has a substantial influence on cognitive processes, which include learning and memory.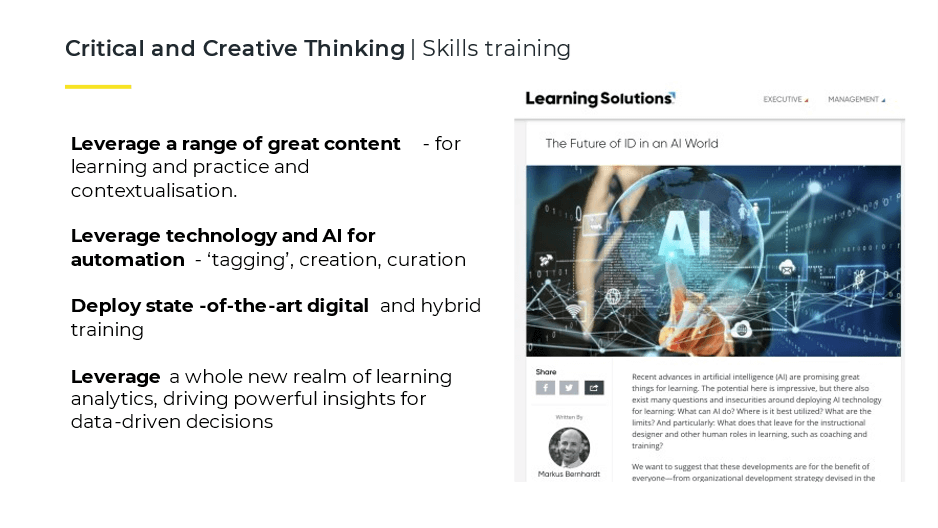 Markus furthered the point that technology should not take a one-size-fits-all approach. Use technology to understand the needs of your learner and to help measure their skills competence and confidence then create learning interventions that will meet them where they are and bridge the gap.
Panel discussion
We had a lively panel discussion where Steph Bright, Research & Insights Lead with Capita Learning, joined our keynotes. Here are a couple of interesting ones:
Q. How are you helping/seeing organisations leverage technology to enhance the experiences that people learn from?
A. There is an interplay between technology and the human-led part of learning. Using learning analytics to then customize and influence the design of your live learning event or to support mentor/coaching matches.
Q. As L&D professionals, how do you minimize the "fear of the unknown" as it relates to learning technology?
A. Good news is we are finding there is positive momentum here! More often than not, the greater L&D team is sitting in on product demos and listening to the questions. Fear is part of the human condition. What is key is the willingness of both sides (client and vendor) to engage in the conversation.
Throughout the session, participants and speakers shared their favourite quotes and loads of resources to further explore the topic.
Something we heard that piqued our interest yet didn't have time to explore was the sharing of skills and capabilities across generations. Sounds like a fun topic for the next CLO Coffee Club, right?