In preparation for Learning Technologies conference 2019 our Solution Architect Toby Harris characterised nine problems we see big companies wrestling with.
In this blog I'll pick on three of them to illustrate what learning analytics can tell us as we try to solve them.
Challenge 1: enabling digital transformation
The obvious response to the advances in capability evident and expected in predictive analytics, deep learning and AI is to try and build the technical skills needed to develop and manage them. But maybe that approach is a bit like hiring a semiconductor physicist because computers use chips. As Toby points out, the technological advances drive at least as great a need for soft skills, to manage and augment technical skills.

What's more, learners are already on board with this. In L&D Filtered, the instance of our LXP focussed on supporting professionals in the corporate learning sector, learners are well provided with technically-focused content. In fact 'Technology & Systems' is the capability best-provided for in the library, meaning it's the most common 'tag' applied to content. But when we look at what learners engage with, it's soft skills that have the edge. 'Leadership & Change', 'Commercial Awareness' and 'Project Management' all leapfrog the technical content.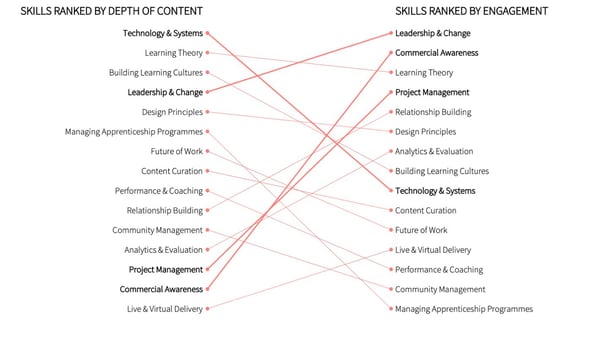 Challenge 2: not enough time in the day
Famously, we spend little time focused on deliberate learning. Urgent priorities drive out important ones, and the lack of certainty on the return-on-investment that training delivers means it can be hard to carve out time to build skills.
But not all time is equal. There are opportunities to learn in the shoulders of the working day which aren't suited to urgent work tasks, but which can allow time for development. And again, learners already know this.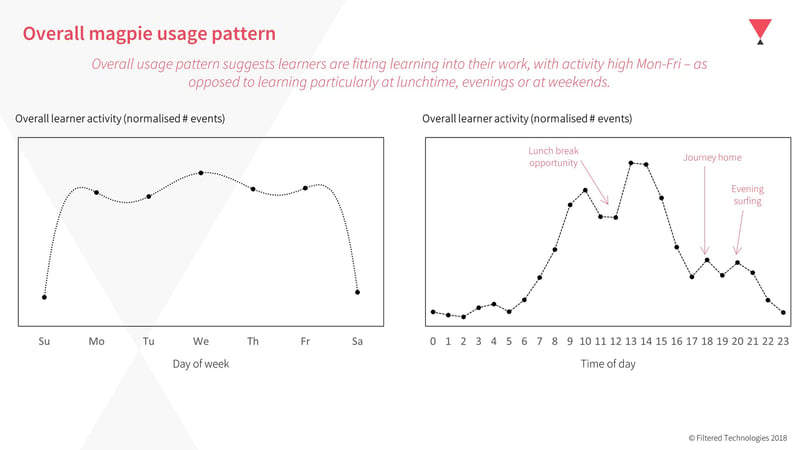 If we examine when learners engage with content via Filtered, we can see those opportunities - on the journey home for example, or as evening reading. As L&D professionals we can work with the grain of the working week and day, and provide content that is a good fit (in length, format and subject matter) to the shape of the opportunity.
Challenge 3: our valuable content library isn't getting used
In his article Toby highlights a common challenge, that great content can remain buried in a learning management system because it is not well tagged. It's actually even worse than that: tagging is often not sufficient to solve the problem. Depending on which metric we look at, 80-95% of engagement with Filtered recommendations occurs with content that is high-up in our prioritisation for the learner. That is, with content we have pulled out from the library and elevated to the learner's attention. Unprioritised content is unlikely to attract learners, despite the fact that the whole library is a webpage-scroll away. If you want to be sure learners use content, you need not only to label it well, and sign-post it, but make sure it's given prominence.
If you're interested in our data analytics and would like to find out more for your organisation please email us here, otherwise feel free to subscribe to our blog to stay up to date with our latest thoughts on corporate learning.