For the very first time in CLO Coffee Club history, we proudly share our session featured all-female leaders. Hey Alexa, play "Run the World" by Beyoncé…
CLO Coffee Club VI: Sharing skills across generations showcased the holistic approach Lisa Saunders and Catherine Davey are taking at NatWest, as well as the innovative way Binda Patel is working to prepare the younger generations at Sutton Trust.
Bummed you couldn't make it? You can catch the recording of keynotes and extended Q&A here.
Here are just a few of our favourite bits. Grab a cuppa and get caught up on what you missed!
Supporting current generations
Catherine Davey, Strategic Projects Lead, got us going by sharing their re-energized approach to learning. She highlighted the importance of crystallising the future skills needed for all colleagues and the investment (pun intended) NatWest is making in its 65,000 workers. She went on to share the success of their reskilling pilot, which retained workers in drastically different functional roles who would have otherwise been made redundant. What a wonderful opportunity for tenured generational workers to pivot their careers. Talent retained and development experienced. Just the sort of win-win we love to hear about!
Lisa Saunders, Learning Strategy Manager, took the baton and gave us an overview of their learning content faculty model and learning engagement channels. Having realised a one-size-fits-all approach no longer works with multiple generations in the organisation because their wishes, wants and needs can be so different. Lisa and her team's focus has been on creating and curating content applicable to speak to a variety of needs.
What we appreciate about the faculty model is the partnership between learning and a variety of stakeholders to align on skill outcomes, define what the needs are, and to also support a mix of learning preferences through a solid content mix.
The last step, and perhaps the most critical, is how they surface learning in the natural workspaces where people are spending most of their time. Similar to a river and tributaries, NatWest has experienced strong learning utilisation through multiple channels such as #LoveLearning Workplace, NatWest Group Academy and NatWest LMS. They recently added NatWest Learning Breakfast Show, which is a magazine show that runs on a quarterly basis featuring subject matter experts and speakers in a fun, relaxed environment resulting in high learner engagement.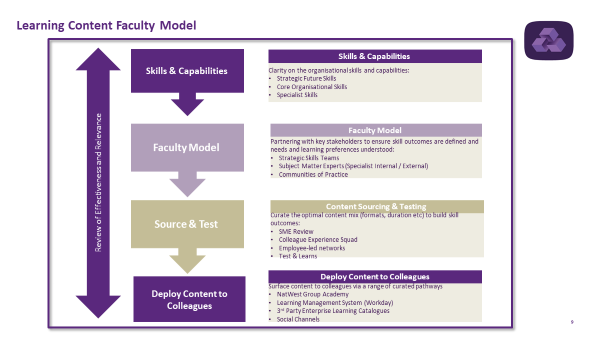 Continuing on the personalised theme, Lisa shared NatWest's approach to career development. Workers build a career profile expressing skills they would like to develop and current skill strengths. The system then surfaces learning, gigs, mentors and connections to facilitate growth. Such a fantastic way for every generation to share knowledge, explore opportunities and connect on similar interests.
I especially appreciate the idea of a gig—being able to get a feel for the work before being put into the role. A chance to explore and expand your network through a short-term assignment. I have also seen far too many "stuck" in roles where the perception of the job did not meet the reality. Such a great opportunity to get more data on yourself to determine your next step!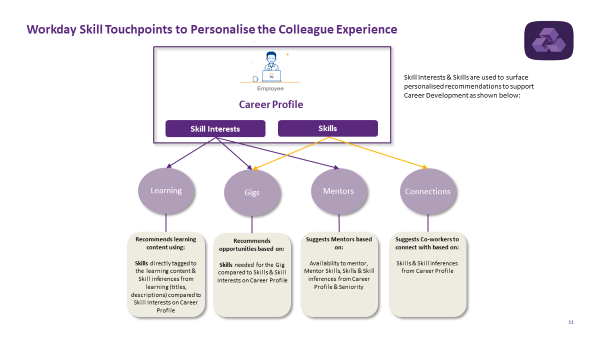 Supporting future generations
Binda Patel, Head of Innovation, kicked off her presentation with some sobering statistics regarding the clear gap between what the younger generation desires and what is available:
61% of employers have cancelled work experience placements
76% of students are worried about gaining the experience and skills needed for employment
So, how do you bridge this gap? Enter the work of Binda and Sutton Trust.
In 2019, Binda sought out partners to build an online learning platform that would host high-quality information, and practical tools and allow students to network with thousands of their alums. Sutton Trust Online (STO) was slated to test in 2021 with a pilot of 1,000 students. With all schooling outlets closing to young people early in the pandemic, they worked quickly to build a framework using research that identified key skills essential to succeed in both universities and in the workplace. Binda leveraged critical partners such as Filtered, Bloomberg LP, over 20 UK universities, and well over 300 employers to build out STO. And the results are stunning: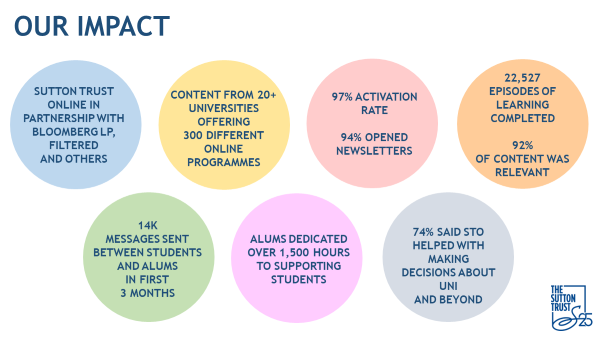 The learning journey for students at Sutton Trust continues from STO to Sutton Trust Alumni (STA). With STA, students are provided opportunities to develop future skills via workshops and leverage the vast network of other alumni and employers. Binda was also keen to share data that every employer should know about millennials:
59% say opportunities to learn & grow are extremely important to them when applying for a job
87% rate "professional or career growth & development" as important to them in a job
In summary
I went into this session expecting clear differences to emerge between the how and the what of engaging with a variety of generations in the workplace. But, as with any good venn diagram, there is overlap amongst these five generations:
Connection. The pandemic has made this abundantly clear: humans want connection. Over 14,000 messages were sent between students and alums in the first 3 months when STO went live. Older generations and younger generations network to learn from one another via the Career Hub at NatWest. Your organisation is missing out on an opportunity to reinforce learning through others if you don't have a networking system in place.
Choice. This goes beyond offering a variety of learning assets. Empowering people to have a choice in the skills they develop. The choice to reskill for a new role and avoid redundancy. The choice to seek out a mentor; either older to gain sage advice or younger for a fresh take on the workplace. The choice to "try on" a different role through a gig. Not everyone's development path will, or should, look the same.
Crave. Every generation seems to have a yearning to learn and grow. I have met very few people in my career who have said "Nah, I'm good" when given the opportunity to learn. The data from our session proves out there is a strong yearning for every generation to develop; to gain confidence through competence and community. Motivations will look different for each generation. But give people the opportunity for connection and choice and I'm pretty sure you will uncover their motivation.