WORKFORCE PRODUCTIVITY:
SOLVING THE PUZZLE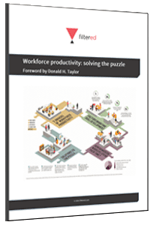 UK productivity - output per hour worked - was 18% below the average of G7 economies in 2014, the widest gap since comparable estimates began in 1991. [Source: ONS, International Comparisons of Productivity - February 2016]
As the Government's productivity framework identifies five key drivers (investment, innovation, enterprise, competition and skills), for how long can L&D departments offer the same training - compliance, onboarding and 'business as usual' - often relying on inappropriate, under-training methods?
Fill out the form to download your copy.