UK WORKFORCE 2015: SKILLS GAPS
& TRAINING HABITS
In 2015 Filtered partnered with Opinium Research to examine the efficacy of training within today's UK workforce. To do so, over 2,000 UK professionals were surveyed.
This whitepaper looks at the evolution of training in the UK over the last 10 years and makes predictions on the types of skills needed in the future. The result is a set of statistics and data points that provide a useful snapshot of the UK workforce skills and training habits

.
Fill out the form below to download a copy of this practical and informative whitepaper.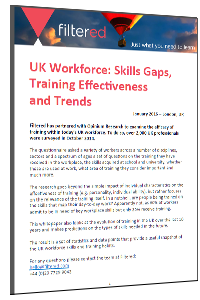 ARE UK BUSINESSES FAILING TO TRAIN THEIR STAFF?
Marc Zao-­Sanders, CEO and co-­founder of Filtered: "Our research shows that there is a clear link from workplace behaviour through to economic prosperity. Not training the workforce adequately or appropriately leads to skills gaps which reduce profitability of the businesses, which in turn stifles economic growth."
Nick Fernando, Head of Learning at Filtered: "As the power house of the UK economy, the service sector, as all sectors after all, need to be invested in and equipped with the right skills to positively impact efficiency, productivity and, ultimately, the bottom line. For us, that is what training represents — investment in people as an organisation's key assets."