TOP TEN TIPS: DATA ANALYSIS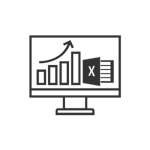 In a world where we are constantly bombarded with information, making sense of it all can sometimes be difficult and time-consuming. This is particularly true of Excel.
Analysing large amounts of data and presenting information that makes sense to your audience is an essential skill for many professionals, especially accountants, bookkeepers, marketing professionals, salespeople and those who need to learn the tools, techniques and most useful formulas for analysing data.
In this short, ten module course we aim to teach you the basic skills you need to analyse data effectively and efficiently. From Pivot Tables and Conditional Formatting to Lookup Formulas and beyond, 'Excel Data Analysis' will set you up with a great foundation upon which to build further skills.
Pre-requisites
PC or Mac with the full version of Microsoft Excel (any version from 2007 onwards but most suited to PC version 2013/2016 or Office 365).

A basic knowledge of Excel's structure, layout and ribbons.

Not a requirement but a benefit to have at least a basic working knowledge of Excel commands and functionality.
Relevant audiences
Anyone who needs to make sense of large amounts of data.

Accountants, bookkeepers, marketing professionals, salespeople - anyone who wants to learn the tools, techniques and most useful formulas for analysing data.
Learning outcomes
Clean raw data in order to prepare it for a PivotTable.

Build a PivotTable from scratch and use it to perform deep analysis on your data, including creating visually appealing PivotCharts.

Utilise helpful lookup functions to lookup a value in one column and return the value in another.

Perform logical tests using IF Statements.

Create Conditional Formatting rules to highlight data based on specific criteria in order to quickly visualise data in a spreadsheet.

Build an interactive dashboard to display information in a visual way and make it easy to analyse for others using interactive tools.

Deborah Ashby
Deborah Ashby is an IT Trainer and has been in the IT Industry for 22 years during which time she has provided a wide range of training services to professionals of all levels. Deborah has worked across various sectors such as the travel, property investment and legal. Her expertise lies in all the main Microsoft applications and she's been running hands-on classroom training sessions, webinars, seminars and workshops for 10 years. She is able to take complex subjects and communicate them clearly and concisely and sometimes even 'make technology fun' for a wide range of mixed ability learners.

Deborah holds a MOS (Microsoft Office Specialist) Master Certification and five TAP (Trainer Assessment Program) Certifications. She is COLF Certified and a Member of the British Institute of Learning and Development.
REVIEWS
"Learning and development had not been created as a continuous activity. Training was often one off interventions with the impact difficult to measure. Filtered has helped us change that in a short period of time. The cultural change it has driven in terms of reinforcing an expectation of continuous learning at all levels is the biggest achievement to me."

Kay Boycott | Chief Executive, Asthma UK
"We partnered with Filtered because we liked the idea of learners being able to tailor resources based on their knowledge gaps. The quality of reporting data provided allowed us to calculate an ROI of £1.80 for every £1 invested in a licence."

Fiona Coghiel | Teaming and Development Consultant, City & Guilds Group
There is currently no public syllabus for this course.