THE STATE OF COMPLIANCE TRAINING TODAY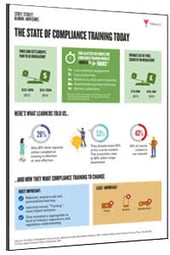 The time required to complete mandated training in the financial services sector has nearly doubled since 2014, whilst the value of fines and settlements paid to regulators by global banks also keeps soaring.
But what's so ineffective about online compliance training? How much time is being invested in it and how should the experience improve?
To find out, Filtered reviewed a series of global workshops, discussed compliance training/learning with L&D professionals and then tested out their conclusions through a wider survey of learners and learning professionals.
Fill out the adjacent form to access the results.