MINDFULNESS AT WORK INFOGRAPHIC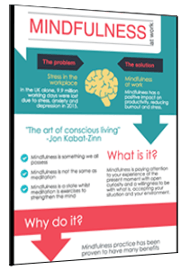 Digital collaboration. Big data. Working remotely. Smartphones. Long working hours. One more meeting...
Modern working life is hard. Practicing mindfulness can not only help you achieve the right balance, reduce stress and anxiety but also increase attention, self-fulfilment and productivity.
Fill out the form opposite to download this informative infographic and learn the fundamentals of mindfulness.