DO ACCOUNTANTS REALLY KNOW EXCEL?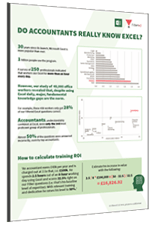 Microsoft Excel is still business critical. 30 years from its launch, it's more popular than ever: 1 billion people use it, with workers in finance spending a third of their day in the program. Accountants in particular are famed for their advanced Excel skills - but do they really live up to their billing?
Our own research, conducted earlier this year, of 45,000 professionals (including 12,000 accountants) is the largest and most in-depth study of its kind, and strikes the right balance between high-level insights and useful, detailed training recommendations.
From this research we've created this handy infographic comparing the Excel knowledge and proficiency of accountants against other professions and their peers.
Fill out the form to download this FREE infographic.