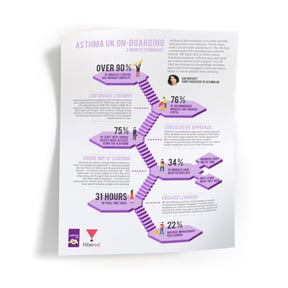 Since January 2017, Asthma UK have used Filtered to improve their employees proficiency with a range of personalized online courses incorporating Microsoft Office and Business skills.
In this case study the Chief Executive of Asthma UK, Kay Boycott, highlights the results achieved in the first 3 months, including how 90% of employees on the course started and completed their modules.
Want to know how Asthma UK succesfully implemented a new training program? Fill in the adjacent form to find out.
ASTHMA UK

"Asthma UK's mission is to stop asthma attacks and cure asthma. These days, every 10 seconds someone in the UK has a potentially life-threatening asthma attack. We fight this in three ways; funding research, influencing care and providing advice and support. Our 80 staff are primarily knowledge workers and need to be equipped with the latest skills to serve people with asthma.
Filtered provides a unique way of learning. Their personalised approach to training means we can find out what each employee already knows – or doesn't need to know at all – and filter that out of the syllabus. From the very beginning we thought this would maximise the time spent learning – critical in an organisation where time off the job means less time spent helping people with asthma."
- Kay Boycott, Chief Executive, Asthma UK