HOW TO UNDERSTAND, ORGANIZE
& PRESENT BIG DATA IN EXCEL
Big data is a term that has been trending for the past few years. From financial modelling and data analysis to live journalism and even the launch of new degrees, there's a lot of hype around big data and its usage.
This whitepaper looks at the importance of big data and brings you real-life examples of how to analyze and present data in Microsoft Excel – possibly the most popular spreadsheeting tool in the world.
To download this whitepaper just fill out the form below.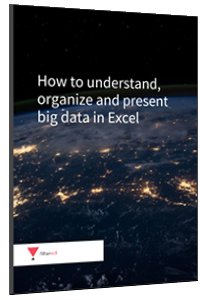 WHAT IS BIG DATA? AND HOW DO WE MAKE SENSE OF LARGE SPREADSHEETS?
Since computer processing power and data storage have been steadily decreasing in price, companies begun increasing the amount of data they stored and analyzed – in partcular data about their users and how they interact with their platform.
But why is big data so popular? In 99.9% of cases, the aim is not to collect personal information for the sake of it but instead analyze large volume of data to find patterns in users' behaviour. Consequently improve the service, whatever that may be, which will benefit the users themselves.