GET STARTED WITH OFFICE 365 | WEBINAR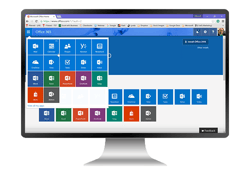 Microsoft Office 365 has grown to become the most popular enterprise cloud service in the world with 70 million active users, about 6% of 1.2 billion Office users worldwide.
It combines the well known software applications of the Office package with cloud features to help individuals and teams work together more productively.
If your organisation has recently moved to Office 365, or is considering doing so, then this webinar will introduce you to all of its applications and features and help you be more productive and collaborative.
To download the webinar recording fill out the adjacent form.
ABOUT THE SPEAKER

Deborah Ashby is Filtered's in-house IT Trainer and Subject Expert. She has worked within IT training for the past eight years and a further 11 within operations analysis. She's a certified Microsoft Office Specialist (MOS) Master, TAP trainer and COLF online learning facilitator and has been involved in high profile software migration projects in a number of her previous roles.
"We're now expected to work with colleagues spread around the world and the need to collaborate on documents and communicate in real-time wherever we are has never been greater. Office 365 is Microsoft's solution to this problem and this session will take you through the key features and functions you need to be optimally productive when using it."