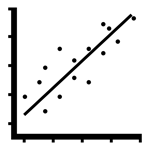 Are you often asked to study and find trends in data?
When two quantities are highly correlated the value of one tells you a lot about the value of the other. The opposite can be said when they're uncorrelated.
Being able to calculate the degree of correlation between a series of statistics allows you to identify trends and make predictions. You can achieve this by calculating the correlation coefficient, a figure between 0 and +/-1 that shows the degree to which variables are correlated.