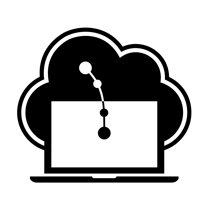 Have you considered moving to the cloud? Did you know that Office 365 could revolutionise the way you interact and work with your peers?
The modern working environment, the people in it and the tools we use have adapted to modern challenges. Our organisations have become global and are now more dependent on technology to facilitate communication and collaboration.
In any organisation software, tools and communication applications that enable employees to work 'anytime, anywhere' are vital. Office 365 is Microsoft's cloud based solution to these challenges, allowing your workforce to work more efficiently.
If you're looking to increase the performance of your employees it might be worth considering switching to the cloud.
Why migrate to Office 365?
Access to Microsoft's most widely used publishing packages (including Excel, Word and PowerPoint) anytime, anywhere and on any device.
Facilitate easier collaboration on projects and documents using Office in the cloud, SharePoint and Yammer.
Increase productivity with helpful tools such as Delve, Sway and Groups.
Greater security for your files with one terrabite of cloud storage and access to both OneDrive and Dropbox.
If you're thinking about moving to the cloud then check out our Digital Collaboration with Office 365 course. It will teach you and your staff the features within the package and help you create a more social, collaborative workforce.