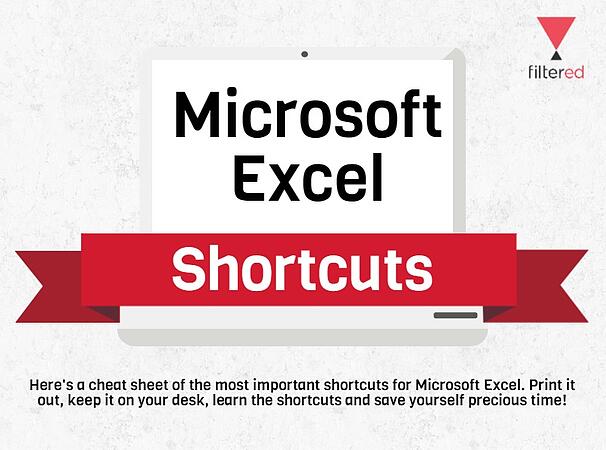 At Filtered we're serious about training our users to be as knowledgeable and efficient at Excel as possible. We know that your time is precious so we decided to create this handy infographic to save you time and effort when working on your spreadsheets. It contains a list of the most important shortcuts you'll need whether you're using Excel at work or at home.
So without further ado, we'd like to present our Microsoft Excel Shortcuts cheat sheet. Click on the image below, or follow this link, to access the full infographic. You can also share it by using the code at the bottom of this post.
Most of all – print it out, keep it on your desk, learn the shortcuts... and use them!
Share this Cheat Sheet On Your Site
***
Filtered is an award-winning online training platform which personalizes learning material for each user. By asking users questions about their role, aspiration and proficiency, the platform's machine learning algorithm is able to pinpoint skills gaps and filter out material that the user doesn't need or already knows. This minimises time spent training, maximises the impact of learning and increases productivity.
Over 800,000 users have studied our Microsoft and Business skills courses and our clients include many blue chip firms. We also have a learning recommendation engine - globalfilter - which connects content to learners based on role, career aspirations and organisational priorities, in less than 30 seconds.