Congratulations on receiving your Filtered Microsoft Excel IQ certificate, you can now add this to your LinkedIn profile!
The Filtered Microsoft Excel IQ certificate differs from any other Excel qualifications as it provides an in depth measurement of where a person is at a given time, and assigns them a target to work towards – wasting no time and highlighting the right content specific to you.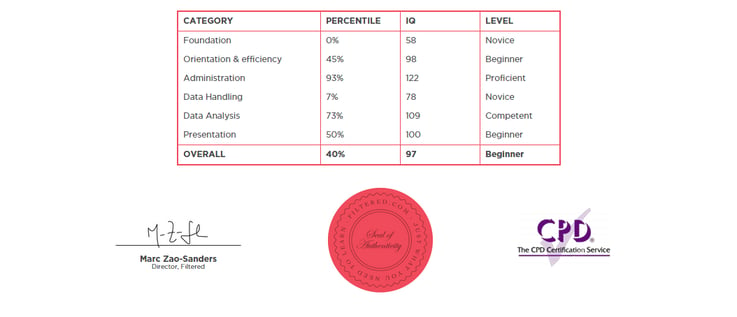 Adding certificates to your LinkedIn profile equals to showcasing your skills in your CV – it demonstrates your abilities and proves your experience within a particular field. It's also a great way to add content to your Linkedin page and can be relevant when recruiters are searching for candidates with certain skills and qualifications.
As a CPD (Continuing Professional Development) recognised certificate, you can now upload this to your LinkedIn profile by following these simple steps. First log onto your LinkedIn profile here, and then click on 'Edit Profile', as displayed below:
If you haven't already added a certificate to your LinkedIn profile, the option to do so should be available on the right hand side of your page:
Once you've selected this option, you then have the choice to type in the details of the certificate you wish to add to your profile. Type in the relevant details and make sure you copy and paste the URL link of your Filtered Certificate, as shown below.
The subsequent fields can be filled in with the following answers:
Certification Name – Microsoft Excel IQ
Certification Authority – Filtered.com
Certification URL – [your certificate's URL is available directly after a Filtered test or via your taken tests displayed at the bottom right of your course page]
Dates – [insert dates where applicable]
Like all our courses, the certificate doesn't expire.
The License Number is recommended to be left blank for personal privacy reasons.
Once you've filled in the certification accordingly, click save, and you now have your Filtered certified Microsoft Excel qualification successfully displayed on your LinkedIn profile.
***
Filtered is an award-winning online training platform which personalizes learning material for each user. By asking users questions about their role, aspiration and proficiency, the platform's machine learning algorithm is able to pinpoint skills gaps and filter out material that the user doesn't need or already knows. This minimises time spent training, maximises the impact of learning and increases productivity.
Over 800,000 users have studied our Microsoft and Business skills courses and our clients include many blue chip firms. We also have a learning recommendation engine - globalfilter - which connects content to learners based on role, career aspirations and organisational priorities, in less than 30 seconds.