Next month, we'll be releasing a technology hosting a small library of resources exclusively for L&D (and HR) professionals. It's an online recommender system of high-quality learning to read, watch, practice and apply for our industry: globalfilter for L&D professionals. We've spent the past two years developing a patent-approved technology to get the right learning to the right learner. This is the version for our industry. It consists of conversational UI (chatbot) + 125 human-curated learning assets + recommendation system to prioritise and personalize it all.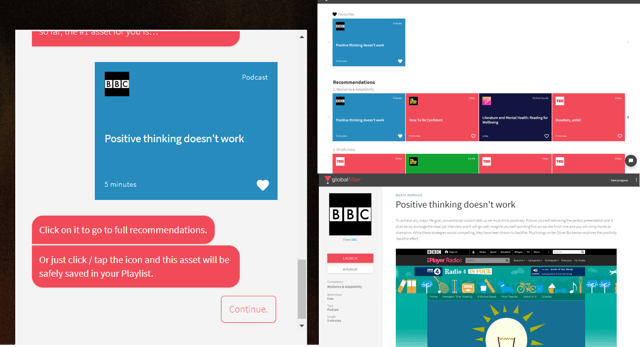 You can't learn about everything ahead of time. Often what we learn as L&D professionals will be when we actually need it, 'just in time', to use the lingo. But increasing and improving your repertoire is an important and achievable goal, made a little more achievable with this tech we're releasing.
This short article is about why this might be useful to you and how to get it.
10 questions
How many of these questions could you answer authoritatively?
Why are learning styles rejected?
What does the future of work look like?
What impact will AI have on Learning & Development?
What are the most important skills (digital or otherwise) for your company?
What would be your 5-step plan to establish a learning culture at your company?
What have you read this month to improve your understanding of your industry?
How do the learning experiences you provide your staff take cognitive load into account?
What's your opinion on the importance of personalizing (or not) learning experiences?
What's a good, tangible example of enhancing learning through storytelling?
Why should L&D get a bigger budget?
How did you do? None of these are easy. But some great thinking on these ideas and concepts has been done, documented and uploaded online. We want to make it more efficiently discoverable.
Voice
It's been an unhappy cliché for a while that L&D is too often not listened to by the business. We need to improve the perception of what we know, what we do and what we're capable of. That means being better informed, more aligned with the business (another cliché!), better able to make and communicate decisions that will be useful to the business. In short that's becoming more authoritative. That doesn't happen overnight. But there's been some brilliant work from and for the L&D community over the years. If more of us were more aware of this, we'd have more authority.
And on a more micro level, this is about your own voice: your personal brand, your career, and your prospects. Nick Jones and Nick Bate from Blue Eskimo have been arguing for the importance of personal brand for L&D professionals for some time now. So has Elliott Masie, including in his book, 'Big Learning Data'. The Learning and Performance Institute encourage this with their Capability Map. A more authoritative voice for L&D is an aspiration for many of us. To take just one specific example, imagine if you knew more than you do about the relevant technologies in your field and had a sense of their capabilities as well as their shortcomings. Would you be able to add more value with more confidence more often to your L&D colleagues inside and outside your firm? And perhaps more importantly to business colleagues in general outside of L&D. That's just technology, one example.
It's really interesting stuff
Happily, the world of L&D is the world of...
...neuroscience and neuromyths (how to put something from this fascinating sphere to use today), memory (working memory, spaced repetition, impact, etc), well-being (mindfulness, physical health, meditating for the modern workers), skills gaps (STEM, employability, digital, soft, hard, etc), apprenticeships (from the politics and philosophy to the practicalities eg making sense of Levy rules), cognitive fluency, decision making, experience, design thinking, curation (cohesive / tech-enabled / pragmatic), behavioural science (habits), bias, compliance (how to make it feel OK), curiosity (how do you activate that spark for large sections of your workforce? What exactly is that spark?), contextual, affective learning, the future of work (what/who, if anything/anyone, will actually get displaced and do we need to do anything about it today), learning culture and the learning organisation, social, micro, AI, machine learning (any benefits today?)…
It's important too. There are more adult learners than child learners. In the UK we have a workforce of 30 million, half of which are knowledge workers. The US numbers are five times that. Both countries and many others face a productivity problem. A more skilful workforce is a big part of the solution.
Dogfood
On the L&D conference circuit we hear and talk about curation, personalization, algorithms, and self-directed learning a lot. This is almost always for that other section of the workforce, 'the business'. Let's practice what we preach and curate for ourselves, personalize for ourselves and self-direct ourselves. Make a success of that and then preach as an active practitioner. That's immediately more authoritative.
Of course many of us do this very well already. Maybe you do. But no one does it perfectly and many of us don't do it at all. This tech we're releasing is a way of getting a lot of this done at lights. We've created the technology. But we haven't created any of the content. This has been created by expert business and L&D people (including some of you), past and present. We've set a high bar for inclusion. So use this resource to take a healthy scoop of curation, personalization, algorithms and self-direction in one go.
What skills?
We're using the word 'skill' rather than 'competency' here. More on that soon in a forthcoming post but none of these words is perfect and nor is it all that important. The 15 skills that we group the assets under are:
Relationship Building
Commercial Awareness
Analytics & Evaluation
Building Learning Cultures
Content Curation
Learning Theory
Design Principles
Technology & Systems
Marketing & Communications
Live & Virtual Delivery
Community Management
Performance & Coaching
Project Management
Future of Work
Leadership & Change
We'll be writing about why and how we arrived at these 15.
What content?
Here are just three out of well over a hundred assets that we've included.
Learning Styles are dismissed by many L&D experts on the basis that they have been scientifically refuted and only exist to line the pockets of vendors that promote them. But what exactly is that scientific evidence? Does it amount to a downright refutation of learning styles in any form? Or does it make the lesser claim that the evidence for learning styles is insufficient? This accessible piece from Pashler et al gets to a lot of this in just 10 pages.
https://www.psychologicalscience.org/journals/pspi/PSPI_9_3.pdf
As authors Harold Jarche and Kenneth Mikkelsen, state early on in this piece, "leaders must scan the world for signals of change, and be able to react instantaneously." To do that they need to be avid and constant learners. So there's something about leadership, learning, their importance and their interrelation. Also goes into the the Seek-Sense-Share model of continuous, proactive knowledge management.
https://hbr.org/2015/10/the-best-leaders-are-constant-learners
Formerly Senior Associate Dean at Harvard Business School and currently CEO of the Federal Reserve Bank of Dallas, Robert Steven Kaplan brings some gravitas to this very short video about relationship building. It resonates too: in a hyper connected world we have fewer deep relationships than before; they must be based on mutual respect, trust and understanding; and self-disclosure is a powerful enabler of all three of these.
https://www.youtube.com/watch?v=anA7425O2Xo
Register
If you'd like to be notified and get access to globalfilter for L&D the moment it's launched, please register here.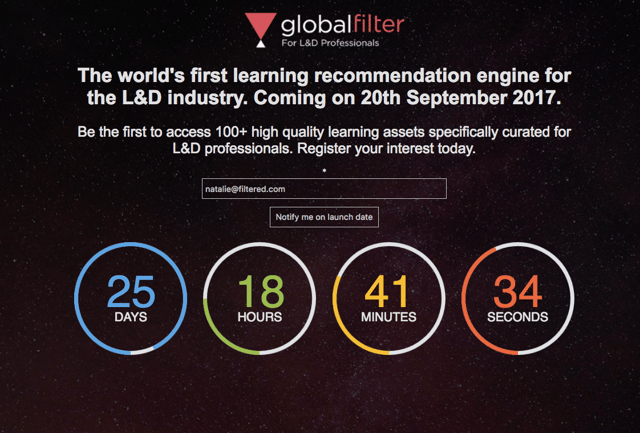 Of course, we hope it will also open your eyes to our curation-&-prioritisation approach to learning and stir up sales conversations. But in and of itself we hope and expect it will be useful to you, to the L&D profession, even 'the business'!
Any questions, feel free to send them my way - marc@filtered.com.