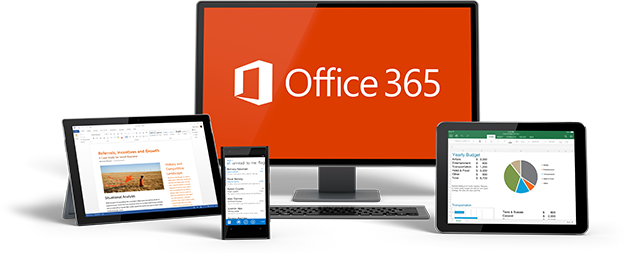 Image source: Microsoft website
With the range of tasks that modern office professionals undertake ever increasing, it can be tough to know what to prioritise and easy to get bogged down with the amount of tasks you need to accomplish.
With Office 365, Microsoft have introduced a number of tools and functions to help you work and collaborate with colleagues more effectively, creating an infinitely more streamlined working environment.
At Filtered we champion productivity, so we thought it best to share our top 10 features of Office 365 that could help you and your team work more efficiently and increase your productivity as a result:
1. Clutter
Clutter can help you filter low priority email messages saving time for the most important ones. The email server keeps track of the emails that you read and those that you do not. As less important messages arrive they are automatically moved to the Clutter folder.
Clutter learns from your actions to determine the messages you are likely to ignore, so the more you use it the smarter it gets.
2. Groups
Groups in Office 365 allows you to define a group or team and enable their members to converse easily, share calendars, exchange files, and take and share notes using Onenote.
3. Multi-Person Editing Using Office in the Cloud
Document collaboration is a critical element to working effectively as a team. The combination of SharePoint and Office offers a spectrum of document collaboration methods, including co-authoring. Co-authoring allows multiple people to make edits to a document at the same time. Gone are the days where 'Person A' makes changes to a document and then emails it to 'Person B' to theirs. Teams can now collaborate in real time with SharePoint and Office greatly improving efficiency.
4. Skype for Business
Skype for Business instant messaging is an efficient way to connect with one or more contacts in real time and on a moment's notice. Less formal than email, faster than a phone call— it's tough to beat for speed and ease of use! We use it to communicate in our office so I can vouch for its effectiveness.
5. Organising Contacts
In Skype for Business (SfB), your contacts are the online identities of the people you communicate with both within your organisation and outside. Either way, you can add them to your Contacts list so they'll be just a click away. Add people by name, by instant messaging address, or, if they are in your organisation, by phone number. Every contact you add is assigned membership in one or more of your contact groups.
6. Task lists in Outlook
Create task lists in Outlook and track them until their completion. Set yourself due dates and other reminders to ensure you achieve them and you can even assign tasks to other people.
7. Yammer
Collaboration isn't possible without an effective means of communication. When you consider how many tasks, files, people, emails, meetings and discussions take place when working on a project having a centralised method of communication is essential. Office 365 provides Yammer, a social communication and collaboration tool for teams. Yammer brings teams and colleagues together to share information, knowledge, content and conversations.
8. Delve
Delve makes it easy to access your documents by foregrounding content from across Office 365 that is most relevant to you. Delve displays documents (primarily from SharePoint Online and OneDrive for Business) in a dashboard personalised to you, giving prominence to documents that have been shared with you, you've worked on or identified as 'favorites'. It also lets you know who is working on what, and facilitates collaboration, for instance by making it easy to search for or to share documents.
9. Sway
Sway allows you to combine text, images, video, and social media into an interactive presentation. It's essentially an onboarding tool that allows you to teach a new skill, or guide someone through a new process, remotely. It is well suited to making a viewer navigate through content online by themselves, rather than the material being presented by another individual.
10. Newsfeed
Historically, keeping up to date with the latest developments and activities in your team would require being on top of your inbox, relevant messaging apps, file activity and anything happening on the team/project intranet! SharePoint online has a newsfeed that aggregates and presents relevant messages, site and content updates to help you keep up to date with team and project activity.
***
Filtered is an award-winning online training platform which personalizes learning material for each user. Over 800,000 users have studied our Microsoft and Business skills courses and our clients include many blue chip firms. We also have a learning recommendation engine - globalfilter - which connects content to learners based on role, career aspirations and organisational priorities, in less than 30 seconds.