10 EXCEL TIPS TO MAKE YOUR
BUSINESS MORE PRODUCTIVE
This whitepaper will help you and your staff become more productive in Excel. It acts as a guide on the best practices to use when creating spreadsheets in the workplace, especially when you'll be collaborating with colleagues on a document.
If you learn these useful tips and put them into practice then you'll start to create robust, efficient documents and eliminate any errors that might occur.
To download this whitepaper just fill out the form below.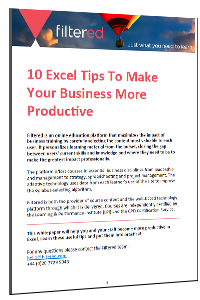 MAKE YOUR BUSINESS MORE PRODUCTIVE
Try these useful tips and put them into practice during your daily spreadsheet routine:
1. Getting started with Excel: Three key principles
2. Familiarise yourself with the Excel Ribbon
3. Brush up on your shortcuts
4. Learn to format your spreadsheet
5. Save time on calculations
6. Use Macros to speed repetitive tasks
7. PivotTables are your best friends
8. Must know Formulas to be productive
9. Create powerful presentations in Excel
10. How to eliminate errors in Excel